Wine lovers instinctively understand the concept of assets-based economics; the meaning is clear every time you take a sip of a Piedmont Nebbiolo, or a Burgundy Pinot Noir. It's the idea of countries, regions or cities in need of economic development looking around themselves instead of relying on an outside source to bring in jobs and money. It's the opposite of the model offered by – to pick one of a million examples around us every day – the Amazon warehouse in Swansea, South Wales, that is the size of six football pitches crammed with towers of fast-moving products from bestselling books to lawn mowers. It has brought 1,200 full time jobs to the area over five years, and is one of more than 90 sprawling warehouses belonging to Amazon that are spread across the globe, from Nanning in Guangxi Province to Chattanooga in Tennessee. All offer a hugely useful stimulus to the local economy, but follow an identikit model, designed to be rolled out anywhere with sufficient space, labour supply, access to transport and tax breaks.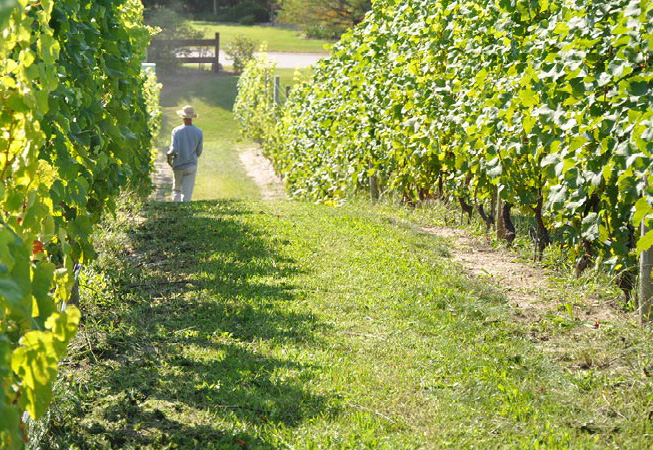 'Opening a car plant in Kosovo, or a customer service warehouse in Wales is understandably appealing to local governments,' Brian Ellison is telling me as we stand in his new US$3.5 million distillery, opened in the small town of Middleton, Wisconson, just 18 months ago. 'But leveraging regional assets is the only way to provide a foundation for long-term growth and to allow locals to develop their communities.'
Ten years ago Ellison moved from Barcelona, where he had been working in exactly this area of economic development. When he returned to the States, he continued the work with regional governments, and in 2005 began consulting for Washington Island, Wisconsin, the largest of 30 islands off the coast of Door County Peninsula, and the only one with a year-round population. At the time there were still commercial fishermen working off the 35-square mile island, but there had been no farming since the 1950s, and the 650-strong community was dwindling.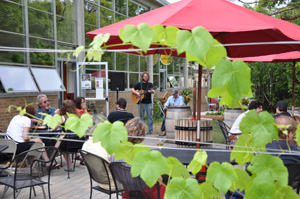 'I initially encouraged locals to plant five acres of hard red winter wheat, and to look for ways to turn it into products that told a local story. We started off with a craft beer partnership with Capital Brewery in Madison, Wisconsin, and then from 2007 began looking for someone to do some craft distilling to make whisky, together with a gin that used wild juniper berries growing on the island for its main botanical. I couldn't find a suitable partner, so learnt how to do it for myself'.
The result is Death's Door Distillery, named after the passage of water between the island and the Wisconsin mainland – and is just one of an increasingly impressive band of micro-distillers, artisan winemakers and craft brewers in the United States.
This is a movement that has ballooned over the past decade, with wineries leading the way. The US has a reputation of being the home of big brands, but micro wineries have been gathering speed. According to figures given at the 2013 Unified Wine & Grape Symposium, there are now over 8,000 wineries – up from 4,712 in 2007, and four times the number there were just ten years ago. This is the highest number that there have ever been in the United States – and they are mainly small outfits, with around 75% of US producers making less than 5,000 cases, with only 2% producing over 100,000 cases.
Just down the road from Ellison's wheat fields on Washington Island is a new vineyard, planted by Tim and Julie Lyons, and another example of a renaissance in agriculture on the island. The Lyons are picking their grapes while the acidity is still high, and making a verjus that can be used in foods instead of vinegar or lemon juice, but they attend the Cold Climate Grape and Wine Conference each year, swapping tips with wine growers from around the world. Over on mainland Wisconsin, there were 41 wine producing vineyards in 2007, heading up to around 70 today.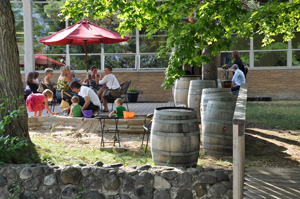 Across the border in Illinois, nearer to the city of Chicago, that figure has climbed from 83 in 2007 to 103 today, but the best wines in the Midwest area are being produced in Michigan, and more specifically on the Leelenau Peninsula. Across Michigan there are now 131 wineries, up from 112 five years ago, but it is this 30 mile peninsula, with its cool climate that is similar to Washington Island, and its softening micro-climate from the waters of Lake Michigan, is the centre of the most exciting winery projects, including Shady Lane, Good Harbor (I tried their off-dry Trillium blend of Riesling, Vidal, Vignoles and Seyval Blanc, and an excellent 2011 Viognier, laced with honey-dew melon and apricot blossom), and the more established Black Star Farms.
There are also dozens of other small properties that don't have the funds to have their own winemaking facilities, and used to send their grapes off for blending into branded wines. For the past few years, 18 of the best growers have been sending their grapes instead to Left Foot Charley urban winery in Travers City, where each example is bottled, so preserving the personality of individual vineyard plots.
'There are some failures inevitably, but if they stick to the aromatic white varieties, and accept that that is what their climate is best suited to, I see a great future for the region,' said Robert Kowal, a Chicago-based winemaker who has worked in wineries both in the US and France. 'They are producing some of the best examples that I have tasted in the US, up there with the Fingerlakes region of New York'.
'The local wine and beer scene exploded in the US in the 1990s,' says Death Door's head distiller John Jeffrey, who studied food chemistry at Michigan State University. 'And it's continuing to expand. The scene reflects the wider growth of agri-tourism, and the slow food movement of eating locally reared and farmed products. The economic downturn of the last five years has just added extra weight to the idea of rediscovering what is around you.'
Related links:
www.goodharbor.comwww.deathsdoorspirits.comwww.shadylanecellars.comwww.leftfootcharley.comwww.blackstarfarms.com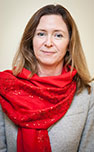 Columnist Introduction
Jane Anson is Bordeaux correspondent for Decanter, and has lived in the region since 2003. She is author of Bordeaux Legends, a history of the First Growth wines (October 2012 Editions de la Martiniere), the Bordeaux and Southwest France author of The Wine Opus and 1000 Great Wines That Won't Cost A Fortune (both Dorling Kindersley, 2010 and 2011). Anson is contributing writer of the Michelin Green Guide to the Wine Regions of France (March 2010, Michelin Publications), and writes a monthly wine column for the South China Morning Post in Hong Kong, where she lived from 1994 to 1997. Accredited wine teacher at the Bordeaux Ecole du Vin, with a Masters in publishing from University College London.
Click here to read all articles by Jane Anson>>
- Follow us on Weibo @Decanter醇鉴

and Facebook

for most recent news and updates -
All rights reserved by Future plc. No part of this publication may be reproduced, distributed or transmitted in any form or by any means without the prior written permission of Decanter.
Only Official Media Partners (see About us) of DecanterChina.com may republish part of the content from the site without prior permission under strict Terms & Conditions. Contact china@decanter.com to learn about how to become an Official Media Partner of DecanterChina.com.