The French comedy actor Jean-Pierre Castaldi, doing his bit for the charities that benefit from the sale of the President's Barrel, was urging the bidders in the room to reach for their wallets. 'Allez les Chinois' were I believe his words, spoken with the growly resonance that has been his calling card for over 40 years of French screen time.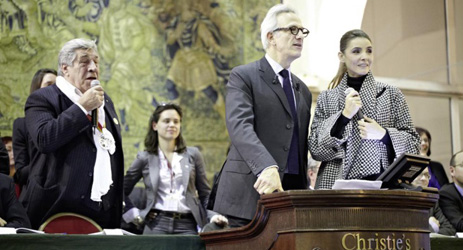 It was a damp, chilly weekend for the 153rd edition of the Hospices de Beaune, but that didn't deter the crowds at Burgundy's most famous wine auction, who surrounded the hall on Sunday afternoon, pressed to the windows if not lucky enough to get inside, following events via loud speakers booming the voice of auctioneer into Place de la Halle.
This is the auction that sets the tone for future sales of the most recent vintage, much like the en primeur season in Bordeaux – although the Hospices has a hugely seductive sense of drama that the Bordeaux en primeurs lacks; dating back to 1859, and set against the intricate Gothic spires of the Hotel-Dieu and its charitable hospice that has been tending to the sick since 1443. Both events also involve tasting the young wine to get an impression of the vintage, although at this earlier stage – November in Beaune as opposed to April in Bordeaux – the wines are even tougher to taste, as neither whites nor reds have undergone the softening secondary fermentation and remain full of the biting malic acid that takes some imagination to get past.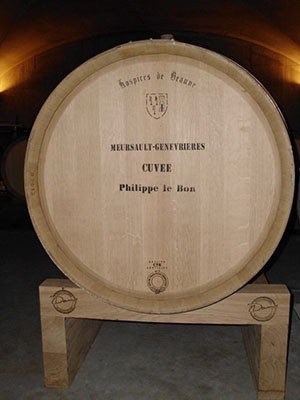 Castaldi's words were duly rewarded. For the first time, a Chinese purchaser bought the president's barrel*. A young Chinese businesswoman called Yan-Hong Cao, owner of a number of shops, jade mines and a tea plantation in the Yunnan province, paid €131,000 for a 456-litre barrel of Mersault Genevrières Premier Cru, Cuvée Philippe le Bon. It was Cao's third time at the Hospices de Beaune, but her first to successfully bid for the traditional highpoint of the auction, where all proceeds of the sale go to local charitable causes (profits from the rest of the auction are still fairly comforting, as they help with upkeep of the Hospices' vineyards, buildings and still-working hospital).
'I am so happy to have this barrel and hope that everyone will visit China, too,' said Cao after her success, smiling for a photo that went round the world in minutes. Speaking from the auctioneer's stand, she added a final comment to a roar of approval, 'Bordeaux and Burgundy wines are always welcome in China. But I like Burgundy more and that's why I'm here.'
Cao was bidding against six or seven Burgundy négociants, among them Louis-Fabrice Latour, seventh generation owner of Louis Latour négociant house, and president of the association of Burgundy wine merchants.
'There were several of us going for the barrel, and I hoped to push the price higher so the charities would benefit,' Latour told me, before adding with admirable honestly, 'but I dropped out in the end, because I felt it was great for the auction, and for the publicity of Burgundy wines as a whole, if a young Chinese woman could place the winning bid. It makes a better story.'
Perhaps, but speaking as someone who has had a front row seat for the Chinese love affair with Bordeaux over the past five years, it's somewhat dispiriting to see things shift over to Burgundy. Not for the potential losses for Bordeaux, but for consumers both in China and outside, who risk once again be taken for a ride as prices shoot upwards.
It's hard not to feel cynical about seeing producers and wine merchants – and further down the line forgers and lawyers – capitalising on the enthusiasm of an expanding market. Journalists play their part too. It seemed the only question at the opening press conference asked of Michael Ganne, a representative from Christie's auction house that has run the November sale since 2005, was how many Asian buyers were expected this year. In 2011, according to Christie's consultant Anthony Hanson, Asia overtook America as the number one source for overseas buyers, although this year several merchants voiced concerns that the final identity of the bidders has become much more difficult to track, as many bids by phone or internet by giving a company name, not a final identity.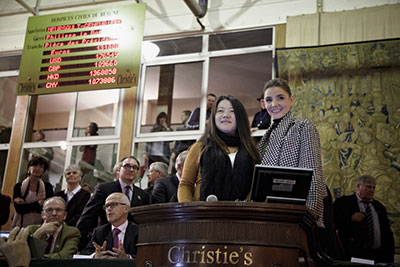 I am of course far from the only person to see that Bordeaux has been badly hurt by opportunistic price rises, and perhaps Burgundy hopes to learn its lesson. Latour was at pains to point out several times both before and after the auction that price rises are 'not about greed, but about scarcity.'
The 2013 harvest has seen chardonnay vines down around 30% in production, and pinot around 15%, after already low volumes in 2012 and 2011. The auction saw the fewest number of barrels for sale since 1981.
'The simple fact is that extremely low volumes has meant producers have asked for more money for the wine they have left, and the market demand is buoyant enough that they are able to get it. So far négociants have cut their margins to try to soften the impact of price rises on the consumer,' said Latour, 'but that is not a sustainable business model, and I believe that from 2014, sub-€10 Burgundy will no longer exist on supermarket shelves. The worry is that Burgundy will lose market segment, because supermarkets buy by price point, so will move on to other regions or producers if we cannot supply. We have no desire to appear as a region only making expensive wines, and we need to keep an entry point for young drinkers, and new drinkers – but we are very concerned about how to achieve this'.
In fact, whatever the headlines after this year's Hospice, with a rise of 19% taking its overall take to €6.3 million, the more general price rises in Burgundy are not to do with the impact of the Chinese market – at least not yet.
For a start, the wines that are interesting to the Chinese market are almost entirely Grands Crus and Premiers Crus from the Cote d'Or, and are not yet the vast majority of Burgundy wines from the Cotes Chalonnaise and Maconnais – all of which are also experiencing price squeezes right now. China and Hong Kong combined remain in sixth place in terms of Burgundy export destinations, with the US, the UK and Japan still taking over half the region's exported bottles.
'The most significant numbers to look at,' says Latour, 'are structural; three-quarters of what we ship to China is red wine, while our production as a region is two-thirds white, so China's impact is minimal for now. Our main concern is not about what country we send our wine to, but what will be the reaction of our clients to yet further price rises? If we don't make the increases, we all lose money, and there will be a quality impact down the line, but if we do, we look arrogant. It's an impossible situation.'
* The President's Barrel : Each year, since 1945, the Hospices de Beaune has given their support to one or several charities by donating the profit of one barrel of wine known as: la Pièce des Présidents (the President's Barrel). The 'President' refers to the people 'presiding' over the barrel itself. These people choose the charity, and host that particular part of the auction to try to get more money for the charity.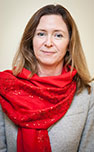 Columnist Introduction
Jane Anson is Bordeaux correspondent for Decanter, and has lived in the region since 2003. She is author of Bordeaux Legends, a history of the First Growth wines (October 2012 Editions de la Martiniere), the Bordeaux and Southwest France author of The Wine Opus and 1000 Great Wines That Won't Cost A Fortune (both Dorling Kindersley, 2010 and 2011). Anson is contributing writer of the Michelin Green Guide to the Wine Regions of France (March 2010, Michelin Publications), and writes a monthly wine column for the South China Morning Post in Hong Kong, where she lived from 1994 to 1997. Accredited wine teacher at the Bordeaux Ecole du Vin, with a Masters in publishing from University College London.
Click here to read all articles by Jane Anson>>
- Follow us on Weibo @Decanter醇鉴

and Facebook

for most recent news and updates -
All rights reserved by Future plc. No part of this publication may be reproduced, distributed or transmitted in any form or by any means without the prior written permission of Decanter.
Only Official Media Partners (see About us) of DecanterChina.com may republish part of the content from the site without prior permission under strict Terms & Conditions. Contact china@decanter.com to learn about how to become an Official Media Partner of DecanterChina.com.