'We remain les hommes de l'ombre, the shadow men,' François Leveque tells me as we sit down on a plush sofa in his brokerage office. We are on a smart but ever-so-discreet residential street in central Bordeaux, and the place oozes understated wealth – even the plush chestnut-coloured carpet must be a good 30mm deep. I can feel my heels sinking in and wonder for a second if I am going to need to tug them out.
I am here to meet François' daughter Caroline who in 2012 aged 23 became the youngest courtier assermenté in France, a licensed broker with the highest qualifications of her profession. That would be an impressive enough feat for anyone, but even more so for a young woman in what just might be the most closed old boy's club in wine. Which, in case you didn't realise, is already pretty much an old boy's club, at least in Bordeaux. And les hommes de l'ombre are at its heart, the door behind the door.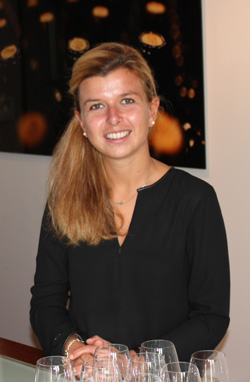 This is a business that dates back almost 900 years to when Bordeaux was a duchy of the English crown, and a need developed for local men to act as liaison between those producing the wine and those selling it. These brokers, or courtiers, would bring foreign traders into the vineyards to taste the wines, acting as interpreter and diplomat between the two sides (so speaking English was invariably a requirement), guiding negotiations. Once deals had been arranged, all financial transactions took place through them.
Brokers quickly became the eyes and ears of the Bordeaux trade. They would spend much of their time getting to know the owners and managers of the estates, detailing who was investing, who was not, and continually tasting, drinking and assessing the wines.
From 1680, King Louis XIV ruled that négociants had to pass through courtiers for all wine trades, without exception, and this is still pretty much the rule in Bordeaux today – with brokers helping chateaux decide which négociants to work with in different markets, and taking 2% of every sale (paid out of the merchants' commission). It was the brokers who established the famous 1855 classification, and over the years it has become the ultimate family business, handed down from father to son through the generations. Of the main brokerage firms today – there are probably eight at the very outside that really count, alongside perhaps 80 smaller firms that work across the entire region – most have been plying their discreet, behind-the-scene trade since the 17th or 18th century.
It's rare to go from being one of the small regional brokers to sitting at the heart of the system, but François Leveque has achieved it. His great-grandfather was the first family member to become a broker but concentrated on small chateaux, outside of the main power base of downtown Bordeaux, where the wealthiest brokers have been based on the Chartrons riverside for centuries, dealing with the classified properties that sell for the highest prices. François Leveque began working in the family business 30 years ago alongside his father Henri Leveque, and was the first generation of the family to broker for the classified estates. He made the transition from the 1982 vintage with little more than 'a blank piece of paper. We had no allocations of the top chateaux, nothing'. Today they deal 100% with grand crus.
Perhaps it was through seeing just how closed the system was that led Henri Leveque to introduce the practice of taking exams to become a courtier – a process that involves six months of work experience and around the same again of study. A courtier assermenté takes things to the next level – you can usually only take the exam after working as a broker for five years and it involves a difficult technical assessment, where you must identify vintages, appellations and estates in blind tastings, plus complete a five hour written paper and submit to interviews with magistrates, lawyers, wine syndicate presidents and oenologists. Once qualified, you are able to carry out stock valuations, identify fraudulent wine, give advice on wine property sales, even host auctions, although as both Caroline and François point out, ever the diplomats, 'each to his own role'.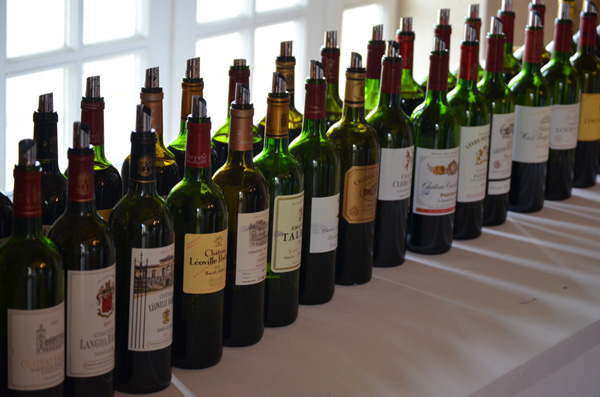 When Caroline arrived as the 5th generation into the family company, she saw that despite its success, it was following the traditional pattern of working almost entirely on en primeur sales. Caroline was the first to realise how the market place was changing, and knew they had to change with it. She began to develop the brokerage market for older, in-bottle wines that were being held in châteaux cellars, or in négociant warehouses. As such, she began to bring the discreet world of Bordeaux courtiers into the 21st century, adapting to the deep-seated changes that are tearing through Bordeaux at the moment.
'The business has changed hugely over the past 10 years,' Caroline says, glancing at her father who nods in agreement. 'Traditionally around 90% of courtier activity has been around the en primeur sales. Today we hope to make that around 50%, with the rest coming from older or ready to drink wines that the market is looking for. Bordeaux is perfectly placed for this as the wine is stored here in such perfect conditions, with perfect provenance'.
To ensure that this works smoothly, she has developed an internet site that acts as intermediary between chateaux and négociants, showing their stock in real time on both sides. Only five brokers do this service, and they are, by no coincidence, the players that really count – Balaresque, Laurent Quancard, Les Grands Crus, Tastet Lawton and Leveque.
Much of their week still involves visiting chateaux, tasting wines, understanding the vintage and recording any specific changes in properties that might affect their wine, just as it has for hundreds of years. But at the same time, chateaux are increasingly asking for transparency on where and how their wine is sold, and one of the broker's role is to ensure that this information is passed to them smoothly and efficiently – and to warn négociants that if they don't provide transparency, their allocations will be cut.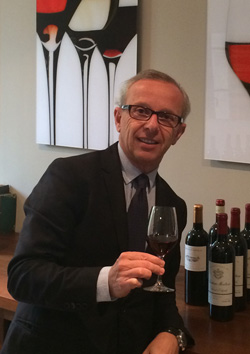 'We are the facilitators of business, and to play that role efficiently, we need both sides to agree and get on,' says François, neatly summing up that the key skills for being a courtier include an ability to listen attentively, to be a diplomat, to harvest information and apply it judiciously. 'At the same time courtiers need to recognise that the market is changing for us also, and we need to evolve along with it.'
The stock control system is key because prices are set according to not only the success of the latest vintage but how much of a chateaux stock is out in the system, and whether it is stuck in the sales pipeline or happily gathering dust in a wine drinker's cellar. Arguably brokers have not played their part as efficiently as they might have done in the past few vintages, because chateaux don't seem to be getting the message that the past few vintages have genuinely not sold beyond the merchants.
'We are working right now to ensure that chateaux get speedy information of journalist scores and market reaction to prices. The 2013 vintage release prices en primeur were on average 30% more expensive than 2008, and it was a catastrophe. Our firm's turnover was 60% down on 2012 – it is not just wine merchants who are affected.'
Before I am able to agree too voraciously with that assessment, both father and daughter quickly defend the system that has worked for Bordeaux for so many centuries. 'The system of en primeur is imperfect, like everything in life,' says Caroline. 'Of course chateaux can sell without brokers and merchants – that's what the small chateaux in Bordeaux do all the time because they don't have any choice. But the ability for chateaux to have 100 négociants who are specialized in selling fine wines all over the world without having to pay them out of their own pockets seems too good to get rid of. The system favours the interests of the property. Why would they want to bring it down? We are at a cross-roads certainly, and we are adapting to it. But while chateaux want to sell as high as possible, and merchants want to buy as low as possible, there will always be a need for the intermediary'.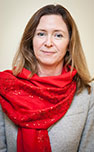 Columnist Introduction
Jane Anson is Bordeaux correspondent for Decanter, and has lived in the region since 2003. She is author of Bordeaux Legends, a history of the First Growth wines (October 2012 Editions de la Martiniere), the Bordeaux and Southwest France author of The Wine Opus and 1000 Great Wines That Won't Cost A Fortune (both Dorling Kindersley, 2010 and 2011). Anson is contributing writer of the Michelin Green Guide to the Wine Regions of France (March 2010, Michelin Publications), and writes a monthly wine column for the South China Morning Post in Hong Kong, where she lived from 1994 to 1997. Accredited wine teacher at the Bordeaux Ecole du Vin, with a Masters in publishing from University College London.
Click here to read all articles by Jane Anson>>
- Follow us on Weibo @Decanter醇鉴

and Facebook

for most recent news and updates -
All rights reserved by Future plc. No part of this publication may be reproduced, distributed or transmitted in any form or by any means without the prior written permission of Decanter.
Only Official Media Partners (see About us) of DecanterChina.com may republish part of the content from the site without prior permission under strict Terms & Conditions. Contact china@decanter.com to learn about how to become an Official Media Partner of DecanterChina.com.