Demei's View - Wine Communication from a Chinese Winemaker
The Mid-Autumn Day (15 August in the Chinese Lunar calendar and which fell on the 8 September this year in the Gregorian calendar) is a festival to celebrate the harvest. With a bumper harvest in sight, this is a very important festival for the Chinese people who have a long, traditional farming culture. In each Chinese wine region, grape harvests have gradually started around the Mid-Autumn Day or will be started shortly.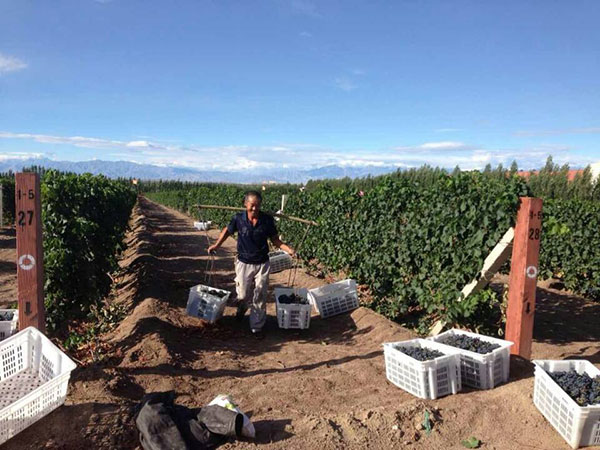 The earliest harvest started in Mile, Yunnan Province. The Mile County is located at 24.4 degrees north latitude and 103.4 degrees east longitude; but with a high altitude (the vineyards are normally 1,500 metres above sea level). The vines have a short dormancy period and the buds normally break early in February, thus an early harvest. The main grape varieties in this area are hybrid varieties Shuijing (white) and Meiguimi (red). They are strongly resistant to disease and humidity, and can be used both as table grapes and wine grapes. The harvest started around a week earlier than in previous years and finished during the beginning of July. The fermentation will now be completed.
There are also wine grapes planted in Deqin County (28.5 degrees north latitude), which is also in Yunnan Province, but the altitude is higher – usually between 1,600 and 2,800 metres above sea level. Here the harvest usually starts in the middle of September and lasts until the middle of October. The 2014 harvest in this area hasn't started yet, but is likely to be a few days earlier than normal.
After the harvest in Mile, grapes growing in Yanqi Basin, Xinjiang (42 degrees north latitude) will be picked. This is a region with abundant resources of light and heat with an arid climate. The bud break and ripening processes are comparatively early, and the harvest generally begins at the end of August. Because of the low temperature in this region during the early growing season (see my column Cold spells hit wine regions in northern China), the harvest was delayed by around one week this year. So far, white grapes like Chardonnay and early-ripening red varieties like Merlot have been picked; and the harvest of the late-ripening varieties like Cabernet Sauvignon in some vineyards is still in progress.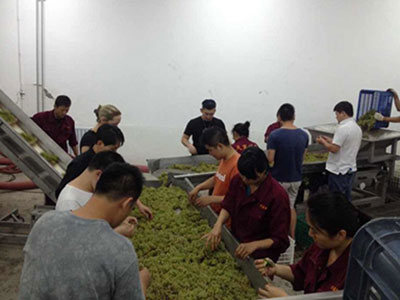 The harvest time in Manas Basin in Northern Xinjiang (44 degrees north latitude), however, is similar to the other Chinese wine regions, such as Wuwei in Gansu Province, Ningxia, Shacheng in Hebei Province, and Beijing, which is commonly between late September and early October; Changli, Hebei Province and Yantai, Shandong Province will start harvesting from early October and will last up to a month.
Generally speaking, the 2014 harvest season in major wine regions across China is slightly earlier than previous 'normal' vintages due to summer drought, apart from in the ice wine region Huanren Manchu Autonomous County in Liaoning Province, which is unable to be predicted. We can expect the yield to be similar to normal vintages, and the quality to be slightly better than the average level. However, it is hard to find the joyful smile on the faces of the winegrowers who sell the grapes rather than make wine themselves. At the same time three years ago, there were many active brokers in the vineyards negotiating with the farmers about prices and harvest times. But because of the consumer market downturn in recent years, the purchase of wine grape has been significantly affected. Some larger growers have proactively contacted wineries so they can make wines using grapes that can't be sold but have to be picked from the vineyards, in order to fulfil their pressing needs.
However, with a difficult marketing selling the grapes, there's no guarantee the wines will be able to be sold. If the consumer market continues its current downturn, some winegrowers may give up their vines and plant other crops instead.
Translated by Nina Fan Feng / 冯帆
All rights reserved by Future plc. No part of this publication may be reproduced, distributed or transmitted in any form or by any means without the prior written permission of Decanter.
Only Official Media Partners (see About us) of DecanterChina.com may republish part of the content from the site without prior permission under strict Terms & Conditions. Contact china@decanter.com to learn about how to become an Official Media Partner of DecanterChina.com.