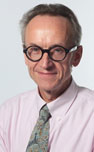 New columnist!
Andrew Jefford
Andrew Jefford is a columnist for both Decanter magazine and www.decanter.com, Jefford has been writing and broadcasting about wine (as well as food, whisky, travel and perfume) since the 1980s, winning many awards – the latest for his work as a columnist. After 15 months as a senior research fellow at Adelaide University between 2009 and 2010, Andrew is currently writing a book on Australia's wine landscape and terroirs. He lives in the Languedoc, on the frontier between the Grès de Montpellier and Pic St Loup zones.
Jefford on Monday
It was gold in colour, though a little deeper than usual: the colour of my grandmother's wedding ring. The aromas rolled out like a slow wave at the end of a great ocean: sinuous, seamless, grand. There was wax, incense, menthol, crushed walnut, cheese nestled in straw; there were summer fruits left out on an old stone wall until they had very nearly dried rigid, with just a little acid-spangled fructose left in them. The wine was banquet-like, but not a waterfall of flavour, as Montrachet is. This was, more literally, a knife-and-fork enterprise; the tannins fell softly, like wet snow. It was chewy but gentle, weighty yet lifted, gristly, quietly garrulous.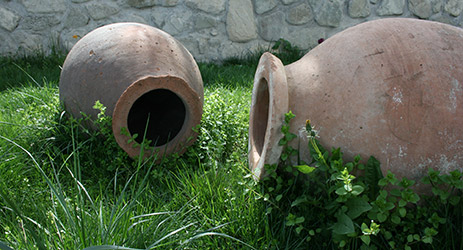 We know about white wine, pink wine, red wine, sparkling wine and fortified wine: the great five genres of wine. Taste a few Georgian wines made from white varieties in a qvevri and you will be in no doubt: this is the sixth genre of wine. The missing sixth? Well, only from a Eurocentric or Occidental perspective. Here in the Caucasus, nursed in the cradle, wines of refinement have been made in this way for 8,000 years.
I stress 'white grape varieties' since red wines made in a qvevri are, in principle, conventional; they simply happen to be fermented in an unusual recipient. They are worked during fermentation as almost all red wines are, then evicted from the qvevri after a couple of months and may then have wood ageing (though some are returned in whole or in part to clean qvevri). They taste striking, and are often prodigiously expressive and grippy, but that has more to do with the properties of Saperavi (and other key Georgian red varieties like Tavkveri) as it does with the recipient. Saperavi seems to me to be a grape variety of astonishing potential: as authoritative as Cabernet or Touriga Nacional; as polyphenolically prodigious as Nebbiolo or Tannat; as stylistically arresting as Syrah; yet somehow more 'energetic' in flavour than any other grape variety at all.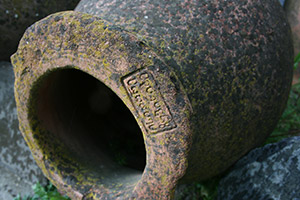 Image: Old qvevri © Andrew Jefford
It's what happens to the white varieties like Rkatsiteli, Mtsvane and Kisi in those clay jars, though, which is unique. Apart from occasional skin contact, white wines around the rest of the world bid farewell to their skins and their pips at birth: they are made from juice alone.
Whites made in qvevri in Kakheti, by contrast, spend longer with their skins and pips than does great Bordeaux, Barolo or Chianti: around six months. Even the stems are sometimes included, in whole or in part. All go through malolactic fermentation (with indigenous bacteria; alcoholic fermentation is natural, too); once fermentation is over, the wines fall secretly bright over a carpet of yeast deposits. The only intervention in six months is the removal of any floating berries after malo, and the addition of sulphur at the same time; then the jar is sealed and earth-covered, and will slumber the months away at between 12°C and 14°C.
Wine's sixth genre can almost seem like a liquid food, not a wine at all. It is not just full-bodied, but huge-bodied: often richly tannic, and always with a mouth-filling presence and amplitude which can make even Pouilly-Fuissé or white Châteauneuf look slender. Don't expect fresh fruit from a Kakhetian qvevri white: there isn't any. But if you want everything which I mentioned above and lots more besides, including notes which push on further into the protein spectrum, you'll find them here. The results may seem freaky at first. Attune your palate to the best of these wines, though, and they will begin to seem profound, horizon-expanding and deeply gastronomic. I know of no more exciting wines made east of Tokaj.
Of course a lot can go wrong in a qvevri: it's a microbiological jungle in there. Some of the qvevri wines I tried on my initial visit to Georgia this April were spoiled by oxidation, hence monotonous and varnishy; sometimes stinky; sometimes weird, deviant, flabby and unappetizing.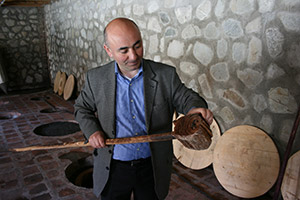 Image: Dr Giorgi Dakishvili © Andrew Jefford
Dr Giorgi Dakishvili of Schuchmann (whose fine and scrupulously crafted qvevri wines go to market under the Vinoterra label: the first paragraph describes his Vinoterra 2008 Mtsvane, from the village of Napareuli) outlined for me the three essentials for making great qvevri white wines. Perfect ripeness; fastidious fruit selection to exclude any blemished grapes; and obsessive qvevri-hygiene (including a complex cleaning regime). Getting balance in a qvevri wine requires the use of differently sized jars (smaller ones ferment cooler, retaining more fruit and extracting less tannin). I'm unsure as to the extent to which different varieties can leave their print on a qvevri wine. It might be my inexperience, but it seemed to me that the differences between wines reflected the jar and the maker (and perhaps the growing location) more than the grape variety.
What's certain is that tannic, structured, extractive whites are fascinating and compelling wines. The curious are surely going to want to make wines like this from all of the world's leading white grape varieties and in most of the world's leading growing locations over the next half-century. Quite what we'll call the results is uncertain: 'qvevri' should, I feel, belong to Georgia; 'orange' is often grungy; and in any case it is the tannins and their aromatic and flavour spectrum which matters, not the colour. But let's not lose sight of wine's sixth genre again.
- Follow us on Weibo @Decanter醇鉴

-
All rights reserved by Future plc. No part of this publication may be reproduced, distributed or transmitted in any form or by any means without the prior written permission of Decanter.
Only Official Media Partners (see About us) of DecanterChina.com may republish part of the content from the site without prior permission under strict Terms & Conditions. Contact china@decanter.com to learn about how to become an Official Media Partner of DecanterChina.com.