Jefford on Monday
Do wine-competition medals abuse the consumer's trust? That's the belief of British newspaper wine columnist Victoria Moore, whose recent column on the subject can be read here. She feels particularly indignant about 'commended' and 'bronze' awards which, she alleges, indicate 'an all-shall-have-prizes pass rate that makes complete mugs of trusting drinkers like me and you'. Decanter's World Wine Awards and the International Wine Challenge are the villains of her piece. She suggests that commendations and bronze medals are little more than a way of soliciting entries and selling medal stickers – and the more entries received and stickers sold, the more profitable the competition.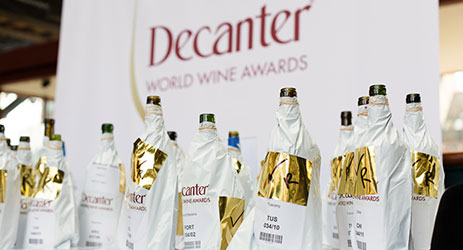 These criticisms are worth making, and are, moreover, regularly made around the world about almost all wine competitions. I have no brief to speak on behalf of the Decanter World Wine Awards, so what follows are simply the thoughts of a DWWA panel chair – and, just as importantly, a serial purchaser of wines bearing medal stickers (especially from French supermarkets, where the competitions are mainly those of Paris and Mâcon agricultural fairs, and where wines without medal stickers can often be excruciatingly bad). I'm paid to be a panel chair for Decanter, so readers should note that I make no claim to impartiality in this debate. For what it's worth, though, I don't agree with Victoria Moore on this matter, and here's why.
1) Consumers are not idiots. It's obvious that a gold medal constitutes a hot tip, and should be an outstanding example of its type and at its price. So what is silver? A valiant effort. So what is bronze? A good wine in absolute terms, and better than average for its type and price. So what is a commendation? It is a wine that stood out in some way or other as being of interest or merit – but compared to the gold medal, of course and quite evidently, it is a warm rather than a hot tip. No one expects a two-star hotel to please in the same way as a five-star hotel. An exam grade D will not get you as far as grade A. In a Formula One race, the driver who came fourth doesn't get to spray Mumm at hapless hostesses. He goes back to his caravan and says 'Oh well; I got 12 points but I'll do better next time.' Everyone understands the principles of classification; you don't need to be Stephen Hawking or Roger Penrose to work them out.
2) A tip is a tip. When my panellists are wondering whether or not to commend a wine, I ask them 'Would you want to drink a glass of this wine tonight?' If the answer is 'no', then I suggest that the wine should be sent home with its tail between its legs. A commendation, therefore, means that a majority of the panellists (and I'm often the only non-Master of Wine around the table) have found the wine of interest, and would indeed like to drink a glass of it that night. This is surely worth drawing consumers' attention to, given the huge number of wines on sale, and given the fact that most consumers find wine nomenclature confusing and impossible to remember or make sense of.
It doesn't, of course, mean that everyone will like the wine. I don't like every wine my panellists commend; I don't even like every other panel's gold medals, and I know that some of my panel's gold medals aren't to the taste of every other panel chair. But I'm always grateful for the tip, arrived at by skilled palates, and made in good faith after considerable scrutiny. Wine drinkers understand that tastes vary, and that no medal or commendation can ever guarantee individual, personal delight.
3) Competitions have to make money. Or they wouldn't exist. Would that make for a better wine world? Victoria Moore suggests that there is a 'strong financial incentive' behind the existence of bronze awards and commendations, and that this is in some way morally doubtful. This might be the case were panellists actively encouraged to make the lower awards – but in Decanter's case, at any rate, they aren't. The official advice sent to every panel chair is that they should 'Judge severely but do not be ungenerous. Wines that receive a medal should be medal-worthy. Commended wines must be good, not just faultless.'
The fact that this year's DWWA attracted over 16,000 entries (a record number) suggests that it serves some sort of useful purpose. That purpose, by the way, is far from exclusively commercial; I'm always mildly shocked to find how many producers appear to make no use at all of their award (only 18 per cent bought stickers, for example, after the 2014 competition). The answer – when I've asked – is that it's worth the entry fee to use the competition as a benchmarking exercise, to find out how well their wines are performing against local or international competition, or against past performance. Producers in general respect the fact that both of these competitions, while not perfect, are competently judged.
There are, I think, valid criticisms one might make of all wine competitions. It is very hard to calibrate every panel's performance; some panels are always more or less enthusiastic than others. The judging process should be one of maximum transparency. More effort should certainly be made to define and publicise medal criteria. France's main wine competitions, for example, are owned and run by the French Ministry of Agriculture; few realise that the law there forbids awards to more than 33% of the entries, and there are no commendations. Perhaps this is closer to Victoria Moore's ideal? Remember, though, that a high percentage of judges are also wine producers in those competitions, of course, whereas almost no wine producers are invited to judge for Decanter (and any that do are banned from submitting any of their wines). Curbing producer enthusiasm, perhaps, goes some way to explain the seemingly arbitrary 33% medal limit in France, which in any case is rarely attained.
My own chief regret as a panel chair is that so few top producers see fit to enter, almost entirely slicing off the top tier of quality in every appellation – but if your wines are already parcelled out on allocation, where's the incentive? Competitions principally exist to find three or four strata of attainment among the mass of aspiring wines competing in a crowded market. Most (I feel from my partial perspective) do not make mugs of trusting consumers. I think the wine world would be duller, more inscrutable and more hazardous without them.
Translated by Nina Fan Feng / 冯帆
All rights reserved by Future plc. No part of this publication may be reproduced, distributed or transmitted in any form or by any means without the prior written permission of Decanter.
Only Official Media Partners (see About us) of DecanterChina.com may republish part of the content from the site without prior permission under strict Terms & Conditions. Contact china@decanter.com to learn about how to become an Official Media Partner of DecanterChina.com.