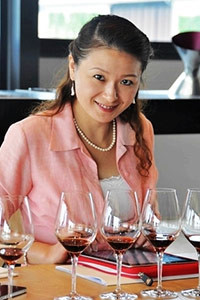 Basic profile
Name: Young Shi AIWS
Current Position: Co-founder and Wine Academy Director of TasteSpirit
Based in: London & Shanghai
How long have you been working as an educator: 9 years (since 2006 at Vinopolis, London)
Also worked for: Greater China Oncology Product Director, Philips Medical System
Risk Manager, Balfour Beatty UK
Senior Business Consultant, IMS Health UK Senior Wine Educator, Vinopolis UK Asia Pacific Fine Wine Manager, The Antique Wine Company, UK
Qualifications & Awards:
WSET Diploma
Certified WSET Educator
Certified German Wine Educator
Certified New Zealand Wine Educator
What system(s) do you use to teach:
WSET, German Wine Institute Training Program, New Zealand Wine Training Program, TasteSpirit & HuJiang e-learning program
How many students do you have (currently):
- In Vinopolis London, UK - about 18,000
- Masterclasses & lectures in Prowein, Collisioni Italy, Riesling Downunder Conference Australia, WSET Global Webinar, New Zealand Wine Growers Event, NingXia Wine Bureau, etc. – about 2000
- TasteSpirit-Hujiang e-learning wine course – about 5000
- WSET education in China – about 250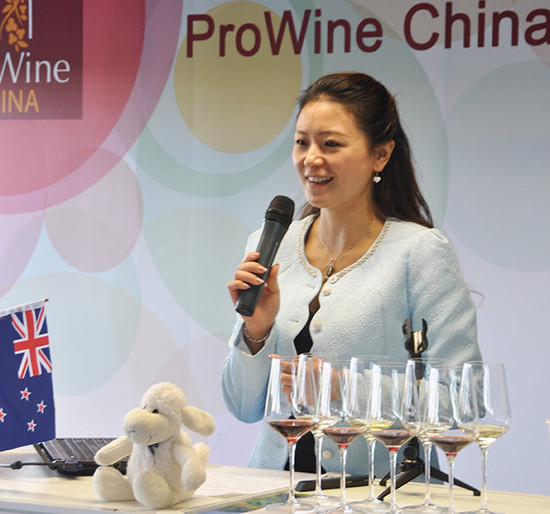 What is it like to be an educator in China?
1. How did you get into the business?
Living in metropolitan London, it can be hard not to be immersed in culture. My consultant job paid well enough to support my hobby of working in Vinopolis every Saturday, which was extremely eye opening. I got a panoramic perspective on global wines and was lucky enough to have customers from all over the world to enjoy them with.
The only danger of this is once you open the secret door, there's no turning back. Wine has taken me to so many amazing places and fascinating people. I believe that whatever you are seeking – beauty, nature, harmony, philosophy, or rules of the universe – you will find it in wine. Wine is by no means pleasure of flesh. It makes you and your spiritual life complete.
2. What do you think is the level of knowledge among wine consumers at the moment?
Many well-educated wine consumers in Shanghai have broad knowledge and experience in wine. Last year TasteSpirit organised several wine tasting events, many were hosted by wine celebrities such as Sandra de Pury of Yeringberg and David Ornon, Global Brand Ambassador from Chateau Guiraud. Two weeks ago we just held another tasting with Misha's Vineyard from Central Otago. All these tasting events were conducted in English without Chinese interpretation, as translation simply didn't seem to be necessary.
Similar to New York and London, Shanghai has now become a city of diverse cultures and values. The annual events such as Decanter Shanghai Fine Wine Encounter, ProWine China and the Gambero Rosso's Tre Bicchieri tour top the most popular international tastings in Shanghai.
People are willing to embrace new things, and they are learning very fast. Their level of knowledge grows incredibly rapid. There are, of course, highly sophisticated wine lovers in inner land of China; but as a hub of wine information and tasting opportunities, Shanghai still stands head and shoulders over many other cities in China.
3. What are the reasons that make your students want to learn about wine? Can you see a trend in the last 3 year?
They learn for various reasons. We have students fanatic about collecting all sorts of certificates, as well as senior managers who are pressurised to advance the wine knowledge and table manners in commercial intercourse; those from financial backgrounds developing a hobby (just like me!) or knowledge about wine investment; we also have numerous students from the trade who want to become more competitive among their peers.
Most intriguingly, ever since the establishment of TasteSpirit we always have one or two Western students on each WSET Level 3 course. Currently we are probably the only WSET APP to offer wine education to foreign students in Shanghai. So, I'm delighted once more to be working with wine lovers from all over the world and having a sense of déjà vu from my days at Vinopolis.
Speaking of the changes we've witnessed in the last three years, first of all we have more and more non-trade students – sometimes nearly half of my students don't have a trade background. Secondly, the market is now growing in full-speed.
In 2009, I hosted a TV show with China Central Television (CCTV). When I was introduced as a wine critic holding a WSET Diploma, nobody understood what that was. Nowadays, however, China is getting increasingly hungry for wine knowledge. Ian Harris, CEO of WSET, said at China's Wine Summit Forum that official figures showed that the Greater China region had now surpassed the UK to become the biggest market for WSET. The Mainland, to be specific, is currently the most important overseas wine education base for WSET.
4. Who was the most interesting student you've ever met?
The first students who took our pilot WSET Level 3 course in simplified Chinese. The majority of them were from cities extremely far away (while usually most of our students are from Shanghai and its surrounding cities) such as Ürümqi, Changchun, Dalian, Beijing, Tianjin and Xiamen. They came from all over China to pursue their dream in wine. It was a long journey for them to take, and they studied extremely hard. I'm deeply moved by their passion for wine and their willingness to make an effort, and of course, I appreciate their trust in TasteSpirit.
5. Please describe your typical day
What a difficult question! A start-up company has no luxury of repetitive days. In addition, I fly around the world for all kinds of educational events, tastings and visits while judging in various international wine competitions. There's no such a thing as a 'typical day' for me, which is exactly why I love my current job so much. Routines kill me and my passion.
The only thing I do every day, however, is giving my family a goodnight call at bedtime, no matter how far I am from home.
6. Videos of your teaching
Wine lectures conducted by Young Shi in London and Shanghai
DBTV - Interview with the Sherry Institute in Spain
See next page: A private lesson with Young
All rights reserved by Future plc. No part of this publication may be reproduced, distributed or transmitted in any form or by any means without the prior written permission of Decanter.

Only Official Media Partners (see About us) of DecanterChina.com may republish part of the content from the site without prior permission under strict Terms & Conditions. Contact china@decanter.com to learn about how to become an Official Media Partner of DecanterChina.com.