Basic profile
Name: Stephen Li
Current Position: Founder of Stephen Wine
Based in: Shanghai
How long have you been working as an educator: 5 years
Qualifications & Awards:
WSET Diploma / Certified Educator
What system(s) do you use to teach:
Mainly WSET. Also taught using domestic and other international systems such as ISG./p>
How many students do you have (currently): Thousands. I trained nearly 200 WSET3 students and over 300 WSET2 students in the year 2012/13.
What is it like to be an educator in China?
1. How did you get into the business?
I lived and worked in Manchester and London for several years. After finishing my WSET Diploma courses, I knew that I had to stay in the world of wine. I chose to go into wine education knowing that it's both time and energy consuming.
After being 'baptised' by the chaotic primary wine market in China, I started my own company. As a neutral educational institution our aim is to teach Chinese consumers the ways that wine is a multi-dimensional and cultural beverage.
2. What do you think is the level of knowledge among wine consumers at the moment?
The wine market in Shanghai is flourishing. Many people coming from overseas are working, and even have settled down in Shanghai. The various wine exhibitions, dinners and promotional events are dazzling. Trained in such a unique and advantageous environment, wine consumers in Shanghai have a considerably high knowledge level.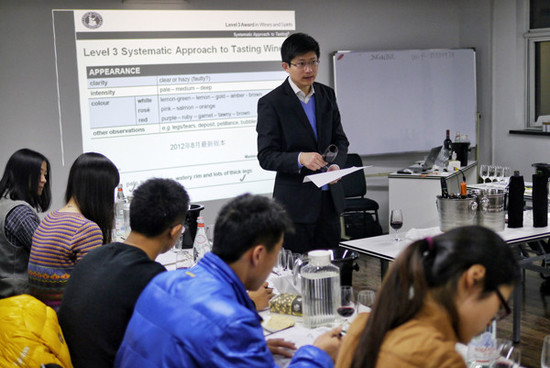 3. What are the reasons that make your students want to learn about wine? Can you see a trend in the last 3 years?
Students of different course levels are learning about wine for quite diverse reasons.
WSET Level 1 students are mainly wine lovers, while trade practitioners take up the majority of WSET level 2 students. When you get to WSET level 3, almost every student is working in the wine trade.
Wine lovers mainly want to learn generally about how to taste, and to have a better understand of the culture of wine, while seeking for an improved life style. These needs haven't changed in the past three years.
For people working in the wine trade, before the purpose for taking courses was to gain more professional knowledge so as to perform better in their job. However, as finding a job in the wine trade is getting more and more difficult, many students are here to achieve a more advanced certificate, so that they are in a more competitive position in the market.
There're also wine business owners taking the courses. Besides gaining more knowledge about the wine business, they also want to expand their network in the trade so as to avoid unnecessary failures due to ignorance.
4. Who was the most interesting student you've ever met?
I had a student who used to occupy a widely admired position in the customs for several years. After completing her WSET level 3 courses with me, she quit her job and went to Australia to stay with a winemaker. After two years, now she is working as a winemaker in one of the internationally known wineries in Barossa Valley. She has a boyfriend who is a sommelier, and the two of them are working towards Master of Wine and Master of Sommelier respectively.
Though in the Chinese wine world there are many encouraging stories like hers. However, for a girl to become so passionate about and devoted to wine is not something happens every day. I'd cheer her on!
5. Please describe your typical day
My daily work includes replying to all kinds of emails; besides taking care of my own company Stephen Wine, I also work as chief consulting lecturer of Jubilant Nova Wine Academy, so I manage and train their lecturers as well.
Meanwhile, I need to communicate with various importers and choose wines from them, so as to enrich the wine list for various courses. A good lesson depends on suitable wines.
Over weekends, I usually fly around the country to teach lessons (mainly WSET level 3), and take part in various wine events.
To run an independent wine training institute is hard work, but I enjoy it as much.
6. Image of your teaching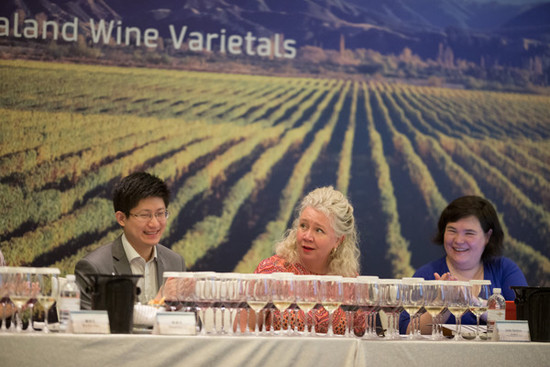 See next page: A private lesson with Stephen
All rights reserved by Future plc. No part of this publication may be reproduced, distributed or transmitted in any form or by any means without the prior written permission of Decanter.

Only Official Media Partners (see About us) of DecanterChina.com may republish part of the content from the site without prior permission under strict Terms & Conditions. Contact china@decanter.com to learn about how to become an Official Media Partner of DecanterChina.com.