Chateau Branaire-Ducru
4th Cru Classe, 1855
33250 Saint-Julien
+33 (0) 556 59 25 86
www.branaire.com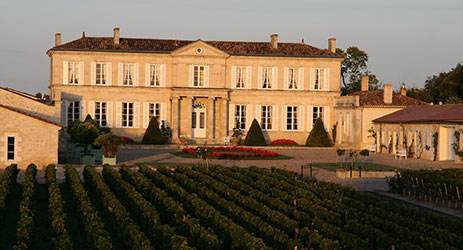 Location: AOC Saint Julien, close to Chateau Beychevelle.Production: 60 hectares making an average of 300,000 bottles across Château Branaire-Ducru and Duluc de Branaire-Ducru.
Five things you didn't know about Chateau Branaire-Ducru:
- Owner Patrick Maroteaux is from Picardy in northern France. He has been successful in three careers – first in the bank industry, then heading up the Eurosucre Sugar Business, and finally as co-owner and President of the board of Branaire-Ducru since 1988. He has certainly made an impact in his adoptive city of Bordeaux – Maroteaux was president of the Union des Grand Crus Classés for eight years between 2001 and 2008, and doubled the number of the group's overseas tastings during his tenure. He is now president of the Saint Julien appellation and Vice President of the UGCB.
- The highest point of the estate is at 14 metres above sea level, and lies 900 metres from the Gironde estuary. Its gravelly soil means there is a full 70% of cabernet sauvignon planted in the vineyard.
- A young Philippe Dhalluin, now technical director of Chateau Mouton Rothschild, got his career started at Branaire Ducru. Jean-Dominique Videau, another talented technical Director arrived in 2002 when Philippe Dhalluin left for Château Mouton Rothschild.
- The estate was called Chateau Branaire Duluc until the 1880s; explaining the (otherwise rather random) name of the second wine today. History also explains the four crowns on the label: in 1899, Branaire was owned by three cousins, the Marquis de Carbonnier de Marzac, Comte Ravez and Comte du Perrier de Larsan who are today each represented by a crown on the chateau's label. There is a fourth crown on the label as well, representing their aunt, the Countess Duluc, who had bequeathed the estate to them.
- Author Roald Dahl wrote about Branaire-Ducru in his story Taste, which was published in the 1953 collection Someone Like You. In it two wine collectors argue over the identity of a wine served blind during a dinner party, and it turns out to be Branaire-Ducru.
Current owner: Patrick Maroteaux, with Jean-Dominique Videau as technical director.
Most notable previous owner: The Duluc family, who built the current chateau building and owned Branaire for almost 200 years.
Other chateaux owned: None.
Commercial strategy: 100% négociants, sold en primeur through the Place de Bordeaux.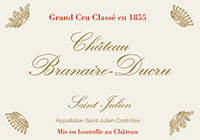 Second wine: Duluc de Branaire-Ducru (from vines under 15 years old). Introduced on Maroteaux's arrival at the estate.
Through the centuries:
The name of the chateau comes from Jean-Baptiste Braneyre, who bought the property in 1680. Before his arrival, the vines were part of the Duc d'Epernon's vast Beychevelle estate, but when he died in 1642, he left behind a huge estate that was deeply in debt, and the vineyard was gradually broken up to pay off various creditors. Branaire was one of the results (Ducru-Beaucaillou another). It was known as Branaire Duluc for many years (in fact at the 1855 classification) after the marriage of Marie Braneyre to Pierre Du Luc. The family survived the French Revolution, despite being arrested and coming perilously close to losing their heads, and went on to have four children - and it was their descendants who built the beautiful chateau in 1824 by enlarging a small house that Marie had bought in Bourdieu, a hamlet close to Chateau Beychevelle.
Around 50 years later, in 1875, then-owner Gustave Ducru (a distant relative of the Duluc family) added his name to the label, and we finally arrived at Chateau Branaire Ducru. When Gustave died in 1879 the estate passed to his sister, and in 1899 she bequeathed it to three nephews, the Marquis de Carbonnier de Marzac, Comte Ravez and Comte du Perrier de Larsan. These three live on today on the Branaire-Ducru label, each one represented by a crown. In 1919, after the ravages of World War I, Jean-Michel Tapie took over at Branaire, and his family stayed with the estate until Maroteaux's arrival in 1988.
Consultant: Jacques and Eric Boissenot
Plantation and vineyard work:Cabernet Sauvignon (70%), Merlot (22%), Cabernet Franc (5%), Petit Verdot (3%), average age 35 years, planted to between 6,700 and 10,000 vines per hectare. Hand-harvesting. Rootstocks 101/14, 3309, Riparia Gloire. Sustainable viticulture is practised here, meaning ploughing or grass-growing between rows to encourage roots to go deeper because of competition for available water. New vineyards are planted with vines selected in their own vineyards, and produced in their own nursery. Harvest date based for each plot on phenolic analysis and berry tastings.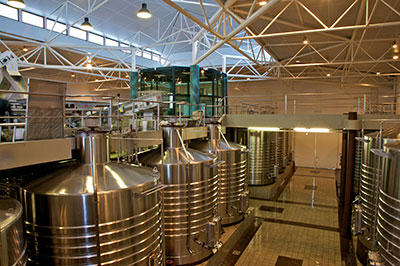 Vinification: Stainless steel tanks with temperature control. Size of tanks adapted to size of vineyard plots. Tanks filling using gravity (this was in fact one of the first in the Médoc to do so, back in 1991). Fermentation temperature is a fairly modest 26-28 °C, with maceration around three weeks. The blending is early, before the end of February following the harvest. The wine is aged in oak barrels for 16 to 20 months with 60 to 65% of new oak, with a light toast. Egg white fining.
Terroir: Deep gravel, located on the Saint-Julien-Beychevelle plateau.
Recent improvements or changes:
Since Maroteaux arrived, pretty much every aspect of this property has been streamlined, from drastic yield reduction to the introduction of a gravity-fed winery in 1991. But the entire winery and chateau has been renovated over recent years, with the bulk of the work completed between 2007 and 2010. There is now an excellent wine tourism programme.
Recent Decanter scores:
2012 en primeur – 17 points/20
2011 en primeur – 16.5 points
2010 en primeur – 17.5 points
2009 en primeur – 17.5 points
2008 en primeur – 16.5 points
Average bottle price in UK: £30-£70, depending on vintage.
- Follow us on Weibo @Decanter醇鉴

and Facebook

for most recent news and updates -
All rights reserved by Future plc. No part of this publication may be reproduced, distributed or transmitted in any form or by any means without the prior written permission of Decanter.
Only Official Media Partners (see About us) of DecanterChina.com may republish part of the content from the site without prior permission under strict Terms & Conditions. Contact china@decanter.com to learn about how to become an Official Media Partner of DecanterChina.com.