Chateau Calon-Ségur
3rd Cru Classe, 1855
33180 Saint Estephe
+33 (0) 556 59 30 08
www.calon-segur.fr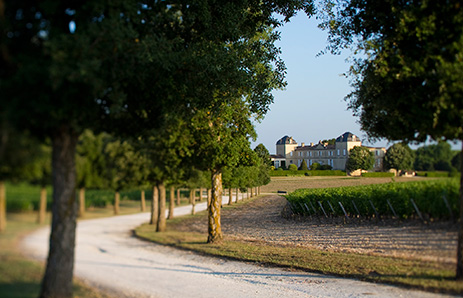 Image © Chateau Calon-Ségur
Location: AOC Saint Estephe.
Production: 55 hectares. The estate's normal production is 100,000 bottles annually for the first wine, and around 150,000 bottles for the second and third wine, but has suffered from a number of hail storms in recent years, and on several occasions that number has been halved.
Five things you didn't know about Chateau Calon-Ségur:
- Calon-Ségur is the oldest property in Saint-Estèphe. A part of the name comes from Calones, the Roman name for the town of Saint Estephe which was called Saint Estèphe de Calon until the 18th century ('Calon' was a small river boat once used to carry timber across the Gironde estuary). The other part is due to the Marquis de Ségur, owner of the Château in the 18th century, who added his proper name.
- Actor Johnny Depp claimed in an interview with French magazine Figaro that Calon-Ségur is a 'marvellous wine that you can drink every day, and it's also very affordable'.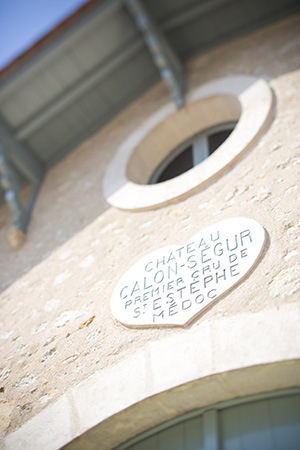 - Calon-Ségur is the most northerly located of all classified growths of the Médoc.
- Managing director Laurent Dufau worked as managing director of négociant company Ballande & Meneret since 2005. A keen rugby fan, he is from the Médoc and has a small family estate in Listrac.
- Besides the heart on the wine label of Calon, there is a heart at the estate itself, carved onto the outside wall of the winery.
Current owner: Suravenir, the life-insurance subsidiary of French banking group Credit Mutuel Arkea. Bought in November 2012 for an estimated 170 million, including stocks. A minority share is owned by Videlot, a Bordeaux wine company owned by Jean-Francois Moueix and owner of Pomerol's Pétrus. 'We consider Calon-Ségur a long-term investment that will gain in value and we are here to be a stable, long-term investor,' said Suravenir at the time of purchase.
Most notable previous owner: That would have to be Denise Capbern-Gasqueton, known more usually as Madame Gasqueton, who passed away in 2011.
Other chateaux owned: Chateau Capbern-Gasqueton, also in Saint Estephe and known for being one of the best value for money properties in the region. The purchase of the two estates was the first vineyard investment for Brittany-based Credit Mutuel Arkea.
Commercial strategy: 100% Place de Bordeaux (both physical stock and En primeur).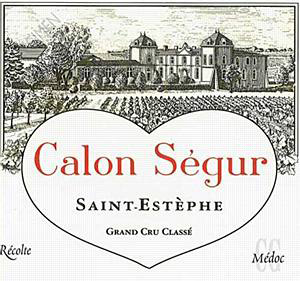 Second wine: Marquis de Calon
Third wine: La Chapelle de Calon
Through the centuries:
During more than two centuries (mid-16th century to mid-18th century), Calon was owned by the de Gasq family, and was not sold once, although the owners' names occasionally changed with marriages.
Eventually, in the 18th century, it passed into the ownership of Nicolas-Alexandre, the Marquis de Ségur (1695-1755), known as the "Prince of Vines". Again, de Ségur was a serious collector of vineyards, and owned at various times Chateau Latour, Chateau Lafite and Chateau Mouton (and for one rather heady period between 1718 and 1720 all three at once). Calon came to him via marriage (he married one of the de Gasq daughters), and he famously said that his heart belonged there over his other more illustrious properties 'I make wine at Lafite and Latour but my heart is in Calon' – and the estate has ensured that is never forgotten by putting the name Calon-Ségur within a heart on their wine label. Future generations of the de Ségur's were a little less careful with their money than Alexandre had been, however, and in 1778 Calon was sold for the first time in 200 years.
In 1894, the Capbern-Gasqueton family arrived, eventually passing to Philippe Capbern-Gasqueton and his wife Denise. After Philippe's death in 1995, Calon passed to his wife. Shortly after her death, in November 2012, the estate was sold to Suravenir life-insurance by their daughter Hélène de Baritault.
Consultant: Eric Boissenot, with Laurent Dufau as managing director and Vincent Millet as technical director. Director of Crédit Mutuel Arkea, Jean-Pierre Denis, heads up the management board.
Plantation and vineyard work:Cabernet Sauvignon (53%), Merlot (38%), Cabernet Franc (7%) and Petit Verdot (2%) planted to 8,000 to 10,000 vines per hectare – up from 6,500 vines per hectare until the mid-1990s. Average age of vines 22 years. Much of the vineyard is in a 'clos' walled area that surrounds the 17th century chateau, and there are also two further plots that lie outside the wall. Hand-harvesting, with the first wine coming primarily from grapes within the clos. Only 45 hectares of vines are planted at any one time at Calon. The rest are planted on a rotation basis with young vines, and a mix of seedling plants, to ensure the soil is always fully restored.
Vinification: An exquisitely crafted traditionally-styled Saint Estèphe wine. This translates into a fairly high degree of Cabernet Sauvignon (up to 86% for the first wine in some years, with the balance made up by Merlot and a dash of Petit Verdot), and a higher proportion of Merlot into the second wine, Le Marquis de Calon. Up to 100% new oak for the first wine. Technical director Vincent Millet used to work at Chateau Margaux as quality controller for eight years, and arrived at Calon in 2006. It is under his direction that the proportion of new oak has risen, as has the proportion of Cabernet Sauvignon, and the wine has generally been seen to gain in power and precision. Different vineyard plots are vinified separately, and five different barrel makers are used to provide complexity. The wines are egg-white filtered but not fined.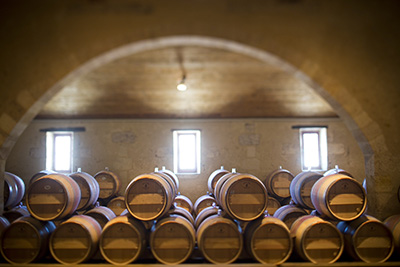 Terroir: A little different from the clay-heavy soil in most of Saint-Estephe, the land around Calon is hilly and gravelly, ensuring excellent drainage and deep roots heading upwards of 5 metres in some places. Touches of limestone also in the soil, particularly in a plot called La Chapelle, but generally this is perfect cabernet sauvignon territory, something that is reflected in the high amount used for the first wine.
Recent improvements or changes:
This is a chateau that is seeing a rise in value, at a time when many Left Bank estates are not. Prices for back vintages are going up, and have risen more strongly since the new owners have been announced (most specifically due to the magic name of Moueix in the investment mix). Over the last two years, average prices for Calon have risen 20%.
There are current intensive works taking place in the vineyard, with soil studies and redrawing vineyard plots to ensure the vines are cared for as precisely as possible, with some rootstocks changed. The density of planting has also been increased gradually over recent years.
Calon-Ségur is unusual for having no website – but under the new owners, a site is currently under development (Coming in early 2014).
Recent Decanter scores:
2012 en primeur – 18.25 points/20
2011 en primeur – 18 points
2010 en primeur – 19 points
2009 en primeur – 18.5 points
2008 en primeur – 16.5 points
Average bottle price in UK: £35-£95, depending on vintage.
- Follow us on Weibo @Decanter醇鉴

and Facebook

for most recent news and updates -
All rights reserved by Future plc. No part of this publication may be reproduced, distributed or transmitted in any form or by any means without the prior written permission of Decanter.
Only Official Media Partners (see About us) of DecanterChina.com may republish part of the content from the site without prior permission under strict Terms & Conditions. Contact china@decanter.com to learn about how to become an Official Media Partner of DecanterChina.com.