Originating from the Alps, the Rhone is one of the greatest wine rivers in the world. Although the Rhone Valley is considered as a continuous wine producing region, it can be divided into two distinctive parts — the Northern Rhone and the Southern Rhone. The two parts are very different in terms of climate, geographic condition and grape varieties.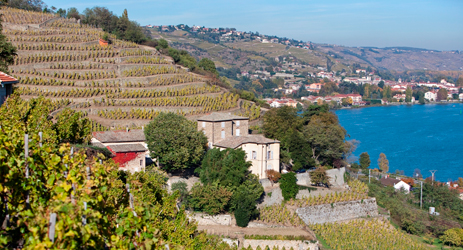 The Northern Rhone is responsible for many of the finest and most expensive wines produced in the Rhone Valley. Famous appellations such as Cote-Rotie and Hermitage produce quality reds — mostly Syrah — that rival the best of Bordeaux and Burgundy. Condrieu is the homeland to the white grape variety Viognier, which is considered as the most interesting of the Rhône Valley trio — the other two being Marsanne and Roussane. Vines are mostly planted on very steep slopes and staked, which give them sufficient sunshine, and protect them from the strong and chilling Mistral.
The Southern Rhone produces most of the generic Cotes du Rhone wines and all of the Cotes du Rhone Village wines, which account for the majority of the production in the Rhone Valley. Chateauneuf-du-Pape is perhaps the most well-known appellation in this region. It has its special place in French history for being the very first Appellation Controlee, which was the prototype for the entire AC system. Here wines of diverse characters and styles are produced, with Grenache being the dominant red grape—which is also the case in most other appellations in the Southern Rhone. Syrah, Cinsault and Mourvedre are important red varieties that are often blended with Grenache, while Clairette, Grenache Blanc and Bourboulenc are the top white varieties. Unlike the Northern Rhone, vineyards here are flattered; therefore windbreaks have to be built to protect vines from the strong Mistral.