It's been a strange Rentrée in Bordeaux. Startling sunshine, turning on like a switch on the first day of September, after a dreary month of August where the rain fell more often than the region's winemakers would have liked. Now the grapes – already plentiful in quantity – have the possibility of reaching full, luscious ripeness in their own sweet time. All depends on if the good weather holds, explaining why all conversations are peppered with 'touch wood', 'not to tempt fate, but…' and 'all being well…'.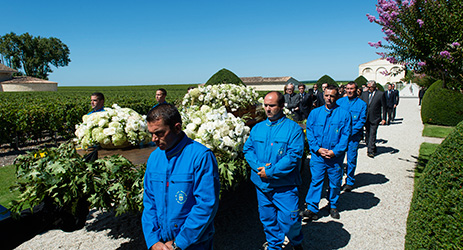 But just one week in to this September harvest season, and there have been funerals held in the Médoc for two legendary figures. The first in Pauillac, on the first day of the month, for Baroness Philippine de Rothschild of Mouton Rothschild, and the second, held just five days later in Lamarque, for Jacques Boissenot, consultant and secret weapon for many of the region's finest wines, including Madame de Rothschild's own.
'They were like two sides of the moon,' one chateau owner, who attended both funerals, commented on the ceremonies. The setting alone set the tone – Baroness Philippine in the beautiful surroundings of her First Growth property, feted by musicians, actors, politicians and the cream of the wine world. Boissenot's in the modest local church of Lamarque, a one-horse town a few miles to the south of Pauillac where he had lived and worked for much of the past half century. Only 500 could crowd in to the church, compared to the 1,200 in Pauillac, but it was still standing room only, with mourners arriving from every conceivable type of wine property; directors of cooperatives, fathers and sons from small chateaux, directors of the most prestigious classified growths, the full diversity of life in this largest of wine regions, paying tribute to a man who had done his best to raise the quality and success of all of them.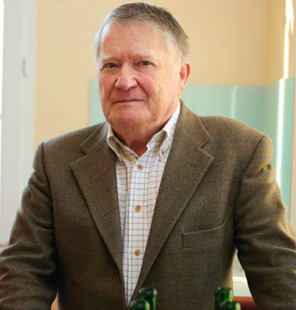 Where Madame de Rothschild was flamboyant and larger than life, Boissenot was quiet and understated, but for all their differences they shared not only a journey through Bordeaux during its most significant century, but a true love and understanding for the Médoc. At both funerals there was genuine emotion, a sincere recognition that two incredible figures had left us. The word legend can be used too lightly, too frequently, but I knew it was the right title for my book on the First Growths; Bordeaux Legends – and both Baroness Philippine de Rothschild and Jacques Boissenot play a significant part in its pages, rightly feted as such.
Baroness Philippine was born on November 22, 1933. Jacques Boissenot just five years later, on September 10, 1938. The early years of both were marked by the military; Boissenot was born in Beirut, where his father was part of the French presence that had been in the southern part of the former Ottoman Empire since the end of the First World War. French troops officially left the Lebanon in 1946, at the end of the Second World War, and Boissenot returned to France – and to Bordeaux – aged seven. Born in Paris in very different circumstances, with all the luxuries that the Rothschild name allows, Philippine was marked in the cruellest of ways by the influence of war when in 1944 she witnessed her aristocratic Catholic mother, Elisabeth Pelletier de Chambure, being taken from their Paris home by the Gestapo. She had assumed that her Catholic heritage would protect her despite marriage to a prominent Jewish figure but she was taken to Ravensbrück concentration camp and Philippine, aged just 10, lost her mother.
'This early trauma marked Madame de Rothschild irrevocably,' Bordeaux mayor Alain Juppé said at her funeral, 'and gave her an astonishing drive for life'.
Baroness Philippine herself rarely spoke about the event, but told an interviewer once that she owed her survival to an unknown German officer who had a daughter her age in Germany, and so did not take her along with her mother. She said that losing her mother gave her a 'violent approach to life for at least 10 years. I remember feeling that I had to fight my way through, that nothing was going to be easy'. That sense of fight never left her, but she used it to achieve enormous success – not only as a winemaker in France and abroad, but as an actress, graduating from the Paris Conservatoire National d'Art Dramatique in 1958 and working for the iconic Comédie Française. It also brought her closer to her father Baron Philip, who had spent the last years of the war fighting alongside Charles de Gaulle in the Free French forces and who was only able to return to Bordeaux upon Liberation – at almost exactly the same time that the young Jacques Boissenot was arriving in Bordeaux with his family to begin their new life.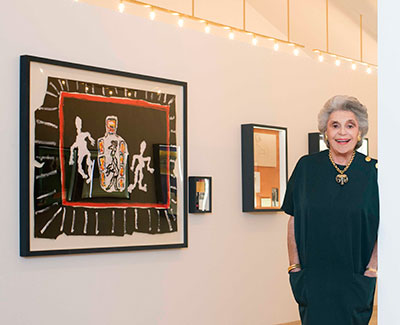 Learning from and then building on her father's work, Baroness Philippine was formidable, in every sense of the word. She was a brilliant fiercesome interview subject, and I always looked forward to speaking with her either on the phone or in person, even when on the sharp end of one of her famously impatient directives. She will be hugely missed, but her heart, I am certain, can still be found by any of us who visits the Paintings for the Labels exhibition at Mouton. She created this as a travelling exhibition in 1981, in honour of the tradition begun by her father of commissioning famous artists to draw the wine labels each vintage. With the renovations at the estate over the last few years, she had brought the exhibition to a permanent home in Pauillac, as an extension to the museum of art and wine that has been open at Mouton since 1962.
Madame de Rothschild had touched almost nothing from the original museum, preferring to leave it intact as her father had wished it. Every detail of the new gallery, in contrast, was overseen by Baroness Philippine, and is witty, playful and fascinating, giving a wonderful insight into how and why the artists are chosen. Events in the life of Mouton are key; from the 1973 promotion to the 1987 (vintage) death of Baron Philippe. Many of the labels benefit hugely from their back-story, from being viewed next to the alternative suggestion given by the artists, and from being seen on a bigger scale. But above all the exhibition reveals the vision and sheer exuberant nerve that Baron Philippe and his daughter Philippine shared.
There is no museum to remember Boissenot, besides that which he left behind in countless glasses of wine. He was known, above all, for his quiet, careful and astonishingly talented ability to bring the best of out a wine, to divine what the grapes were trying to say and help them express it. It's fitting to learn that he was in his laboratory the night before he died, still sharing knowledge and expertise with his son Eric. Last week he would have been happy with the returning sunshine, hoping for a splendid 2014 harvest of course. But he recognised that even the best of harvests need a steady hand, telling me once, 'Healthy grapes bring their own problems... the temptation to push them too hard is sometimes too great to resist'.
It was a comment that summed up for me everything about Jacques Boissenot – who could have basked in the reflected glory of the great wines that he helped to produce, and with the hand he played in bringing modern oenology into cellars all over Bordeaux. Instead he chose, every time, to resist the temptation and simply get on with the job at hand, one eye on the weather, the other on the soil.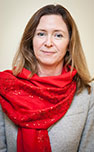 Columnist Introduction
Jane Anson is Bordeaux correspondent for Decanter, and has lived in the region since 2003. She is author of Bordeaux Legends, a history of the First Growth wines (October 2012 Editions de la Martiniere), the Bordeaux and Southwest France author of The Wine Opus and 1000 Great Wines That Won't Cost A Fortune (both Dorling Kindersley, 2010 and 2011). Anson is contributing writer of the Michelin Green Guide to the Wine Regions of France (March 2010, Michelin Publications), and writes a monthly wine column for the South China Morning Post in Hong Kong, where she lived from 1994 to 1997. Accredited wine teacher at the Bordeaux Ecole du Vin, with a Masters in publishing from University College London.
Click here to read all articles by Jane Anson>>
- Follow us on Weibo @Decanter醇鉴

and Facebook

for most recent news and updates -
All rights reserved by Future plc. No part of this publication may be reproduced, distributed or transmitted in any form or by any means without the prior written permission of Decanter.
Only Official Media Partners (see About us) of DecanterChina.com may republish part of the content from the site without prior permission under strict Terms & Conditions. Contact china@decanter.com to learn about how to become an Official Media Partner of DecanterChina.com.