The news was buried in a local blog based in Chalon-sur-Saône, a town in the southern end of Burgundy which was once a busy port for distributing the regions' wines and whose main claim to fame is that it was the birthplace of Nicéphore Niépce, an inventor who produced the world's first photograph back in 1825.
It was a photograph that drew me to the story – a grainy reproduction of a court summons asking Emmanuel Giboulot, a biodynamic winemaker in Beaune, to stand charges for not applying insecticide to his vines. He stands to receive a €30,000 fine and six months in prison for not treating his vines against the disease flavesence dorée.
I know and enjoy the wines of Emmanuel Giboulot. I've never met the man himself, although we spoke at length on the telephone this week, but I have drunk his wines on several occasions, and can assure you this is not a guy who takes winemaking lightly. My favourite is his Côte de Beaune Les Pierres Blanches, a truly excellent example of how you can get the vertical lift and reductive minerality of a great Burgundy Chardonnay without climbing too high up the appellation ladder.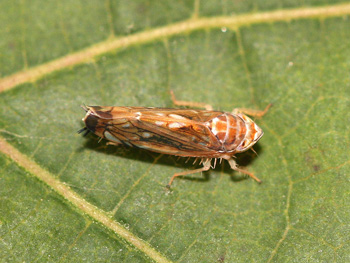 Giboulot has been certified organic since 1985, and biodynamic since 1996. In fact his father turned his back on chemicals in 1972; 'a brave move, after he had followed the general fashion of the 1960s of increasing yields through heavy use of weedkillers and fertilisers,' Giboulot tells me. This is a man who today uses very little sulphur dioxide, stays away from new oak (important if you are using low doses of sulphur as new oak is more oxygen hungry) and ferments his reds in open top wooden vats with minimal temperature control. The vast majority of his energy and time goes on the vineyard itself, so I could see why he dug in his heels about applying a harsh insecticide to his beloved plants.
But this is an infectious disease, spread by the leaf-hopping insect known as scaphoideus titanus that was identified way back in the 1950s, and that has been increasingly stalking the vineyards of France over the past few years. In Bordeaux, I wrote a news story about it in early 2010, and just last week in Burgundy was listening to Jean-Michel Aubinal, president of the regional appellations body, drawing attention to the continued urgency of the problem. 'This is a disease where vigilance is of the greatest importance,' Aubinal said. 'You have to be very reactive in the fight against this disease, and not let it spread'.
Each region in France takes its own approach to the problem. In Bordeaux, two research units have spent 10 years better understanding the physiology of the insect and the disease, and compulsory insecticides are applied in affected appellations. In the Saône et Loire, three insecticides treatments have been made compulsory across the region. In the Côte d'Or, where reportedly no vines affected by flavesence dorée have been found, authorities have decided for one compulsory insecticide treatment as a preventative measure.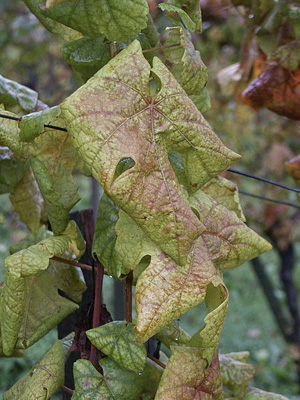 Now, this seems to me like an intractable problem – and one that is far bigger than it first appears. What does it mean to the 65,000 hectares of organic vineyards in France (almost 9% of all vines) if a subsidiary of the Ministry of Agriculture is going around prosecuting organic winemakers for not applying insecticide to their vines? Monty Waldin, author of the Organic Wine Guide, estimated this week that up to 7% of the world's vines are now organic, and as many of 30% of them use some form of biodynamics. Some of the biggest names in French winemaking have a vested interest in this, from Olivier Humbrecht at Domaine Zind-Humbrecht to Alfred Tesseron at Chateau Pontet Canet, Anne Claude Leflavie at Domaine Olivier Leflaive and Nicolas Joly at La Coulée de Serrant.
'At the moment, most organic and bio-dynamic growers buy the insecticide, but the few that have not are unfairly being prosecuted,' Humbrecht tells me, speaking in his role as president of Biodyvin, a grouping of 90 estates who follow strict biodynamic farming principles. 'It is important to remember that only pyrethrins are allowed by Ecocert as an organic treatment. Pyrethrins are obtained from plants, which makes them organic certified, but they are powerful insecticides with a wide action. They basically kill anything with wings or legs. Therefore their usage is more than controversial in an organic system because they will destroy the entire ecosystem creating other serious problems – and I would imagine that this problem would also affect growers that follow a sustainable charter (lutte raisonnée) and probably also some conventional growers that try to lower the use of some powerful chemicals.'
To get a clearer understanding of the whole problem, I went to Pascal Chatonnet, the Bordeaux winemaker and researcher who has run several groundbreaking studies into pesticide levels in French vineyards. Both he, Humbrecht and Emmanuel Giboulot point out that there is very little official agreement on flavesence dorée. 'Nobody can claim understanding the disease, and diagnostics are very difficult to make and highly imprecise,' said Humbrecht. According to some producers who participated in the current programmes of disease identification in vineyards, only 10% of the vines suspected of having the symptoms were actually affected. 'Some producers in the Savoy region have found they can live with it by simply pulling up affected vines,' said Giboulot, 'while others say they have to apply more and more insecticides. I am not irresponsible. I simply do not believe that systematic treatment across an entire area is the solution. And I don't want to undo decades of work applying a treatment where the effects on the health of the vines, and the public, are as yet unproved.'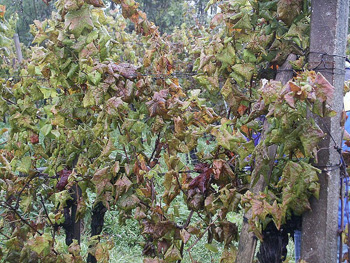 Chatonnet is broadly sympathetic. 'Is there a risk in applying this treatment? Yes, because the proscribed molecules are highly aggressive. The effect will not be limited simply to the leafhopper, but to other insects around it – so it is likely that further insecticides will have to be added later down the line to kill, for example, green and red spiders that would have been naturally kept to a minimum if the biological balance had been maintained. This is always the risk, so I fully understand Giboulot's hesitation. But the alternative treatments have not yet shown their effectiveness over the long term, and are almost always more expensive than the official one. In the end, authorities have to make their decisions quickly and effectively – but perhaps not always intelligently.'
Giboulot is not in fact the first organic winemaker to come up against this problem, so I'm pretty amazed the organic and biodynamic institutes don't already have an official response. In June of this year, in the Vaucluse, Antoine Joly lost a similar case when he also refused to follow the region-wide directive to apply an insecticide treatment against flavesence dorée. 'Your intentions were good,' said the judge, 'but your methods less so.' Eventually, Joly gave in and applied the treatment to avoid paying the fines – but now has a police record. Surely there should be an alternative to this?
Humbrecht hopes so. 'Organic growers, and this will certainly be the position of Biodyvin, will ask authorities to allow for experiments into alternative treatments, more in the philosophy of biodynamics. We hope to negotiate with the government to avoid insecticides, and avoid the current situation of fines, deferred jail sentences and police records. The authorities should have just as much interest in this as the growers themselves – because it is always dangerous to only rely on one model of treatment against a disease. The day it becomes obsolete, there will be no other solution.'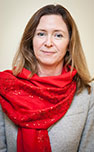 Columnist Introduction
Jane Anson is Bordeaux correspondent for Decanter, and has lived in the region since 2003. She is author of Bordeaux Legends, a history of the First Growth wines (October 2012 Editions de la Martiniere), the Bordeaux and Southwest France author of The Wine Opus and 1000 Great Wines That Won't Cost A Fortune (both Dorling Kindersley, 2010 and 2011). Anson is contributing writer of the Michelin Green Guide to the Wine Regions of France (March 2010, Michelin Publications), and writes a monthly wine column for the South China Morning Post in Hong Kong, where she lived from 1994 to 1997. Accredited wine teacher at the Bordeaux Ecole du Vin, with a Masters in publishing from University College London.
Click here to read all articles by Jane Anson>>
- Follow us on Weibo @Decanter醇鉴

and Facebook

for most recent news and updates -
All rights reserved by Future plc. No part of this publication may be reproduced, distributed or transmitted in any form or by any means without the prior written permission of Decanter.
Only Official Media Partners (see About us) of DecanterChina.com may republish part of the content from the site without prior permission under strict Terms & Conditions. Contact china@decanter.com to learn about how to become an Official Media Partner of DecanterChina.com.