You probably wouldn't have bet on a 23-year-old graduate from Paris, who had only been to Bordeaux a few times in his life and had been given the keys to his first business by his daddy, let loose to run a wine estate within sight and sound of the Pomerol church spire.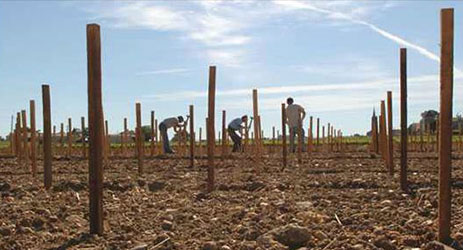 But, looking back, that may have been a good thing. 'I was definitely very young, so made choices that perhaps I would be less willing to do today,' says Ronan Laborde, who in the past decade has taken Chateau Clinet from being one of Pomerol's slumbering chateaux to one of its most exciting, and grown its annual turnover from €1.3 million to €7 million.
Laborde arrived in Pomerol in October 2003 (by coincidence, exactly one month after I arrived from London to the tiny village of Saint-Sève, about a 30 minute drive southwest of his Pomerol vines). As he tells it, he came armed with a passion for wine, sparked by spending time at his father's Pajzos estate in Tokaj, and a 'serious underestimation of how much work would be involved'.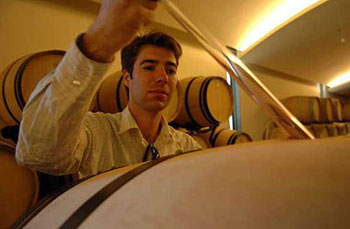 'Pretty much the first decision I took, one month after my arrival, was to pull up 20% of the vineyard,' he tells me with a smile that says he still can't really believe he did it. For a chateau with less than 30 acres of vines, that represented a large slice of its income. 'The folly of youth I guess. I got there at harvest, so was able to study the different tastes, yields, quality of each plot, and very quickly saw where I wanted to make improvements. It meant that we had a significantly lower production until 2008, and we still have a high number of young cabernet vines particularly. But the wine is better for it.'
There's little question of that. I've tasted Clinet regularly over the past decade, and watched it settle into itself, firmly stamping out the memory of vintages where oak swamped out the fruit. Ten years ago, you would have said the stars of the Clinet plateau were neighbours Feytit-Clinet and L'Eglise Clinet. Today they must be more than a little nervous. Revisiting Laborde's first ten vintages this week, from 2004 to 2011, together with the 2013 in barrels, convinced me that Clinet is within touching distance of the very best of the appellation, getting close to my ideal of what a great Pomerol can be (if you're asking, in my mind that means vibrancy, joyful fruit and an unforced tousle-haired sexiness).
He did it by making some obvious choices, such as immediately reducing the usage of new oak barrels from 100% to around 60%. Today Clinet uses a mix of classic 228 litre Bordeaux barrels and large size 500 litre barrels to ensure oak influence is moderated. Other changes he made were less clear cut. 'At the time, there was a fashion to drastically reduce yields,' Laborde tells me as we walk through the two tiny barrel cellars and into the winery. 'But to me we were over-concentrating the wine. My Pomerol touchstones when I arrived were Vieux Chateau Certan, La Conseillante, L'Eglise Clinet, and I knew that I wanted authentic wines that were an honest reflection of their vineyard.' To ensure this, he raised the yields from 20-25hectolitres/hectare up to an average of 40hl/h. 'I also increased the density of the plantation, but always felt that healthy vines on excellent soil had no need to be cropped down so low.'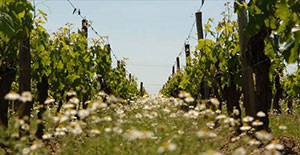 Within two years, his confidence was clear, and from the 2005 vintage he changed the method of picking so that the team of 45 pickers spread out the harvest to allow all grapes to reach full ripeness, in some years taking up to five weeks for this relatively tiny vineyard. 'Even this small change has a financial implication, as we have to pay the workers just to stand by,' says Laborde. 'Effectively we pay for one month but may only use them for 10 days, but it's a quality decision, and a good one.'
Coming from outside of the small world of Bordeaux must have helped too – allowing, for example, him to change La Fleur du Clinet from a classic second wine to a Pomerol brand, La Fleur du Clinet, which now includes grapes from five neighbouring properties as well as around 40% of his own, and so has far greater volume and exposure than many Pomerol wines. At the same time, he has introduced Ronan de Clinet, a branded entry-level Bordeaux that is made from grapes coming mainly from the Cotes de Bordeaux and Fronsac. 'Clinet has 10 hectares of vines right now. It is a huge intellectual and emotional challenge of course, but I wanted to look beyond it as well, to develop other wines – and one of the key difficulties facing this region is always how to make entry-level, approachable Bordeaux that tastes good, and that captures a little of the excitement of the best wines. There can be a lot of inertia in wine, and I wanted to shake it up a little.'
Laborde's own passion for wine has clearly not diminished. His own cellar, off to one side of the winery, has stacked cases of Ernst Loosen, Klein Constantia, Screaming Eagle, Tignello, plus a wide variety of Bordeaux. Most of the cases are open, with a few bottles recently drunk. 'I love to compare what we are doing with other properties around the world, to learn from them, and just to enjoy what they have achieved. I've made mistakes over the past 10 years, of course. Maybe the worst was that in 2005 I got so excited by the quality of the wine that I let too many people come in for barrel tastings. We always used the same barrel, and it ended up slightly oxidized. I will always regret the fact that we could have done even better. But that's also the thrill of winemaking as well – the thought that there's even better round the corner.'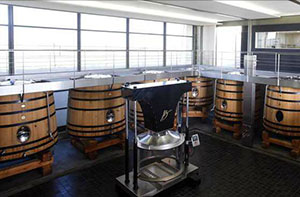 The Wines
Chateau Clinet AOC Pomerol 2008
If I had to pick wine to show what Ronan has achieved, I would go with his monumental achievement in 2008. This was the latest harvest since 1986, and the fruit is from the first hit dense, tight, clean. This made me sit back and smile as soon as I tasted it – a great example of how Clinet is now regularly over-performing the vintage. Creamy texture, some excellent smoky oak flavours, touches of cloves, but nothing overpowering, just feel that the whole wine is humming, ready to take off in a few years' time. Blend is (as is fairly usual) 85% Merlot, 12% Cabernet Sauvignon, 3% Cabernet Franc. Alcohol is at 14%, but perfectly balanced. If you want to know where there has been an increasing buzz around Clinet in recent years, get hold of this wine.
Chateau Clinet AOC Pomerol 2010
Colour is deep and rich, and right from first attack the fruits are tight and restrained, even on the nose you get the triumvirate of acidity, tannin and fruit. This is an amazing wine, incredible aftertaste as with the 2008, so much is happening once the wine leaves your mouth, building in power and complexity for a good minute. Layers of liquorice, black truffles, bilberry fruits, rich cherry, this would stain your mouth but joyously so. We are nowhere near the drinking window of this wine, and yet the sense of excitement that it creates is simply stunning.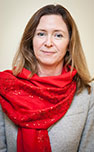 Columnist Introduction
Jane Anson is Bordeaux correspondent for Decanter, and has lived in the region since 2003. She is author of Bordeaux Legends, a history of the First Growth wines (October 2012 Editions de la Martiniere), the Bordeaux and Southwest France author of The Wine Opus and 1000 Great Wines That Won't Cost A Fortune (both Dorling Kindersley, 2010 and 2011). Anson is contributing writer of the Michelin Green Guide to the Wine Regions of France (March 2010, Michelin Publications), and writes a monthly wine column for the South China Morning Post in Hong Kong, where she lived from 1994 to 1997. Accredited wine teacher at the Bordeaux Ecole du Vin, with a Masters in publishing from University College London.
Click here to read all articles by Jane Anson>>
- Follow us on Weibo @Decanter醇鉴

and Facebook

for most recent news and updates -
All rights reserved by Future plc. No part of this publication may be reproduced, distributed or transmitted in any form or by any means without the prior written permission of Decanter.
Only Official Media Partners (see About us) of DecanterChina.com may republish part of the content from the site without prior permission under strict Terms & Conditions. Contact china@decanter.com to learn about how to become an Official Media Partner of DecanterChina.com.