Classified Bordeaux – even under the rain that fell stubbornly on Saturday night, refusing to play ball with a harvest festival – likes nothing more than putting on its finery and entertaining the troops at regular moments through the year.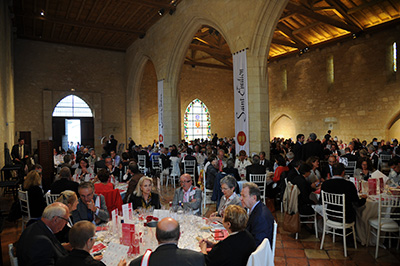 Sometimes it's for clients, sometimes consumers, sometimes journalists, sometimes simply each other. The mother of all these entertainments is Fête de la Fleur, held on a mid-summer evening in June to celebrate the flowering of the vines. The big properties of the Médoc, Graves, Sauternes and Barsac take turns to host this spectacular event; the height of glamorous Bordeaux, when 3,500 of the oldest families of the region, the wealthiest négociants and their lucky invitees troop up in heels and black tie. Pierre Veilletet, former editor of local paper Sud Ouest, has described it as, 'More than a social evening, it's a love-in of local celebrities, international intellectuals and bourgeois provincialism'. If Bordeaux is Hollywood-on-Garonne, the Fête de la Fleur underlines that the elite families are the directors and movie stars, and the rest of us are producers, agents, showbiz reporters, cinema-goers and popcorn sellers.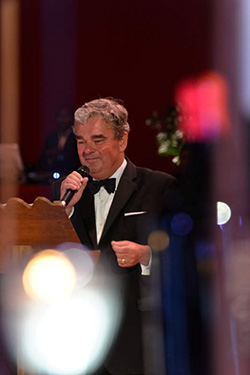 This weekend saw two celebrations that did their best to rival the flower festival; the first on Saturday night with over 1,000 guests at Domaine de Chevalier in Pessac Léognan, and the second on Sunday afternoon where 800 guests gathered in Saint Emilion's 14th century Salle des Dominicains. Both were held to celebrate the official opening of the harvest, or the Ban de Vendanges, but Saturday night managed to also throw in anniversary celebrations for 60 years of the Classification of the Graves, 40 years of the Union des Grands Crus de Bordeaux and 30 years of the Bernard family at Domaine de Chevalier.
'There are 80 members of the Bernard family here tonight,' Olivier Bernard told us as we sat down to dinner, 'celebrating something that started with my grandfather creating a brandy business in Bordeaux in 1928, which led to us buying Domaine de Chevalier in 1983. Three generations of history in Bordeaux, remembering the 50 generations of Bernards that have gone before us, right back to 1155.'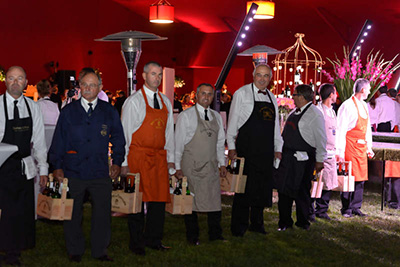 Tradition, longevity and ceremony; Bernard was neatly encapsulating why Bordeaux is so appealing and so maddening all at the same time. Looking around at both events this weekend it was hard not to be swept up in the sheer success of the logistical planning. As the heavens opened on Saturday night, we walked in to dinner under a line of umbrellas held up by smartly-dressed staff from Domaine de Chevalier, barely a drop of rain going astray. Inside the dining area, hundreds of uniformed waiters seamlessly brought in thousands of bottles of the region's best wines, and served food prepared by Jean Cousseau from restaurant Magescq, one of great champions of southwest France's culinary larder, rewarded with two Michelin stars for his superb handling of local delicacies from Landes foie gras to Chalosse beef. Among the wines to match the food was a honeyed, lychee-rippled Domaine de Chevalier Blanc 2003, a taut, thrilling Haut Bailly 2004, and a sumptuous La Mission Haut-Brion 1998 that I have frankly been thinking about ever since.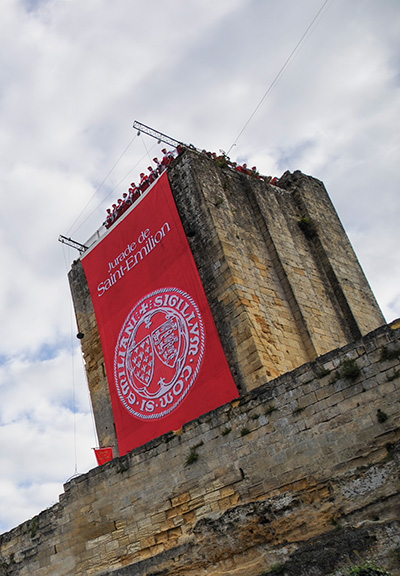 At the heart of both events are two wine brotherhoods (or confrèries) that also encapsulate this curiously Bordeaux mix of fiercely-held traditions and rakish glamour. There are 15 trade brotherhoods in Bordeaux, each promoting a different region or style of wine, but the two that were behind this weekend's events are the big ones. Dominating the wines of Right Bank Bordeaux is the Saint Emilion Jurade, one of the world's oldest wine societies that can trace its roots back to 1199 and a Royal Charter issued by King John of England when the Bordeaux region was part of the English crown (King John's parents were Eleonor of Aquitaine and Henry II, whose marriage brought this part of France into English hands). Abolished in 1789 at the French Revolution, the Jurade was only reformed in 1948. Not that you would have known that on Sunday morning, when the procession of Jurats, in their red robes, white cape and ermine-trimmed hoods flowed through the cobbled streets of Saint Emilion as if in an unbroken line for nigh on 1,000 years.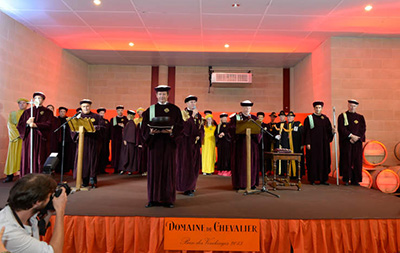 The most prestigious Left Bank wines have the Commanderie du Bontemps, a group that formed in 1950 and organises both Fête de la Fleur and Saturday's Ban de Vendanges. 'Bontemps' sounds like a straight description of what the club is for – one translation would be 'Good Times' in French – but actually refers to a tasting cup that was invented in the 9th century, in which cellar masters beat egg whites that are traditionally used for clarifying the wine. The cup has been used by the Commanderie as inspiration for a key part of its uniform – a small velvet cap, claret-coloured for the member chateaux making the red wines of the Médoc and Graves, and golden-yellow for those producing the sweet wines of Sauternes and Barsac. Replacing the red-and-white robes of the Jurade are claret- and golden-coloured velvet robes representing the two colours of the wine.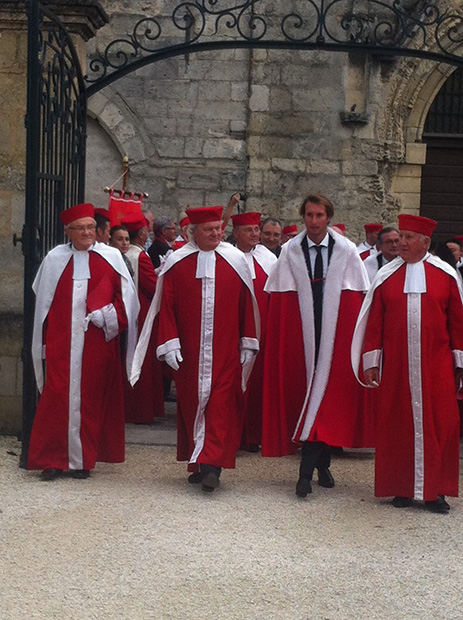 Today there are Chapters of the Commanderie and the Jurade around the world, with around 3,500 overseas members in 29 countries. To join, you have to be nominated by a current member – and be prepared to be a good dinner companion, bringing bottles or paying towards a communal cellar. One of the biggest perks of joining overseas is that you get on the invite list for these Bordeaux parties – and may even be asked to be a member of the Bordeaux versions.
This weekend, both events started by swearing in new members to uphold the traditions of the wine brotherhoods. Among this year's crop for Saint Emilion were politician and journalist David Mellor and Peter Leaver QC, both of whom by chance also became members of the Queen's Counsel on the same day way back in 1987, and Chris Renaud, Hollywood director of Despicable Me. Over in Domaine du Chevalier, the Commanderie saw its ranks swell with musician Manu Dibango and model Adriana Karembeu. And on both banks, of course, a few Chinese dignitaries, from Cheng Qu, owner of more than a dozen Bordeaux chateaux, and Changchun Shao, renowned wine and art collector.
'Both the Jurade and the Commanderie – and the Chevaliers du Tastevin in Burgundy – do a great job of getting their wines to a wider audience,' Leaver told me as we examined a few of the finer bottles of wine on our table. 'When we arrived in Saint Emilion this morning, the Jurade had taken over the town, with tourists and locals out on the streets to watch the ceremony. It underlined just how much wine is an intrinsic part of the local identity.'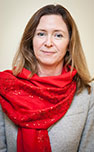 Columnist Introduction
Jane Anson is Bordeaux correspondent for Decanter, and has lived in the region since 2003. She is author of Bordeaux Legends, a history of the First Growth wines (October 2012 Editions de la Martiniere), the Bordeaux and Southwest France author of The Wine Opus and 1000 Great Wines That Won't Cost A Fortune (both Dorling Kindersley, 2010 and 2011). Anson is contributing writer of the Michelin Green Guide to the Wine Regions of France (March 2010, Michelin Publications), and writes a monthly wine column for the South China Morning Post in Hong Kong, where she lived from 1994 to 1997. Accredited wine teacher at the Bordeaux Ecole du Vin, with a Masters in publishing from University College London.
Click here to read all articles by Jane Anson>>
- Follow us on Weibo @Decanter醇鉴

and Facebook

for most recent news and updates -
All rights reserved by Future plc. No part of this publication may be reproduced, distributed or transmitted in any form or by any means without the prior written permission of Decanter.
Only Official Media Partners (see About us) of DecanterChina.com may republish part of the content from the site without prior permission under strict Terms & Conditions. Contact china@decanter.com to learn about how to become an Official Media Partner of DecanterChina.com.