Something crazy happens to people when they stand in front of a stack of wooden wine cases. Like a Victorian gentleman beholden to a peep of ankle, the promise of what lays beneath prompts a chorus of sighs and gasps. Anyone who is worrying about the future of the wine market, follow a group of wine lovers into Monaco's Hotel de Paris cellars and watch them admire a wall of classified Bordeaux.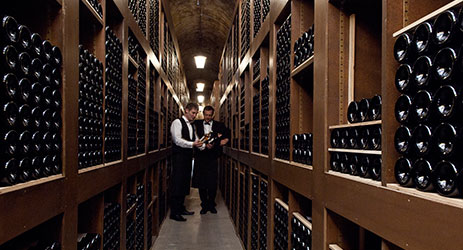 This is easily one of the world's most jaw-dropping cellars, containing over 350,000 bottles spread out over 2,500m2 of limestone rooms, carved out of the Monaco rock 13 metres beneath the polished marble halls of the Hotel de Paris.
I spent a happy hour discovering these cellars last weekend, as the hotel celebrated opening up some of its rarest bottles to sell by the glass over the next few months. But I seem to have been inundated with amazing wine cellars this week – either visiting them or talking about them. Monaco was followed with a few days, back in Bordeaux, spent with a Hong Kong-based Indian wine collector, Eric Golani, who has just completed the build of one of the most exciting private cellars in the city. Based out towards the New Territories on the Kowloon side of Hong Kong, Golani bought an apartment especially for the purpose, and enlisted the help of Focus Wine Cellars to create his dream wine storage. It contains over 8,000 bottles, and employs a full-time caretaker to stock control and serve bottles. There is a restaurant-quality kitchen, and a terrace with views over the city from where you can enjoy the spoils.
Golani had come to Bordeaux to visit the cellars of chateaux he had enjoyed, but had not yet visited in person. Not so very different, then, from Marie Blanc, the widow of the founder of the Hotel de Paris, who in 1874 visited Bordeaux with her entourage to learn how to build a cellar that would rival the greatest in Europe – because even then the city was seen as the epicentre of the fine wine trade.
Today in Bordeaux, there are few hotel cellars comparable to Widow Blanc's creation. Some of the best visits for cellar geeks in the city are offered by Millésima, a wine merchant that opens up to the public for special visits and dinners, and stores 2.5 million bottles. Equally impressive, if on a smaller scale, is Le Chapon Fin restaurant, with its vaulted limestone cellar dating right back to the 15th century. This contains 'just' 70,000 bottles, but has some of the most impressive verticals of estates such as Pétrus and Mouton Rothschild in Bordeaux – and also one of the most extensive selections of Burgundy wines.
In size, the Chapon Fin cellar is comparable to the oldest part of the Hotel de Paris cellar which dates back to 1864, when Marie's husband François Blanc founded the hotel. On opening, it contained just three barrels of wine that were served in the restaurants of the hotel. When Marie took over after his death, the idea of chateau bottling – or mise en bouteille au chateau– had just started to come into vogue in Bordeaux, led at the time by estates such as Chateau Haut-Brion and Chateau Lafite Rothschild (a few decades before Mouton Rothschild famously brought it to widespread attention). Widow Blanc was fascinated by the idea, and determined that her hotel cellar be at the cutting edge by stocking these bottles direct from the chateaux themselves. So she took herself off to Bordeaux, essentially to benchmark the cellar she was creating against those she found in the world's most famous wine region. On her return, she took ten years to create the Hotel de Paris cellar, using specialists in over 100 different trades, from stonecutters and carpenters to cabinet-makers and ironmongers.
At the turn of the 20th century, the cellar had 500 wine references (each producer, or vintage from the same producer, is counted as one reference). Today it has 6,000, not including Champagne, which is counted separately. The oldest bottle in the cellar pre-dates its construction, in the shape of an 1850 Chateau Yquem, and plenty of the wines still available to buy were hidden away during World War II, carefully stashed behind a seven-strong wall of empty bottles designed to throw German officers off the scent. Jewellery and money belonging to the VIP guests were stashed in this area also – the 1864 original cellar, now referred to as the Réserve Patrimoine, or Heritage Room – and on occasion the hotel's cow, kept throughout the war to provide fresh milk for guests. Everything pre-1961 is kept off-list, mainly in this room, to be brought up on special request. And a full 75% of the stock across the cellar is from Bordeaux, with a further 20% from Burgundy. Just one row sees wines from outside of France – and this essentially big names such as Pingus from Spain, Opus One from California, and Sassicaia from Italy.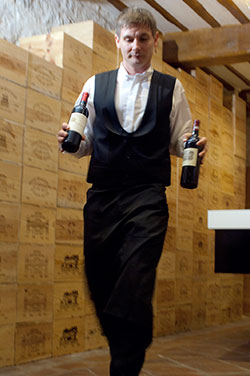 'When people come to Monaco, they want to drink French wine,' Christophe Salasca, one of the cellar team working under head sommelier Patrice Frank, says. 'That has always been true, and shows little sign of changing.'
How they drink it, however, has changed. Even a decade ago, half bottles were in demand, whereas today they are rare, while large format has exploded, buoyed by wealthy clients out to impress. And the worth of the wines themselves has thundered upwards. The value of the Hotel de Paris cellar weighs in at €80 million in terms of the purchase price of the wine, which translates to perhaps €800 million sale price today.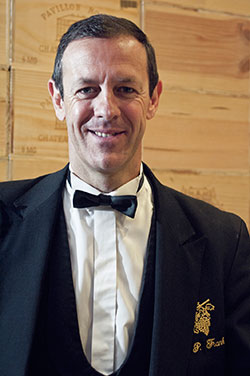 But these prices bring their own headaches. The team used to buy Bordeaux entirely en primeur, but has held back in recent years as prices have climbed. 'In 2005,' says Salasca, 'we bought 1.5 million bottles of Bordeaux during the en primeur season. In 2010, just 25,000 bottles were bought, because the wines had become so expensive.' Salasca also said that, outside of the highly Bordeaux-friendly wine list of the Hotel de Paris, many more 'normal' Monaco restaurants are stocking less and less top Bordeaux names, because it is becoming so expensive to carry the stock.
This seems to be at least partly why the Hotel de Paris – and all the restaurants and hotels across the group – are opening up the cellars to offer 150 top Bordeaux wines, for 150 days, on 'by the glass' promotions. The event is being held to celebrate the hotel's 150th anniversary, but as these wines become more expensive by the bottle, sommeliers need to be creative for stock to turn over. For most of us, this is a wonderful chance to buy Pétrus, Le Pin, Yquem, Lafite and many others by the glass. But for the chateaux owners, if Monaco, that playground of the rich and famous, is telling you prices are too high, it may be time to listen.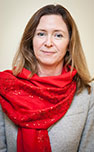 Columnist Introduction
Jane Anson is Bordeaux correspondent for Decanter, and has lived in the region since 2003. She is author of Bordeaux Legends, a history of the First Growth wines (October 2012 Editions de la Martiniere), the Bordeaux and Southwest France author of The Wine Opus and 1000 Great Wines That Won't Cost A Fortune (both Dorling Kindersley, 2010 and 2011). Anson is contributing writer of the Michelin Green Guide to the Wine Regions of France (March 2010, Michelin Publications), and writes a monthly wine column for the South China Morning Post in Hong Kong, where she lived from 1994 to 1997. Accredited wine teacher at the Bordeaux Ecole du Vin, with a Masters in publishing from University College London.
Click here to read all articles by Jane Anson>>
- Follow us on Weibo @Decanter醇鉴

and Facebook

for most recent news and updates -
All rights reserved by Future plc. No part of this publication may be reproduced, distributed or transmitted in any form or by any means without the prior written permission of Decanter.
Only Official Media Partners (see About us) of DecanterChina.com may republish part of the content from the site without prior permission under strict Terms & Conditions. Contact china@decanter.com to learn about how to become an Official Media Partner of DecanterChina.com.