July 1996 was cold and rainy for most of my trip through the Cape wine lands. My memories are of long walks along muddy vineyard paths, a lazy lunch at the winery restaurant at Nederberg in Paarl on the one sunny afternoon of the week, and an enthralling feeling that, everywhere, a change was going to come. It was here, against this landscape that was haunting even under the driving rain, that I met Jabulani Ntshangase and first formed the idea of writing about wine full-time.
This was two years after the first free elections in South Africa, and Jabulani was the manager of the wine centre at Spier in Stellenbosch. He had been working in wine since the 1980s, but had left his home in KwaZulu-Natal at the height of apartheid and moved to New York, where he worked for Acker Merall & Condit. In 1995, the thought of helping South Africa build a new future had brought him back home.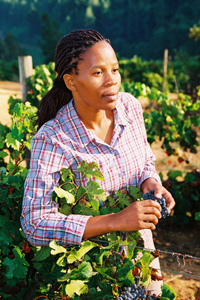 He talked to me about the hopes invested in the new South Africa, where wine was deeply entrenched in the Afrikaaner culture, and how he hoped to help black South Africans reclaim the land that had made wine since the 1600s, but that had been kept in a few white hands for all of that time. I bought a bottle of Spier's softly spicy Syrah, and carefully carried it across Africa to the village of Makunduchi, where an old friend was teaching on Zanzibar island. We drank that wine out of plastic cups in her one-roomed house on the edge of the one-roomed school, every drop tasting of politics and savagery as much as crushed blueberries and wood-smoked herbs.
I thought about Jabulani this week because I spent an afternoon with another South African winemaker from KwaZulu Natal, whose life had also been altered by meeting him – far more fundamentally than mine. Ntsiki Biyela is one of a handful of people who in 1998 benefitted from the Wine Industry Trust programme spearheaded by Jabulani Ntshangase with the Ministry of Land and Agriculture. The programme recruited young students with a talent for maths and science, and enrolled them in Stellenbosch University, where they studied Viticulture and Oenology.
'I was the only person in my school to apply,' Biyela said. 'The application form was written in Afrikaans, a language that had become irretrievably associated with the apartheid regime, and none of my friends wanted to even attempt to fill it in. But this was the opportunity to have a scholarship for studying at university, and I took it, even though I didn't speak Afrikaans, had never even drunk wine at the time; never even seen a vine.'
Biyela, now winemaker at Stelleyaka in Stellenbosch, and named Woman Winemaker of the Year in 2009, is recounting the story to a group of French journalists around a table at Chateau d'Arsac in the Médoc. She is here in Bordeaux as the eighth in a line of consultants to work on The Winemaker Collection, an idea nurtured by owner Philippe Raoux to make a wine where the same plots of vines from his estate are farmed each year by a different consultant. The aim is to highlight the influence that the person who makes a wine has on its taste, and how human choices are as key to terroir as geography and vintage. Biyela is following in the footsteps of winemakers such as Bordeaux heavyweights Michel Rolland and Eric Boissenot, André Franchetti from Tenuta di Trinoro and the legendary Californian winemaker Zelma Long.
'The only alcohol that people in my village drank was – and still is – homemade malt beer. The first time I drank wine, Jabulani had spent a good few hours introducing the idea to us, talking about the fruits, spices and other nuances that we would find in the glass. When I drank it, I almost spat it out, it was so disappointing. It was only when I began my first job, working at Delheim winery during my studies, that I began to appreciate and love the pleasure that wine can bring. Today when I go home, I take wine for my family to try, but it is still not in their culture to drink it.'

Back in KwaZulu-Natal, in Biyela's old school, her headmaster has newspaper cuttings of her achievements on the wall of his office, and she is upheld as an example of what hard work can bring. She now runs her own mentoring programme at the Pinotage Youth Development Academy in the Western Cape, training disadvantaged young South Africans for work within the wine industry. But this is not a simple story. She tells me how tough it was at Stellenbosch, where the majority of Afrikaaner students struggled to accept her. Even today South African wine is riven by division, and a 2011 Human Right's Watch report catalogued the damning state of the industry, with the laws guaranteeing wages and safe working continues routinely unenforced. Despite South Africa being the world's seventh biggest wine producer, there are far more qualified winemakers than there are jobs. Even the mentoring programme has hardly brought about the rewards Jabulani dreamt of at its start, as the number of senior black South African winemakers still barely climbs above 20. Black women winemakers still less.
But that is not the side of the industry that Biyela wants to talk about today. Instead, we concentrate on what is in the glass in front of us. We taste through all seven wines that have been bottled by The Winemaker Collection since Michel Rolland's inaugural effort in 2005. The grapes each year hover around an even blend of Cabernet Sauvignon and Merlot. There are unquestionably vintage differences – no surprise that the 2009 and 2010 get the biggest approval ratings – but there is a distinct personality that lies over this. The 2006 from Denis Dubourdieu is leaner and less successful than the 2007 from Franchetti, which has a spicy, exotic feel that races through your mouth and makes you wonder just what he could have achieved with a more sumptuous vintage. The 2011 saw Susannah Balbo bring an unmistakeably Argentinean touch, with a dose of sweet charred oak that again makes it quite distinct from other AOC Haut-Médocs I have tasted from that rather subdued year.
'We give each of our winemakers a nickname once we get to know them,' said Raoux. 'Franchetti was The Poet, because he always carried a scrap of paper with a few lines of poetry in his pocket. Boissenot was the Médocain, because he is of this land through and through. Ntsiki will always be known as The Optimist, because even with challenges of the 2013 vintage, the strongest memory we will take of her is that she smiled through it all.'
I suspect that's because she has learnt time and again that the way to get ahead is to look beyond the immediate challenges and get on with things. 'This was a far more difficult vintage than the ones I am used to in Stellenbosch, with the pressure from the weather giving very little space to breathe. The grapes were saying, "you take me today, or tomorrow I won't be here anymore".' She shrugs, and gets to the point. 'So I listened to them.'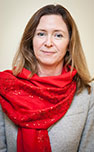 Columnist Introduction
Jane Anson is Bordeaux correspondent for Decanter, and has lived in the region since 2003. She is author of Bordeaux Legends, a history of the First Growth wines (October 2012 Editions de la Martiniere), the Bordeaux and Southwest France author of The Wine Opus and 1000 Great Wines That Won't Cost A Fortune (both Dorling Kindersley, 2010 and 2011). Anson is contributing writer of the Michelin Green Guide to the Wine Regions of France (March 2010, Michelin Publications), and writes a monthly wine column for the South China Morning Post in Hong Kong, where she lived from 1994 to 1997. Accredited wine teacher at the Bordeaux Ecole du Vin, with a Masters in publishing from University College London.
Click here to read all articles by Jane Anson>>
- Follow us on Weibo @Decanter醇鉴

and Facebook

for most recent news and updates -
All rights reserved by Future plc. No part of this publication may be reproduced, distributed or transmitted in any form or by any means without the prior written permission of Decanter.
Only Official Media Partners (see About us) of DecanterChina.com may republish part of the content from the site without prior permission under strict Terms & Conditions. Contact china@decanter.com to learn about how to become an Official Media Partner of DecanterChina.com.