One of the smartest comments I heard during the primeurs tastings last week came care of Simon Staples, a key wine buyer for merchants Berry Bros & Rudd, who has been based in Hong Kong for the past few years and is now out in Tokyo.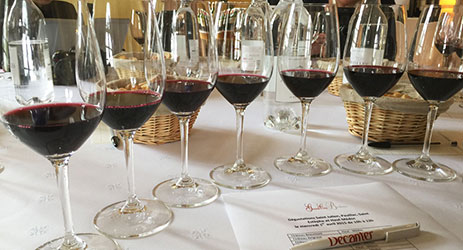 I met him outside Café Lavinal in Bages, the gourmet corner of Pauillac where the bistros and shops are owned and run by Château Lynch-Bages. Staples was up there to make a charity wine for the Room to Read Foundation, while I was far less nobly looking for a place to grab a quick coffee and start writing up tasting notes.
We spoke mainly about his involvement with Room to Read, a charity that works to spread literacy and gender equality for children in developing countries worldwide. As we said goodbye and I was walking in to the bistro, I asked him for his thoughts on the upcoming campaign for 2014 Bordeaux, and he replied, not surprisingly, that despite the wine quality being good, his main concern was over the prices. So far, so typical – but he had a suggestion of what to do about it.
'What I suggest is that we simply ignore the 15 or so chateaux that stubbornly refuse to lower prices, and concentrate on the smart ones who do'. And he followed this with, 'what I don't understand is why these other chateaux, many of whom are quality classified growths, don't make more of a noise about it. Why don't they get angrier with the chateaux who price so highly that the whole of the region is written off?'
A courtier friend recently spoke about the 'chronic incapacity' of certain chateaux to offer incentives to buying en primeur – and another has sent out a fascinating newsletter to châteaux owners pointing out that recent price drops have too often been 'symbolic at best', and that the 'primeurs system is in breakdown because basic rules of the game have not been applied'.
We know all of this. But I started thinking this week that maybe we should lay off the stick a little bit more, and bring out the carrots. Because there are plenty of classified estates that have brought their prices back down to 2008 prices – and have done so for a few years.
Alexander van Beek at Château Giscours (back down to €24.95 ex-Bordeaux last year, just €3 above its 2008 price and lower than it was in both 2006 and 2007) suggested that a revolution within Bordeaux itself is unlikely to happen. 'There is a co-dependency between chateaux, and an ingrained sense of hierarchy, that stops people from speaking out – not to mention that this is a small place, made up of strings of little villages.'
That may well be true – but maybe we can help out, by reminding everyone of the estates who have, as Vincent Yip from Topsy Trading put it, 'been fair… who understand that wine is made for consumption… and allow people in the system to earn profits'.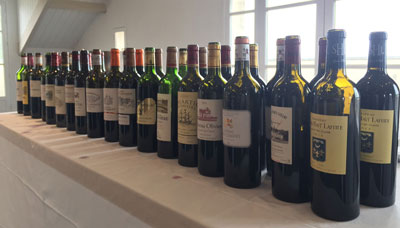 To give some perspective, it seems fair to look outside of Bordeaux, to establish what is a reasonable price for fine wines that can age, that have a track record of pedigree and come from regions with a sense of excitement and buzz.
Looking at some personal favourites, in recent vintages, I could buy a case of six bottles of Stéphane and Michel Ogier's Côte Rotie for £180 in the UK market, or a six-bottle case of Barolo La Pira for £323. Heading to Burgundy, Domaine Pavelot Pernand Vergelesses 1er Cru Sous Frétille would be around £450 per 12 bottles, while a truly incredible, elegant wine from California, Cathy Corison Napa Cabernet Sauvignon would be edge up to around £600 for 12.
So, what does that translate to in terms of primeur prices? And who has been quietly returning to reason? Despite many estates seeing the 2008 prices as a red herring (I guess because the global financial meltdown meant a widespread panic), it is the 'reasonable pricing' benchmark that stubbornly refuses to go away – probably because it is one of the few vintages in the past decade to have offered serious returns for anyone who bought en primeur. And it's worth remembering that the gap in prices between 2008 and 2009 was truly incredible – according to figures at the time from Tastet & Lawton brokerage firm, the average rise in prices in Pauillac from 2008 to 2009 was a whopping 72%, in Margaux 49% and even in Sauternes 23%.
So, who has recognised that the consumer just might have a point in wanting a return to the sanity of 2008? Of course there are dozens, in fact hundreds and even thousands of estates who have gone neither up nor down since then, but I am just going to stick to the classified estates, and almost entirely those of 1855, because those are the ones that are most concerned by the upcoming En Primeur campaign.
First up, special mention should go to Château Pape Clement and Château Rauzan-Ségla, who last year were both below their 2008 prices (€48.80 compared to €64.90 ex-Bordeaux for Pape Clement and €33 ex-Bordeaux for Rauzan compared to €36 in 2008). Both produced wines that were considered among the best of the vintage but priced them to sell. As director John Kolasa said to me last week, 'There's no shame in admitting we were wrong and doing something about it.'
Other châteaux that deserve credit, before the assault of this year's price releases begin include Léoville-Las Cases (€79 ex-Bordeaux in both 2008 and 2013) and Château d'Armailhac (not exactly the price of 2008 at €22.80 compared to €19.20, but not far away and still available for £130 per case of six in the UK). Or Cantemerle, which is a 5th growth but managed to sell at €16.90 ex-Bordeaux in 2013, up from €13.90 in 2008 but still one of the least expensive classified estates despite a sustained rise in quality. Prieuré-Lichine and Haut-Batailley could also get a nod also for reasonable and sane pricing within the 1855 stable.
We shouldn't expect them with pitchforks and burning torches outside of the doors of high-priced Super Seconds – but as we watch the 2014 campaign unfold, it is worth remembering that there are 1855 classified properties out there who seem to price for the consumer rather than their neighbours.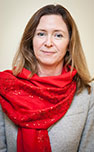 Columnist Introduction
Jane Anson is Bordeaux correspondent for Decanter, and has lived in the region since 2003. She is author of Bordeaux Legends, a history of the First Growth wines (October 2012 Editions de la Martiniere), the Bordeaux and Southwest France author of The Wine Opus and 1000 Great Wines That Won't Cost A Fortune (both Dorling Kindersley, 2010 and 2011). Anson is contributing writer of the Michelin Green Guide to the Wine Regions of France (March 2010, Michelin Publications), and writes a monthly wine column for the South China Morning Post in Hong Kong, where she lived from 1994 to 1997. Winner of Prix Baron Philippe de Rothschild and graduate of DUAD tasting diploma with Bordeaux Institute of Oenology. Accredited wine teacher at the Bordeaux Ecole du Vin, with a Masters in publishing from University College London.
Click here to read all articles by Jane Anson>>
- Follow us on Weibo @Decanter醇鉴

and Facebook

for most recent news and updates -
All rights reserved by Future plc. No part of this publication may be reproduced, distributed or transmitted in any form or by any means without the prior written permission of Decanter.
Only Official Media Partners (see About us) of DecanterChina.com may republish part of the content from the site without prior permission under strict Terms & Conditions. Contact china@decanter.com to learn about how to become an Official Media Partner of DecanterChina.com.