CH'NG Poh Tiong's column: Zuo Wang
Although '8' is usually considered the most popular number for Chinese people because it is a homophone for 'Prosper' in putonghua and the Cantonese Bai dialect, "9" is actually a more exalted figure.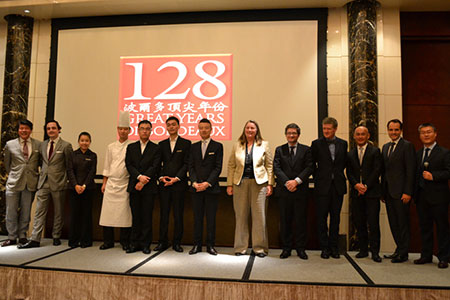 Nine is regarded as the maximum singular number and, because of that, associated with the emperor. Even tributes to the emperor were given in expressions of nine. (Incidentally, prior to the present 7-man Central Politburo Standing Committee of the Communist Party of China, the previous one was a 9-man committee).
This year, 2013, '128 Great Years of Bordeaux' co-incidentally also celebrated its 9th year of organising dinners in China and Singapore. Since the very beginning in 2005, Beijing, Shanghai and Singapore were 128 venues.
Along the way, we added Guangzhou. Then, for the first time this year, we substituted Hangzhou for Guangzhou. Next year, we will continue with Hangzhou and will replace Beijing with Qingdao. Shanghai will remain although I have already started thinking about taking 128 to Chengdu, one of my favourite cities in China.
Before I go any further, I would like to explain why the name '128 Great Years of Bordeaux' was chosen. In order to do that, here is some background information.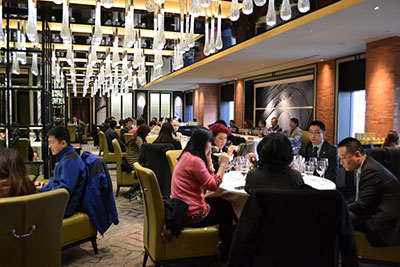 In 2004, the idea came to me to organise a tour of China and Singapore with a great wine each from Bordeaux's eight most illustrious communes namely:
• Saint-Estephe
• Pauillac
• Saint-Julien
• Margaux
• Pessac-Leognan
• Saint-Emilion
• Pomerol
• Sauternes
The inaugural year was to be 2005 and the series of dinners was to be for 10 years. My plan was to serve the same vintage at dinner for all eight chateaux. So, in 2005, I had hoped to serve the 1985 vintage. If you subtract 1985 from 2005, that would make 20 years. This means that in 2005, we would have celebrated 20 Great Years of Bordeaux.
The following year in 2006, I had hoped to serve the 1990 vintage. This would have meant that we would be serving 2006 minus 1990, which equals 16 Great Years of Bordeaux.
Using such a formula, my goal was, in 10 years' time, to celebrate 128 Great Years of Bordeaux.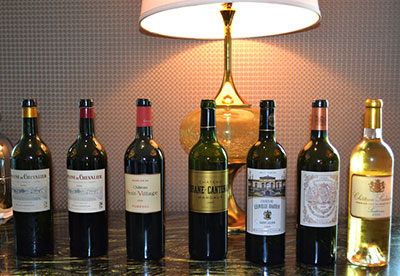 The reality, however, did not work according to plan. After the respective chateaux were identified and approached in 2004, some preferred to serve another vintage apart from 1985. The vintages therefore all got mixed up.
By then, however, I had already announced that we were going to start '128 Great Years of Bordeaux Dinners' in 2005. Since the public already knew the name, I thought, let's just stick to it. After all, 128 is an auspicious and easy number to remember. In fact, today, some people who know the dinners simply just say '128' as if it were a brand name. Needless to say, I am very happy with that.
I must however confess that, today, nine years after we started, we are not represented by Saint-Estephe and Saint-Emilion.
I must, on the other hand, state very clearly one thing. This is that chateaux which participate must produce wines that I respect, admire and will, therefore, be very proud to recommend and serve to wine lovers. If, for example, they made overly extracted, overly oaked, black (instead of red) wine, they will not be included in 128 Great Years of Bordeaux.
The chateaux that are part of 128 produce wines that are intense, refined, elegant, fresh and balanced. They are wines that as they mature become more complex, never forsaking their poise, charm and distinct individual personality.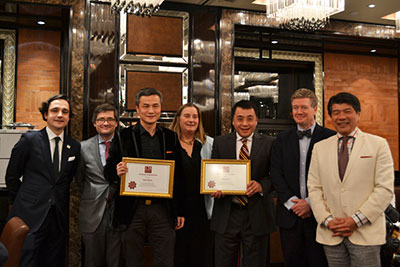 For next year's 2014 dinners, I have identified two great wines of Saint-Estephe and Saint-Emilion and will be approaching the chateaux and, hopefully, include them in the 2014 dinners next December.
Apart from the dinners, at each year's 128 events, we also have a masterclass tasting of one particular vintage. So, last year, it was the 2008 vintage. This year, it was the 2009 vintage (and next year the 2010 vintage).
All participating chateaux serve the same vintage and in China, after the proprietors or representatives of the wineries have spoken about their respective wines in English, their commentary are interpreted into Chinese. The very knowledgeable people helping us do that are Li Demei (in Beijing), Martin Hao (in Shanghai) and for the first time, Bob Miao (in Hangzhou) and Huang Shan (in Beijing).
This year, it was 2009, a hot vintage. As such, if the wines are ripe, that's hardly surprising. In such a fruit expressive vintage, it's crucial that while the wines are supple, they must also be fresh. Otherwise, it's all fleshy (even droopy) without the necessary frame, structure and contour to balance the fruit. It would be like, for example, sinking our teeth into an over-ripe mushy tomato or dried-up watermelon. After the fruity head-on impression, we very quickly become bored with the over-kill. That, for me, has been the danger with the 2009 vintage. The best wines, fortunately, are not like that.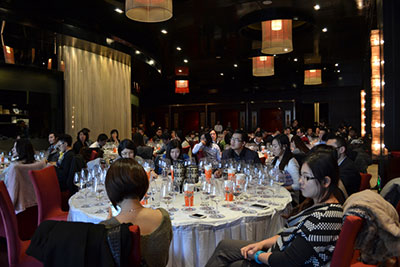 Some of the very best 2009s were on display at this year's 128 masterclasses in Hangzhou (2 December), Shanghai (3 December), Beijing (4 December) & Singapore (6 December 2013).
The 'Magnificent Seven' were:
• Domaine de Chevalier White
• Domaine de Chevalier Red
• Chateau Petit Village
• Chateau BraneCantenac
• Chateau Leoville Barton
• Chateau PichonLongueville Baron
• Chateau Suduiraut
Domaine de Chevalier produces one of the most compelling dry whites of Bordeaux. For me personally, together with Chateau Haut-Brion White, it is the other greatest dry white of Bordeaux. The 2009 vintage of this Pessac-Leognan is grapefruity, minerally, spiced and fresh at the same time. As for the red Domaine de Chevalier, the ripe fruit is framed by very suave tannins and round freshness. Both white and red are remarkable wines.
Chateau Petit Village is a Pomerol. The ripe, rich fruit and equally ripe, rich tannins are lifted by the most tantalizing freshness. This phenomenon can be credited to the very high percentage – 17% - of Cabernet France in the blend.
Second Growth Chateau Brane-Cantenac is not to be denied its freshness either. The 60% Cabernet – 53% Sauvignon and 7% Franc – guarantees the fact. Even the 40% Merlot, the ripe fruit is very controlled. The overall impression is ripeness with a certain zestiness.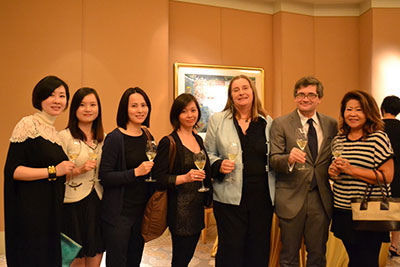 As for the other two Super Second Growths - Saint-Julien Chateau Leoville-Barton and Pauillac Chateau Pichon Longueville Baron (barely a minute from each other by car) - the intensity and richness of their fruit and tannins are buoyed by equally long, reassuring freshness.
Chateau Suduiraut, one of 11 First Growths in the 1855 Classification of Sauternes and Barsac, is roundly rich and ripe. But that's just the start of a very complex, sophisticated story. The peacock spread of expressive fruit – super ripe pineapple, passionfruit, mango, honey and more – is delivered on a cushion of feather freshness.
I've just realised that I have only been telling you about the 2009 vintage and have not even said a single word about the wines dedicated to this year's 128 Great Years of Bordeaux dinners. They are older vintages. I have, however, run out of space but certainly not of enthusiasm.
When the wines for next year's 128 dinners are confirmed, I will tell you about the wines served this year in 2013 and also announce the vintages for 2014.
CAPTIONS
Image 1. 128 Dinner in Hangzhou.From left: CH'NG PohTiong, Adrien BERNARD, Milly PAN (Sommelier), Chef YU Fei Peng, Johnson Hu (Sommelier), Steven Yuan (Sommelier), Jason Yin (F&B Manager, Four Seasons Hotel Hangzhou at West Lake), Lilian BARTON, Henri LURTON, Christian SEELY, Michael TAN (Director of Food & Beverage, Four Seasons Hotel Hangzhou at West Lake), Peter DRAMINSKY (General Manager, Four Seasons Hotel Hangzhou at West Lake), Bob MIAO.
Image 2. 128 Great Years of Bordeaux Dinner in Shanghai was held at Imperial Treasure Restaurant, Yi Feng Gallery.
Image 3. The line-up of the seven wines of the masterclass 2009 vintage.
Image 4. Two wine lovers who have attended 128 Great Years of Bordeaux Dinners every year since 2005 in Shanghai presented with certificates of appreciation. From left: Adrien BERNARD, Henri LURTON, Mark RUAN (General Manager of East China, Torres China Headquarters), Lilian BARTON, Alex YANG (General Manager, Xiamen Unicom Electronics Co., Ltd.), Christian SEELY, CH'NG PohTiong.
Image 5. The masterclass of the 2009 vintage in Beijing was held at the Grand MillenniumHotel.
Image 6. 128 Dinner at Conrad Singapore. From left: Wine lover Christina WANG, Judy ZHANG (Oaks Cellars), Maggie CHEUNG (Oaks Cellars), Joan CALLAO (Oaks Cellars), Lilian BARTON, Henri LURTON, Jo Hong (Senior Manager, Oaks Cellars, Singapore).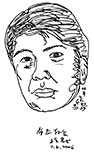 Columnist Introduction
A lawyer by training, CH'NG Poh Tiong also holds a Postgraduate Certificate with Distinction in Chinese Art from the School of Oriental & African Studies, University of London. He is an Honorary Ambassador of TEFAF – The European Fine Art Fair – Maastricht. CH'NG works principally as a wine journalist and is publisher of The Wine Review, the oldest wine publication in Southeast Asia, Hong Kong and China since 1991.
Click here to read all articles by CH'NG Poh Tiong>>
- Follow us on Weibo @Decanter??

and Facebook

for the latest news and updates -
All rights reserved by TI Media Ltd. No part of this publication may be reproduced, distributed or transmitted in any form or by any means without the prior written permission of Decanter.
Only Official Media Partners (see About us) of DecanterChina.com may republish part of the content from the site without prior permission under strict Terms & Conditions. Contact china@decanter.com to learn about how to become an Official Media Partner of DecanterChina.com.