CH'NG Poh Tiong's column: Zuo Wang
One of the things I am proudest as a person of Chinese descent is this: there are no "Kid's Menu" in a Chinese restaurant.
Anything that an adult eats and enjoys, a Chinese child can also discover for himself or herself. He may not immediately like some of the dishes that the grown-ups particularly savour but his Chinese ancestry gives him the right to demand the opportunity to do so.
In fact, Chinese parents are very proud when their children share the same love for the same food that they themselves find delicious. The parents feel that their children have good taste beyond their young age.
If I were a Western child, I would be deeply insulted by what they offer in the "Kid's Menu" of Western restaurants.
The choices seem to say "We don't think you have the ability to taste so we will only offer food that looks down on you". Dishes on "Kid's Menu" usually include Chicken Nuggets, Pasta in Butter Sauce, Fish & Chips and Burger.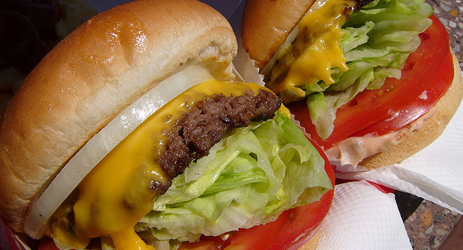 The item that seems to appear in every "Kid's Menu" in every place on earth is Chicken Nuggets. Apart from being incredibly mono-dimensional in taste (actually, except for the batter, I'm not even sure it has any taste), Chicken Nuggets is also unhealthy because it is usually greasy and oily. Not to mention that the dish is not accompanied by vegetables.
My other nugget of advice is to also avoid ordering a "Child's Meal" on a plane. Your child will never grow up if he eats too many of them because Chicken Nuggets is another regular passenger on airlines' "Child's Meal".
CHILDREN BIG AND SMALL
The other wonderful thing about being Chinese is that I do not know of a single Chinese restaurant in the world which does not allow a child to eat in it. On the other hand, whenever I make a booking for my family in a Western restaurant, I have first to ask if they allow children. Many don't. The owners seem to have forgotten that they too were once children. Probably the worst behaved type too. And always fed Chicken Nuggets when they were young.
Italian and Spanish restaurants are wonderful because, just like Chinese restaurants, they have no problem accommodating children.
MOTHER TONGUE
This is an expression I find very endearing.
When Chinese friends ask me what sort of Chinese person I am, I tell them I am Fujianese. The reason of course is because we follow our father's ancestry.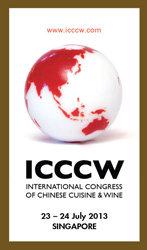 However, the parent we are usually closer to – especially for sons - tends to be our mother. She is the one we almost always spend more time with when we were young because the father is usually out working. Hence the expression "mother tongue".
"Mother tongue" does not so much mean what our mothers speak but refers to the language that we speak most naturally. It's a person's "first language".
Mine is Cantonese because although she was born in Singapore, my mother's side of the family hailed from Shunde in Guangdong Province.
Guangdong is, of course, very famous for its cuisines. These include Yue, Chaozhou and Kejia. As for Yue cuisine or what is more commonly referred to as Cantonese cuisine, arguably the region most famous for it is Shunde. In fact, most of the chefs you find in Hong Kong and in Cantonese restaurants around the world come from Shunde or can trace their ancestry there.
On Wednesday 24 July 2013, I hosted the farewell dinner of ICCCW or International Congress of Chinese Cuisine & Wine in Singapore.
THREE GREAT PAIRINGS
It was in a Cantonese restaurant named Jade Palace. Both the proprietor, HO Kin Fung (何健峰), and the chef (his brother) had immigrated to Singapore from Hong Kong. Guess where the family originated? Your're right.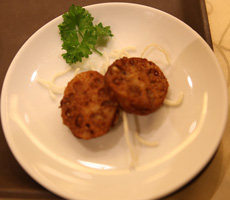 In fact, one of the courses was "Shunde Minced Pork with Lotus Root" (顺德煎酿藕饼). This is a very simple but absolutely delicious dish.
Minced pork is held together on two sides by lotus root cut into the shape of a circle. Depending on your preference, the diameter can be 6, 8 or even 10 cm. You pick the round "Shunde Minced Pork with Lotus Root" with your fingers and enjoy the delicate taste of the crunchy lotus root (which is very healthy for you) pressed against the minced pork in the middle.
I paired the deep-fried dish with an Austrian red.
Weingut Meinrad Markowitsch Blaufrankisch Reserve 2009 possesses intense, ripe blue/blackberry fruit, rich tannins and invigorating freshness. The last quality is crucial because the acidity kept the diner stay refreshed when he took mouthfuls of "Shunde Minced Pork with Lotus Root" between sip after insatiable of the full-bodied red.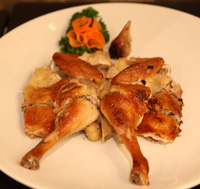 As for the Kejia Salt Baked Chicken (客家盐焗鸡) served before the Shunde specialty, that was heavenly with a Pinot Noir.
Weingut Wieninger Pinot Noir Grand Select 2007 shows raspberry fruit, a whiff of autumn leaves and a firmness of structure from both skin tannins and ageing in oak. Medium-plus bodied, the Austrian red has entered the secondary stage of its evolution. Fruity, dry, but also wonderfully fresh, it was perfection with the delicate but intensely tasty free-range Kejia Salt Baked Chicken.
The first course of the farewell dinner was Chilli Pepper Salt Doufu(椒盐鮮豆腐) & Chilli Pepper Salt Squid(椒盐鮮魷). Because of the deep-fried method of preparation, I needed a wine that has freshness but also fruit sweetness to take on the chilli, pepper and salt. And enough richness to take on the seafood taste of the squid.
Weingut Schloss Gobelsburg Gruner Veltliner Renner 2010 is intensely ripe and fruity but it also finishes with enough freshness to make you want to take another – and another – sip of the full-bodied white. It was a great partner of the Chilli Pepper Salt Doufu & Squid.
First started in 2008 when it was held in Beijing, the next edition of the International Congress of Chinese Cuisine & Wine will again take place in Singapore on 23, 24 & 25 May 2014 (the weekend before Vinexpo Hong Kong).
Chinese food is at the heart of the congress and helping that heart beat even stronger are the wines of the world which we pair with our great cuisine.
It's such a magnificent cuisine we don't need a "Kid's Menu". The reason is because it is the birth right of every Chinese child to enjoy, cherish and to celebrate our delicious culture.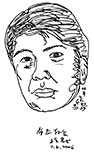 Columnist Introduction
A lawyer by training, CH'NG Poh Tiong also holds a Postgraduate Certificate with Distinction in Chinese Art from the School of Oriental & African Studies, University of London. He is an Honorary Ambassador of TEFAF – The European Fine Art Fair – Maastricht. CH'NG works principally as a wine journalist and is publisher of The Wine Review, the oldest wine publication in Southeast Asia, Hong Kong and China since 1991.
Click here to read all articles by CH'NG Poh Tiong>>
- Follow us on Weibo @Decanter醇鉴

and Facebook

for the latest news and updates -
All rights reserved by TI Media Ltd. No part of this publication may be reproduced, distributed or transmitted in any form or by any means without the prior written permission of Decanter.
Only Official Media Partners (see About us) of DecanterChina.com may republish part of the content from the site without prior permission under strict Terms & Conditions. Contact china@decanter.com to learn about how to become an Official Media Partner of DecanterChina.com.