CH'NG Poh Tiong's column: Zuo Wang
'There is a magnificent cuisine which does not qualify as one of China's great cuisines, although it is acknowledged by connoisseurs as one of the greatest expressions of Chinese cooking.'

The original 'Four Great Cuisines' of China are, in alphabetical order in the English language: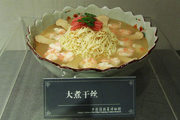 • Huaiyang
Refined, delicate cuisine named for the cities of Huai'an and Yangzhou in Jiangsu Province (the Rivers Huai and Yangtze flow through the region). The slicing skills of Huaiyang chefs are legendary. Zhugansi is the great classic of strand after fine strand of doufu skin piled over each other and resting over a sauce. It resembles a breathtaking Chinese landscape painting.

Image: Hongshao Paigu*2
• Lu
More popularly referred to as Shandong cuisine, this originates from the State of Lu during the Spring and Autumn Period (722-481 BC). Lu cuisine specializes in seafood, particularly dried items such as abalone, sea cucumber, shark's fin and dried scallops.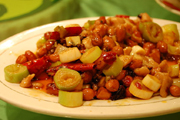 • Sichuan
Fiery chillis and explosive Sichuan peppercorns are so aromatic and addictive. China's boldest cuisine is also the most widespread and popular cuisine in the whole country particularly amongst young people.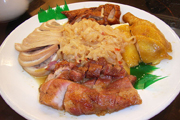 • Yue
Today, most people wrongly refer to this as Cantonese cuisine. The Kingdom of Yue (or Southern Yue) existed more than 2,000 years ago and paid allegiance to the Han Dynasty (206 BC-220 AD). The next time you are in downtown Guangzhou, go visit the Museum of the Mausoleum of the Nanyue King in Jiefangbei Road.
Along the way, the original 'Four Great Cuisines' were expanded to eight and these were, again in alphabetical order in the English language:
• Anhui
• Fujian
• Guangdong
• Hunan
• Jiangsu
• Shandong
• Sichuan
• Zhejiang
A quick glance is enough to tell you that politics was behind the expansion.
This is because the cuisines are attributed to the names of provinces rather than tied to historical roots of ancient kingdoms or cities.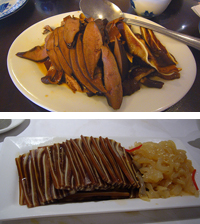 This is rather unfortunate because politics, especially when it sinks to propaganda, tends to have a way of re-arranging the facts or/and the truth. Politics likes to keep things 'correct' and every one 'comfortable'. Half the time, this means keeping appearances and pretending that everything is alright.
In the politics of food, for example, there is a magnificent cuisine which does not qualify as one of China's great cuisines because if it were to be included, this would mean that one of the eight provinces will have two great cuisines instead of just one. This would be politically incorrect and 'unfair'.
As such, this will not happen even if the cuisine happens to be so stunning and acknowledged by connoisseurs as one of the greatest expressions of Chinese cooking.
The cuisine I am alluding to is Chaozhou which, unfortunately for it, happens to be within the province of Guangdong which is already represented by Yue cuisine. The Chaozhou speaking parts of Guangdong include the cities of Chaozhou, Shantou and Jieyang in the coastal north-east of Guangdong.
It's always been somewhat curious that this great style of cooking is in Guangdong in the first place.
The reason is because the Chaozhou dialect is much closer to the Minan dialect of Fujian rather than to Cantonese. In fact, Fujian people can understand what a Chaozhou person is saying most of the time. Not to mention that the city of Chaozhou is only about 250 kilometres to Xiamen whereas it is nearly twice as far – about 470 kilometres – to Guangzhou.
Apart from their dialects, there are also some shared dishes between Chaozhou and Min cuisines including the famous Oyster Egg Omelette.
GREAT CHAOZHOU DISHES
Cold Crab is one of Choazhou cuisine's signature dishes. Steamed fresh, the crustacean is then left to cool. All the freshness stays intact when you eat it. Chaozhou cold crab is served with a vinegar sauce. I always ignore the sauce since this is not necessary when the crab is fresh. Another reason is because vinegar wipes away the flavours of a wine.
The rich roe of cold crab needs a wine that is bursting with fresh acidity. There are so many to choose from including champagne, dry to off-dry Riesling, dry Vouvray and Chenin Blanc, Sancerre, Sauvignon Blanc, white Bordeaux, Chablis, unoaked or delicately oaked Chardonnay, unoaked Ribolla Gialla and Pinot Grigio from Collio, Italy, and Hunter Valley Semillon.
Oyster Egg Omelette – The same wine recommendations as for Cold Crab.
Lu Shui Goose, Pork Belly and Big Pig's Intestine - Choazhou cooking relies a lot on steaming and 'lu shi' or brasing. In fact, there are not many Choazhou dishes that are deep-fried. Chaozhou food is, therefore, one of the healthiest and, because of the cooking methods adopted, relies heavily on very fresh ingredients. Such is the popularity of Chaozhou lu shi dishes that they can also be found in many mainstream Cantonese restaurants throughout Mainland China and Hong Kong.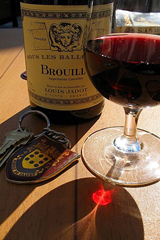 The 'lu shui' stock used to braise the goose (or duck), pork belly and big pig's intestine is like a 'master' or original stock or sauce. Recipes differ but it will include soya sauce, star anise, ginger, sugar, even rice wine. The 'lu shui' can be perpetuated for as long as conceivable, often for many years, without the pot being washed. The 'lu shi' can range from delicate to full-bodied. Because of that anything from a light to a full-bodied red can be recruited into duty to pair these Chaozhou classics. The possibilities start from Beaujolais to Burgundy to Bordeaux to Rhone to Zinfandel to Pinotage. And not forgetting Rioja, Ribera del Duero, Chianti, Brunello di Montalcino, Barbaresco, Barolo, Nero d'Avola and Aussie Shiraz. Whichever red you end up with, make sure the tannins are not angry, aggressive and sticky out. Instead, they should be resolved, evolved and smooth. As such, a wine that has some age – anywhere from five to 30 years – would be ideal.
Chaozhou cuisine may not officially be one of the eight great cuisines of China but I am sure that when you experience this refined cuisine, you will consider it a truly outstanding expression of Chinese cooking.
*Image credit:
1.Zhu Gansi(大煮干丝) by 猫猫的日记本
2.Mianjin Hongshao paigu (面筋红烧排骨) by Rolfmueller
5.Lou mei dish (滷水鵝) and Pigs ear and Jelly fish combo by Kent WangAbove images are adapted under Attribution-ShareAlike 3.0 Unported
3.Kung Pao chicken(宫保鸡丁) by Steven G. Johnson
4.烧味拼盘(燒味拼盤) by LONGS
6.A glass of the French wine Chablis made from Chardonnay grapes by Jon-Eric Melsæter
7.Bottle of Louis Jadot Brouilly Cru Beaujolais wine made from the Gamay grape in France by Rob IretonAbove images are adapted under Attribution 3.0 Unported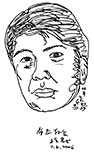 Columnist Introduction
A lawyer by training, CH'NG Poh Tiong also holds a Postgraduate Certificate with Distinction in Chinese Art from the School of Oriental & African Studies, University of London. He is an Honorary Ambassador of TEFAF – The European Fine Art Fair – Maastricht. CH'NG works principally as a wine journalist and is publisher of The Wine Review, the oldest wine publication in Southeast Asia, Hong Kong and China since 1991.
Click here to read all articles by CH'NG Poh Tiong>>
- Follow us on Weibo @Decanter醇鉴

and Facebook

for the latest news and updates -
All rights reserved by TI Media Ltd. No part of this publication may be reproduced, distributed or transmitted in any form or by any means without the prior written permission of Decanter.
Only Official Media Partners (see About us) of DecanterChina.com may republish part of the content from the site without prior permission under strict Terms & Conditions. Contact china@decanter.com to learn about how to become an Official Media Partner of DecanterChina.com.