Demei's View - Wine Communication from a Chinese Winemaker
Xinjiang is a land of wonders and mysteries. I have always admired its stunning natural sceneries and unique cultural customs, and had longed to set foot in this part of China myself.
Five years ago, I finally had the chance to visit Xinjiang for the first time. Its colourful local culture and natural beauty have left such a pleasant impression in my mind that I just couldn't get it out of my head. Since then Xinjiang undoubtedly became one of my most-visited places in China—one reason being that it is also a vineyard region.

Xinjiang was the transit point when ancient China imported vitis vinifera from Europe. This is proved by a massive amount of historical and archaeological evidence, as well as some of the products that exist until today—the Musailaisi wine is one of them.
By defining 'Musailaisi' as a style of wine I might have upset someone. But this drink indeed contains alcohol, and is made from fermented grapes.
The first time I heard about Musailaisi was when I visited one of the street bars in Turpan, Xinjiang. I was curiously looking at the label of a bottle of 'wine' on the table next to me, when the owner of that bottle generously poured one glass for me to try. It's sweet and lightly fruity, and you can hardly sense any trace of alcohol. It reminded me of those 'half-juiced' Chinese wines I tasted when I was little.
Although Musailaisi is widely known in Xinjiang, among the local people I know, only the comparatively older generation have actually tasted this wine before, and no one was able to explain the legend behind it.
In fact, Musailaisi wine is a traditional drink of the Uyghur People, and is widely consumed in areas such as Turpan, Hutan and Aksu; among which the Awati county Aksu is considered as the place to find the most 'authentic' Musailaisi. Here in the suburban area, almost every family make this wine in their own houses.
The grapes they use to make this wine are sourced locally. The widely cultivated table grapes - mainly Munage and Hashihaer* - are usually chosen to make Musailaisi. You need to firstly crush the grapes and heat the mixture in a pot so as to concentrate the juice; in the meantime, blend in locally-sourced herbs such as wolfberries, roses, Herba Cistanches, saffron and cloves. Sometimes people would even add in velvet antler, pigeon blood and roasted lamb.
The mixture is then filtered using a piece of gauze to get rid of the skins, seeds, stems and other solid substances, and poured into a jar, which is covered by a large piece of gauze to prevent dust from getting in. After that, it is fermented in the jar for around 40 days. There isn't a set rule about when the wine is 'ready', so when to drink it is largely up to the maker.
The method people choose to make this wine can differ largely from household to household.
Unlike the usual winemaking process, when making Musailaisi, you don't use any fining agent, but instead wait for the gravity to roughly clarify the liquid. Therefore this wine normally appears to be hazy. If you find a bottle of Musailaisi that's crystal clear, it's very likely to be made by blending, rather than natural fermentation.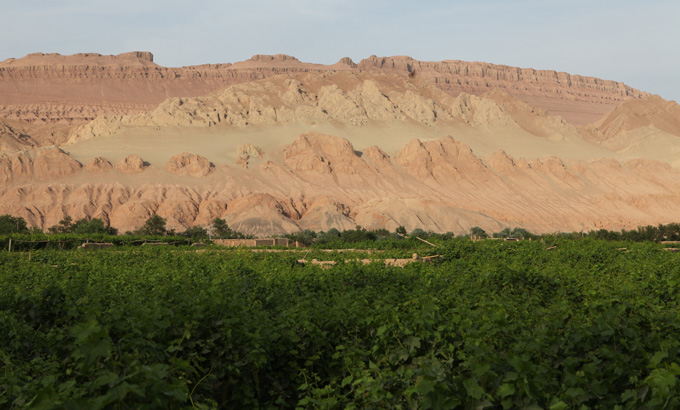 Because the juice has been boiled and oxidised—no antioxidant used in 'normal' winemaking is applied—Musailaisi commonly appears to be light brown in colour, with stewed fruit and jammy characters (this is also one of the significant hints to differentiate naturally fermented Musailaisi from blended ones), and notes of various spices and herbs. The alcohol levels can range from under 10 to 16. Because of its high level of residual sugar, Musailaisi tastes sweet, with hints of bitterness and other flavours, depending on the variety of herbs and spices added to the juice at the beginning.
For the locals, Muselaisi is considered as a healthy drink and a generous treat for the family guest. It serves a similar role as tea at social gatherings, but obviously it works better to liven things up—one of my local friends told me that when he was young, he got drunk from drinking too much Muselaisi and made quite a show of himself.
Nowadays both the method of making and the drinking custom of Musailaisi are considered as a symbol of history and tradition of the Uyghur People. The local government once attempted to summarise the making techniques and create a 'standard' for Musailaisi, so as to preserve this cultural heritage. However, they had to give up because they found that almost every person is making it in a largely different way, making it impossible to come up with one standard. The fact that it's not suitable for long-term storage and is usually consumed within one year makes it even harder for people to study it and spread it to the outside world.
*Both are names of old local variety (vitis vinefera).
Translated by Sylvia Wu / 吴嘉溦
All rights reserved by Future plc. No part of this publication may be reproduced, distributed or transmitted in any form or by any means without the prior written permission of Decanter.
Only Official Media Partners (see About us) of DecanterChina.com may republish part of the content from the site without prior permission under strict Terms & Conditions. Contact china@decanter.com to learn about how to become an Official Media Partner of DecanterChina.com.