Demei's View - Wine Communication from a Chinese Winemaker
Grace Vineyard has been the 'role model' to Chinese boutique wineries. For me, it's also a standard of quality.
I vividly remember the first time when I tried Grace Vineyard wines at a tasting in 2003. At that time, I had only just come back from studying in France, and was starting to make my way in wine circles in China.
At the beginning of the tasting, I noticed an elder guest who was introduced by the organiser simply as 'a wine lover'. Among a crowd of young people, his presence stood out a bit; but it was a time when the Chinese wine market was fresh and vibrant, and it was nothing strange that an elder had a hobby in wine.
Since the tasting was a gathering of friends, everyone was fairly relaxed, and felt free to comment in a direct and casual manner.
The wines were tasted blind. Before knowing where these wines were from, we didn't really praises or criticise them much—the quality was fine, but we thought it shouldn't be too difficult to find other wines just like these in the world of wine.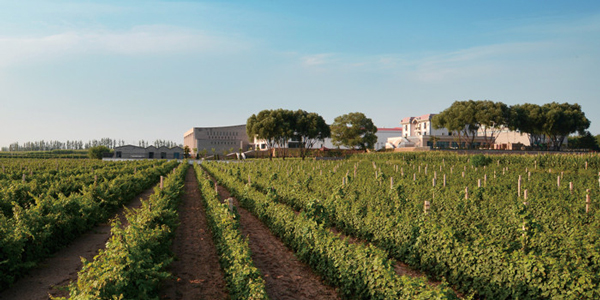 However, when the organiser revealed the origin of these wines, I was rather surprised: these wines were actually made in China! Though I believed that China had the potential to produce high quality and characterful wines, at that time the quality of Chinese wines were still far from being widely recognised.
But what impressed me the most was that the elder 'wine lover' mentioned before was actually the general manager of Grace Vineyard, the winery that produced the wines we tasted.
Without any emotional attachment to these wines, we had been very straight-forward about what we thought during the discussion. I even criticised the winery's choice of cork. However, it seemed that the general manager was patient and polite enough to listen to all the blunt comments from the guests about every aspect of his products.
I was deeply moved by his sincerity and modesty. Fortunately my criticism was sincere as well; not just for showing off (at least I think so).
Since then, as the head winemaker of another Chinese winery, I started to pay extra attention to Grace Vineyard. Two years later, I had the opportunity to visit the estate myself.
Before the trip, I was already well experienced with local chateau visits. I already knew that you shouldn't ask too many questions, because each estate has its own secrets and that it doesn't want to share too much with its peers—it will simply make everyone feel awkward if you insist on getting to the bottom of everything.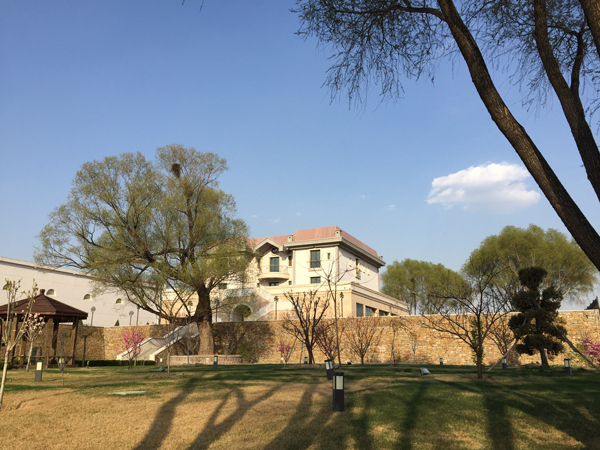 However, Grace Vineyard changed my perception of Chinese wineries again. I was lucky enough to not only stay at the chateau, but also enjoyed a thorough visit to its facilities and vineyards, while tasting all its wines—even including the experimental varieties that they were not entirely happy about.
'The natural environment, facilities and target market of each winery are different,' said one of the board members who organised the visit. 'Therefore for us there's no technique worth keeping as a secret.' I really appreciated the stance—it felt like we were talking more about the philosophy, not merely the techniques of winemaking.
On the contrary, perhaps the unwillingness to communicate and share is evidence for an estate's lack of confidence in mastering its own resources.
As other wineries were busy planting its own grapes to make wines, the Grace Vineyard Deep Blue already won a medal at the 2008 Decanter World Wine Awards. By the time when more Chinese wineries started to score trophies and medals at Decanter awards, Grace Vineyard was already well established in terms of brand building and brand marketing. And as branding became the new focus of many wineries, Grace Vineyard was already on its next level of development. In short—Grace Vineyard has always been the pioneer among Chinese wine estates.
After the first visit, although I had various opportunities to taste the quality wines made by Grace Vineyard, I rarely had another chance to revisit the property. On 10 April, I finally made the trip to the estate again.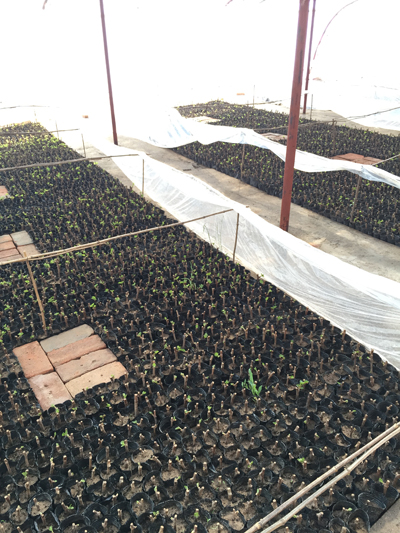 I arrived just in time to see the vines being dug out from the land. The viticulturist, who has worked there for 15 years, led me to the nurseries (picture 1), which he was clearly very proud of, as well as the oldest plots of the estate.
He also showed me the plantings of a few newly introduced varieties. As a matter of fact, as far as I know, Grace Vineyard has been experimenting different varieties early since its establishment.
Among these varieties, Marselan settled exceptionally well here. Sonata, a blend of Marselan and Cabernet Sauvignon, was recently chosen by the Bettane & Desseauve guide as a representative of Chinese wines.
In an effort to further raise the quality of grapes, Grace Vineyard reached a management agreement with local farmers through the local government. In the agreement, the government first retrieved the lands from local farmers by paying them some compensation (if China, the rights to use any farmlands belongs to the government); then the winery rented the lands directly from the government, while employing the local farmers to manage the vineyards.
By doing this, the local farmers receive stable salaries from the winery, and the risk in running the vineyard is fully shouldered by the winery. In the meantime, the winery can manage the vineyard completely based on its own targets and technical plans; tasks such as yields control, variety renew and pruning, are otherwise very difficult to achieve.
I think it's safe to say that besides paying the tax, Grace Vineyard also brought about more stability to the local economy. This is perhaps an encouraging way for a wine estate to repay society.
During the recent visit, I also saw a 'Grace Vineyard version 2.0' from a facility point of view. The renovated buildings featured modern, simple and practical interior design. New facilities were also built for the convenience of tourists. The winery, on the other hand, installed new equipment for grape selection and fermentation. Staff accommodation was also improved, allowing the live-in team to work passionately in a pleasant environment, just like what I witnessed there (in China, most wine estates are located far from cities, which means the workers have to live in the estate on working days).
It is difficult yet possible to make high quality wines in China. But how to communicate the concept of quality to consumers is something not easy to achieve.
Many of us had great ambitions, and once worked hard towards our dreams; however, not every one of us managed to go further. The success of Grace Vineyard lies not only in its high quality wines; but more importantly, it has established a 'sample case' for Chinese boutique wineries. The estate has proved that a small-scale fine wine producer can survive in the Chinese market. It remains until today as an encouragement to those who are dedicated in high-end winemaking in China.
Since a few years ago, Grace Vineyard has been planting its own vineyards in Ningxia, and has started harvesting grapes on from the new site. I was told that a winemaking facility was now under construction there. What can I say—before leaving the estate, I was already looking forward to the next visit…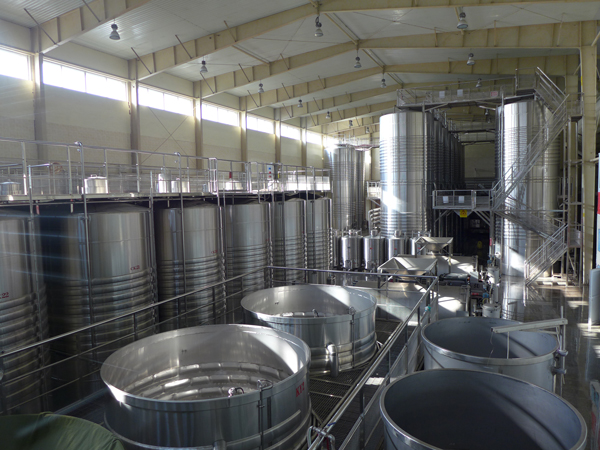 Tasting notes
2012 Premium Chardonnay
Light straw-yellow, clean. Refreshing pineapple and green apple nose. Light-bodied and delicate, with crisp acidity. Balanced and vibrant.
2011 Premium Chenin Blanc
Light straw-yellow with light colour density. Soft nose of green plum and green apple. Clean acidity brings about vibrant mouth feel; good minerality.
Chenin Blanc is a rarely seen variety in China. It is very difficult to plant here (possibly it will disappear from these vineyards as well). But I remembered the pleasant surprise 10 years ago when I first tasted this wine, and the winery was kind enough to open it for me to taste again.
Both wines are under screw cap. Grace Vineyard is again leading the game by being one of the first Chinese wine estates to adopt screw caps.
2012 Marselan
Deep ruby, clean. Clear expression of fruit, with cooling mint and vanilla nose. Soft and supple fruit on the palate, balanced and with good length, very clean.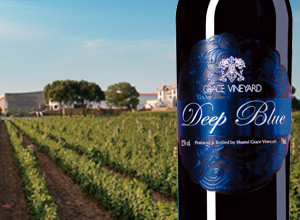 2012 Deep Blue (Cabernet Sauvignon 70%,Merlot 20%,Cabernet Franc 10%)
Ruby, clean. Clear expression of black currant and cherry fruit, with a hint of vanilla and smoke. The fruit is in good harmony with the oak. Full and thick, with lively acidity, balanced and harmonious.
If we say the body of the 2011 Deep Blue is comparatively less full in body (read my previous column on great Cabernets from China), the 2012 vintage seemed to be one size bigger. Possibly because it used more Merlot in the blend.
2013 Marselan
Bright garnet with deep colour density. Perfumed black fruit with cooling nose of mint, smoke, oak and yeast. Medium bodied with good acidity. Rough edges of tannin at the finish hint a good aging potential.
The 2013 reds are still being aged in oak barrels. The samples for tasting were taken from one of the new oak barrels. The blending is not yet finished for this vintage.
2013 Cabernet Franc
Among all the 2013 wines that I have tasted, I would like to shed more light on this one, as the 2011 version of this wine has been widely applauded. The 2013 vintage is fermented in barriques with their headers removed. The caps are manually punched down.
Bright garnet, clear. Fresh nose of violet and pepper, with a hint of vanilla and butter. Velvety, soft tannins, clear expression of fruit, clean finish.
2013 Elie Ni
The winery has been experimenting this early-ripening Italian variety in the last few years.
Ruby-red with lower colour density, clean. Shy nose of red fruit and nuts. Thin body and weak tannins. Soft in the mouth, clean and easy to drink.
Translated by Sylvia Wu / 吴嘉溦
All rights reserved by Future plc. No part of this publication may be reproduced, distributed or transmitted in any form or by any means without the prior written permission of Decanter.
Only Official Media Partners (see About us) of DecanterChina.com may republish part of the content from the site without prior permission under strict Terms & Conditions. Contact china@decanter.com to learn about how to become an Official Media Partner of DecanterChina.com.