More and more people in China are tasting wine; studying wine is becoming increasingly important, and in particular, studying the various levels of the UK-based Wine and Spirit Education Trust.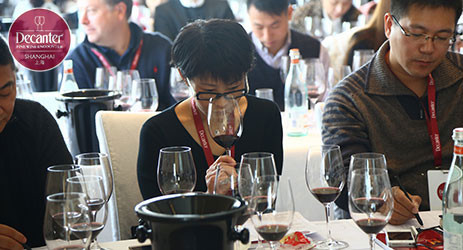 Image: a visitor tasting wine in a masterclass at Decanter Shanghai Fine Wine Encounter 2015 © Decanter
Compared with the WSET Level 3, the knowledge required by WSET Level 4 is wider in scope, more detailed, more in depth and more demanding of understanding. This is made even more challenging by the fact that everything is in English. So, for level 4 Chinese students, the qualification is not just about professionalization of their knowledge but also gaining fluency in a second (or third!) language –quite a challenge!
Below are a few suggestions and ideas that I can suggest for students in China willing to take up the challenge of Level 4.
1. Do not immediately embark on Level 4 after passing Level 3. Lots of students who pass Level 3 want to 'strike while the iron is hot', mistakenly thinking that it's more advantageous to start level 4 straight after level 3. Actually, I would completely argue against it. What frequently happens is that, because their preparation for level 4 is inadequate, even the most determined and hardworking student comes across many challenges, so many become frustrated, and then after a while, it becomes completely disheartening. Remember the best things come to those who wait, so be patient!
2. Definitely use this 'out' time to consolidate completely all Level 3 knowledge. Good preparation will pay huge dividends in this regard. Make sure that you know by heart each wine name, region, variety, etc.. mentioned in the textbook. I myself got a high mark in my Level 3 exam, but found that I still had to revise my Level 3 knowledge a lot. And besides this, continue to taste wines using WSET's SAT. At least every week, use the SAT to rigorously taste a few wines – no matter whether blind or not. You're aiming to raise the bar on your tasting notes.
3. Taste more wine and different wines from what you usually taste. The biggest challenge for most level 4 students that I teach is that they lack a wide-ranging experience of different wines. Use the time to taste widely and catholically.
Image: a visitor at Decanter Shanghai Fine Wine Encounter 2015 Grand Tasting4. Go to wine fairs. It's an easy way to explore different regions and styles of wine. This will not only increase your own personal experience, but also expand your understanding of global wines – and level 4 requires global wine understanding.
5. Study English language materials (and practice your English!). Level 4 materials are all in English, but moreover, you need to read a range of English materials – especially trade magazines. This is good not only for increasing your professional knowledge but can also help improve your English vocabulary and level – look for such magazines/websites as Decanter, Meininger's, Harpers and The Drinks Business.
6. Try to attend further learning classes – or winery tastings… but, of course always treat what you hear with a bit of salt! Some wineries will swear that everything they do to make wine is the best way to make wine, but instead of blindly listening, make sure you ask 'why'. Blind belief can be worse than ignorance in advancing your wine knowledge.
So, gird your loins, head forth and after 1-2 years of diligently consolidating and increasing your knowledge, then plunge into the joys of Level 4!
Click to learn more about available WSET courses in China>>
All rights reserved by Future plc. No part of this publication may be reproduced, distributed or transmitted in any form or by any means without the prior written permission of Decanter.
Only Official Media Partners (see About us) of DecanterChina.com may republish part of the content from the site without prior permission under strict Terms & Conditions. Contact china@decanter.com to learn about how to become an Official Media Partner of DecanterChina.com.