Jefford on Monday
What's the quickest way to understand a vineyard region? Find a pair of wings or set of blades, and blag your way on board. The pilot's eye view of a sweep of vines is far more revealing than the driver's.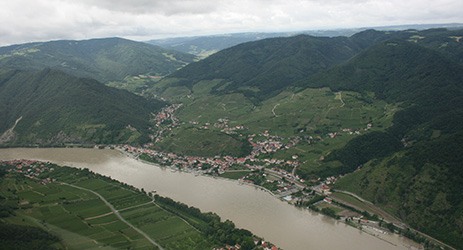 I've been fortunate enough to look down at the vineyards of the Médoc and of the Valais from a helicopter, and those of Pic St Loup from a glider. One day I hope to take up Stephen Henschke's ballooning invitation. Aurelio Montes helped me discover much of the detail of Colchagua from the air, while a few weeks ago another true flying winemaker, Michael Moosbrugger of Schloss Gobelsburg, gave me an overview of how Austria's Danubian wine regions relate to one another.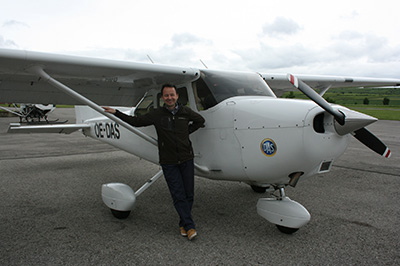 You could say that a flight merely adds flesh and colour to contour lines, but few of us are skilled enough at map reading to do that with the mind's eye. The heroically laborious efforts of Keith and Sue Gage in creating and painting the 'panoramic cartography' for Oz Clarke's Wine Atlas, first published in 1995, marked a major advance, and their detailed artwork is still worth the price of the (subsequently revised) book alone. Now, of course, Google Earth will put something similar on your computer screen in a few clicks.
It's more exciting in the air, though. Michael and I took off in a dainty Cessna 172 from Krems-Langenlois airport under the watchful eye of his instructor Alex Hofmann. It was a bouncy, low-pressure day; Alex had been out zapping hail clouds with silver iodide the previous week. We peeled off over the forests and high pasturelands which lie between the upper Kamp river and the Danube itself. Lesson one: at these latitudes, the potential for viticulture switches off with remarkable abruptness.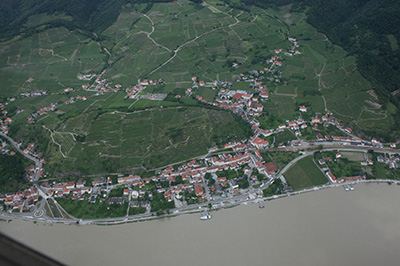 We banked around to head in towards the Danube from the west, running down the alleyway of the tight little Spitzer tributary: you could see that vineyards there were unlikely to produce wines with the breadth and lushness you find along the Danube itself. I saw, down by the river, crags beckoning. Now I understood why the Wachau vineyards more or less disappear between Spitz and Wösendorf on the north bank, and between Scheibental and Rührsdorf on the south, and I could guess how much the great river's reflected warmth must mean to the vines here.
We flew up the Danube: not blue, but silt-grey and scuffing its banks after copious rain. It should have been about 3.5 m deep at this time of year, but just two weeks earlier it had been at 10.7 m and was flooding the lower-lying vineyards. No problem if your vineyards are on 'Thousand Bucket Hill' (Tausendeimerberg) of course, or Axpoint, Hochrain and Singerriedel high above the river. Lower-lying vineyard land, Michael told me, isn't necessarily cheaper, despite the flood risk. Why not? Big yields and mechanisation provide other rewards.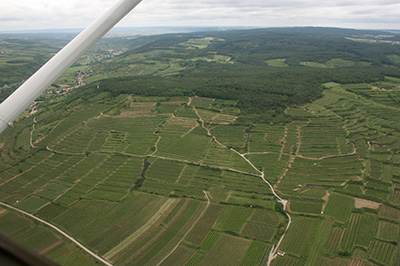 We were quickly past the Wachau. The region is only 25 km from one end to another – but the open vineyards of the east ripen up to four weeks earlier than the closed vineyards of the west, where I'd seen those crags. Then there's an undulating sea of vines around Krems and Langenlois, shared by the regions of Kremstal and Kamptal. Traisental to the south of the river is more sparely planted, as are the much bigger zones of Wagram and Weinviertel. You could see that the individual hills hereabouts were everything – like Kamptal's Heiligenstein, where the horizontal terraces high up ripen Riesling, while the vertical terraces lower down are perfect for Grüner Veltliner. From the air, in truth, the overall regional divisions seemed a little strenuous: a symptom of the unending human struggle to impose order on unruly nature and its unceasing pattern of change.
That, of course, is what no flight can ever tell you. You could call it the vine's story. The differences we can see with our eyes and measure with our instruments are significant, but those differences are experienced with far greater sensitivity and drama by each fixed, rooted vine itself. Vines can't talk – except through wine. Understanding each vine and coaxing it into full articulacy is the winegrower's job. It's the slowest way to understand a region. But the most profound.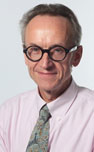 Columnist Introduction
Andrew Jefford is a columnist for both Decanter magazine and www.decanter.com, Jefford has been writing and broadcasting about wine (as well as food, whisky, travel and perfume) since the 1980s, winning many awards – the latest for his work as a columnist. After 15 months as a senior research fellow at Adelaide University between 2009 and 2010, Andrew is currently writing a book on Australia's wine landscape and terroirs. He lives in the Languedoc, on the frontier between the Grès de Montpellier and Pic St Loup zones.
Click here to read all articles by Andrew Jefford>>
- Follow us on Weibo @Decanter醇鉴

and Facebook

for the latest news and updates -
All rights reserved by Future plc. No part of this publication may be reproduced, distributed or transmitted in any form or by any means without the prior written permission of Decanter.
Only Official Media Partners (see About us) of DecanterChina.com may republish part of the content from the site without prior permission under strict Terms & Conditions. Contact china@decanter.com to learn about how to become an Official Media Partner of DecanterChina.com.