Jefford on Monday
This was, perhaps, the most endearing French event I have taken part in since arriving here three years ago. Over the course of a single weekend, 3,200 people (paying 65 euros each) are dispatched on a 6-km vineyard walk up hill and down dale, over brooks, along cliff lines and through scrubby forests. Along the way, they stop to sit and eat a six-course lunch of ferocious ambition (example: 'la soupe de cèpes glacés au vinaigre de xérès, escalope de foie gras poêlée, crème légère à l'huile de truffe et coriandre' – and that was just the starter) at a rate of approximately one course per kilometre; wash the food down with 60 or so local wines; enjoy musical interventions; and read a long series of quotations chalked up on blackboards which are hung, faintly surreally, from branches and bushes. I felt Peter Greenaway should have been on hand to film it all, with a Michael Nyman soundtrack.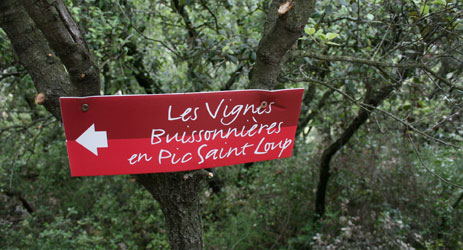 It's called Les Vignes Buissonnières ('the truant vines'), and it takes place every June in Pic St Loup, just up the road from where I live. So successful is this event, whose route changes annually, that tickets sell out within days of being advertised each spring; other regions in Languedoc have begun to prove the sincerity of their flattery by a little modest imitation. The ticket price also brings you a dapper straw hat, a glass, a glass-holder, a pencil and a booklet in which to write your notes. You are given a start time, to prevent bunching; tasted wines are for sale at the end. A few of those taking part had obviously made serious efforts to tackle every single sample, but most could still walk in a straight line as the final ditch approached.
What was remarkable this year, in fact, was that no one drowned. The mud didn't quite reach Glastonbury Festival standards, but unseasonal storms hammered down with such force that the four hardy souls with whom I began the gastro-trek baled out, wet and cold, after the first course (scallops with a gingered tartare of asparagus, roast tomatoes and beans in a citrus vinaigrette). Umbrella in hand, I squelched and skidded on, and was glad I did, too, since many of the paths were cut specially for this event, so it took me to secret, private parts of a landscape whose public tracts I already know well and love deeply. The dishes, I felt, were too complex for field execution even on a sunny day, and didn't always taste as good as they sounded on paper, but the camaraderie (and organization) was impeccable.
What of the wines? A mass ramble through a series of cloudbursts does not constitute perfect tasting conditions, but I still managed to sample about half of those on offer, and it deepened my grasp of what this zone, reputedly on the threshold of appellation status, can achieve.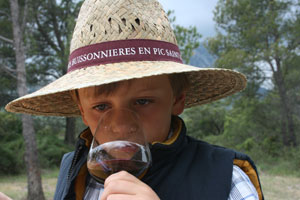 Pic St Loup is a thread of vineyards teased around an intermittent chain of crags, and over the stony limestone rubble which lies beneath them. Vineyards are angled in every direction here, and the zone is a little cooler and airier than many parts of Languedoc. Perfume, poise and refreshment are key Pic qualities – and intricate wealth of flavour from warmer sites. Pic whites can be just as good as Pic reds, and the best rosés are beginning to shine, too. Here are a cluster of names from my notebooks, rain-spattered and recent as well as older and drier. And if you want to be put on the waiting list for future, surely sunnier editions of the Vignes Buissonières, don't forget to check the website (www.pic-saint-loup.com) from early March onwards.
Outstanding producers: Ch de Cazeneuve, Domaine de l'Hortus, Domaine de Mortiès
Highly recommended producers: Bergerie du Capucin, Mas Brugière, Ch Fontanès, Ch de Lancyre, Clos Marie, Domaine de Mirabelle, Ch de Valflaunès
Names to watch: Mas d'Auzières, Chemin des Rêves, Ch de l'Euzière, Mas de Figuier, Mas Foulaquier, Domaine des Grandes Costes, Domaine Mirabel, Ch de Mouchères, Mas Peyrolle, Ch la Roque, Zumbaum Tomasi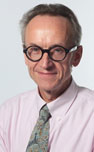 Columnist Introduction
Andrew Jefford is a columnist for both Decanter magazine and www.decanter.com, Jefford has been writing and broadcasting about wine (as well as food, whisky, travel and perfume) since the 1980s, winning many awards – the latest for his work as a columnist. After 15 months as a senior research fellow at Adelaide University between 2009 and 2010, Andrew is currently writing a book on Australia's wine landscape and terroirs. He lives in the Languedoc, on the frontier between the Grès de Montpellier and Pic St Loup zones.
Click here to read all articles by Andrew Jefford>>
- Follow us on Weibo @Decanter醇鉴

and Facebook

for the latest news and updates -
All rights reserved by Future plc. No part of this publication may be reproduced, distributed or transmitted in any form or by any means without the prior written permission of Decanter.
Only Official Media Partners (see About us) of DecanterChina.com may republish part of the content from the site without prior permission under strict Terms & Conditions. Contact china@decanter.com to learn about how to become an Official Media Partner of DecanterChina.com.