Jefford on Monday
How big should a wine zone be? There's no simple answer, of course. The notorious 'South East Australia' flirts (or perhaps co-habits) with meaninglessness, but French appellations like Languedoc and Côtes de Provence, too, are so large as to leave terroir-loving drinkers nonplussed about what to expect.
St Emilion satisfies many Bordeaux purchasers, but once you start to examine this right-bank whopper in detail it's hard not to conclude that it should really be broken up into at least four sub-zones (the Pomerol-like Côtes de Tailhas; the St Emilion Plateau; the St Emilion Côte; and the Dordogne Plain). Do Coulée de Serrant and La Roche aux Moines, by contrast, really deserve to be distinguished from the rest of Savennières, or Château Grillet from the rest of Condrieu? The 2006 Château Grillet I drank with friends last week was pleasantly dense and oily, though nothing, I suspect, marks it out 'genetically' from its Condrieu peers. Perhaps Messrs Pinault and Engerer will be able to convince us otherwise (2011 was their first vintage), but under Canet/NeyretGachet ownership, the case for a separate AOC looked weak.
Back in 2005, the Niagara Peninsula in Canada's Ontario was sub-divided into 10 different sub-appellations which, given that the whole area occupies less than 6,000 ha, is pretty picky for a young wine-growing location. Justified or not?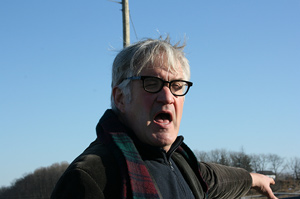 Image: Thomas Bachelder pointing out nuance
© Andrew Jefford
"I think they've made the sub-appellations too small too soon," is producer Charlie Pillitteri's view. "We've been too French, because of our cultural roots." Pillitteri's sweetly oaky 2010 Winemakers Select Merlot comes from the warmest of these sub-appellations, Four Mile Creek. The label, though, reads Niagara-on-the-Lake, a group name for four of the easternmost sub-appellations. Pillitteri wants to hit the meaningful 'Niagara' button above all. Just 13 per cent of quality wines produced here last year used sub-appellation nomenclature.
"The New World has to make a real effort to discover terroir and less effort to make a 'big reserve'" is Thomas Bachelder's contrary view. We were in the middle of a frenzied barrel tasting. This self-confessed 'Burgundy-brainwashed' Québecquois was attempting to prove to us that not only was he justified in making single-vineyard bottlings from the Wismer and Saunders vineyards (in Twenty Mile Bench and Beamsville Bench respectively), but that each vineyard itself had two distinct halves. Paul Pender of the Tawse Winery suggested a similar conclusion, but from a more pragmatic perspective. "We aren't ever going to compete in the mass market. Ontario's role is to make light, quality wines which speak of place."
I think the terroiristes are right. This is a complex and singular fillet of vineyard earth, shaken out into an almost critically difficult climate. Every detail counts here. Unless you establish a system whereby nuance can be gauged, you risk not doing the place justice.
Its key feature is the Niagara Escarpment, a long cuesta which twists from its New York State origins all the way through the Great Lakes region, ending near Milwaukee. The escarpment tops soft shale with hard dolostone. Lake Erie, meanwhile, is trying to empty itself into Lake Ontario via the Niagara River just here, and differential erosion as the river thunders over the Escarpment is what has created the famous Falls. Four Mile Creek and Twenty Mile Bench are both distance measurements from the river Niagara itself. The 'Peninsula', meanwhile, is the neck of land between the two vast water masses of Lakes Erie and Ontario (which look like seas as you stand on their shores). The vineyards occupy the Escarpment to the west of the river, facing north.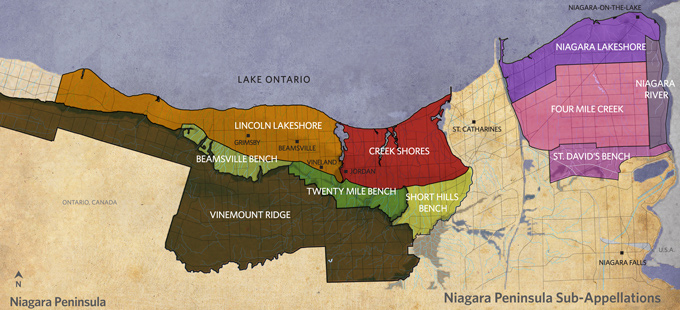 Image: Map of Ontario sub-appellations
North? That's right: the wrong way altogether. But it's the right way here: warm air from the lake helps drain and evict cold air from the slopes by advection, and the Escarpment slopes also protect the vines from the prevailing south-westerlies which comefanging up from Chicago. In spring, the altitude of the slopes dissuades the buds from bursting too soon, and getting axed on one of the 160 nights when frost might strike here; and in summer, the slopes provide breezes which give the vines a little mould relief in hot, humid July and August. No Escarpment; no wine.
But the Escarpment itself is a complex pattern of altitudes, soils and aspects (since it is much dissected by streams flowing towards the lake, too). These complications are what the 10 sub-appellations attempt to disentangle. Here's four wine examples, to point up the differences.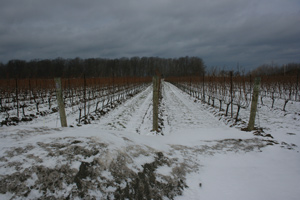 Image: Hidden Bench winter vineyards
© Andrew Jefford
The 2011 MalivoireStouck Merlot comes from Lincoln Lakeshore, where a gently maritime climate and alluvial soils over postglacial gravels helps mother a dark red packed with soft black fruit and rich, chunky tannins. At the top of the Escarpment, by contrast, the Lauritzen Vineyard on Vinemount Ridge experiences a more continental climate and has clay-loam moraine soils: the 2012 Tawse Pinot Noir grown here is graceful, elegant and fine-drawn, with redcurrant fruit and lightly grippy tannins. Between the two liesBeamsville Bench and Twenty Mile Bench. The 2011 Pinot Noir from Pearl Morissette in the latter is exuberant and mouthfilling: raspberry fruits and a meaty warmth. The 2011 Felseck Pinot Noir from Hidden Bench in the slightly cooler Beamsville Bench is round, structured and forthright – pure plum rather than meaty richness.
It will take a couple of centuries, of course, to prove the system, but the delight I felt at teasing out these often striking Niagara nuances and others like them suggests that the Ontarians have got their measurements more or less right. The result is a set of impressively subtle, gastronomic wines.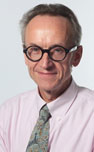 Columnist Introduction
Andrew Jefford is a columnist for both Decanter magazine and www.decanter.com, Jefford has been writing and broadcasting about wine (as well as food, whisky, travel and perfume) since the 1980s, winning many awards – the latest for his work as a columnist. After 15 months as a senior research fellow at Adelaide University between 2009 and 2010, Andrew is currently writing a book on Australia's wine landscape and terroirs. He lives in the Languedoc, on the frontier between the Grès de Montpellier and Pic St Loup zones.
Click here to read all articles by Andrew Jefford>>
- Follow us on Weibo@Decanter醇鉴

and Facebook

for the latest news and updates -
All rights reserved by Future plc. No part of this publication may be reproduced, distributed or transmitted in any form or by any means without the prior written permission of Decanter.
Only Official Media Partners (see About us) of DecanterChina.com may republish part of the content from the site without prior permission under strict Terms & Conditions. Contact china@decanter.com to learn about how to become an Official Media Partner of DecanterChina.com.