Jefford on Monday
A few weeks ago, I crossed the Rhine in traveling from France's Alsace into Germany's Baden. Under the blissful Schengen arrangements, it's an uneventful occasion; no one wants to thumb your passport or shine a beam on your iris. It wasn't always thus. Alsace is famous for being the region which has (involuntarily) changed nationality four times since 1870, while the starveling bands sowing havoc in Europe's most anarchic war (The Thirty Years' War) left what would, in today's terms, be 26 million dead in these and neighbouring lands back in the early seventeenth century.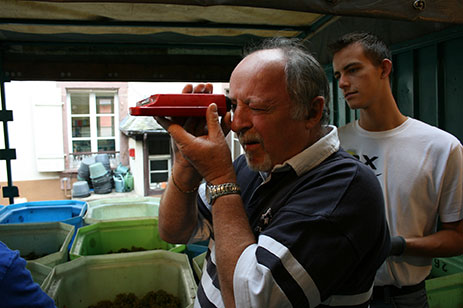 This isn't gratuitous detail. Alsace's wine culture, one of Europe's most significant and prosperous prior to the seventeenth century, was rinsed bare in the historical washing machine. Wine traditions repeatedly collapsed in political turmoil – as Alsace's growers will happily spell out for you. What I discovered recently was that social, political and economic considerations, too, can easily trump the physical potential of terroir. Let me explain.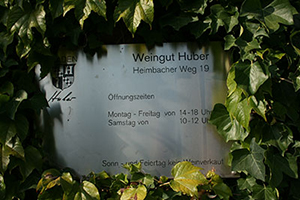 Alsace's red wine is Pinot Noir: the variety occupies almost 10 per cent of plantings. Some of these 1,540 ha fetch up in sparkling wine, but every winery offers red; these are often what the locals, including restaurateurs, queue up to buy. I'm not, in general, a fan.
Some are no more than rosé (note that average yields in Alsace are 30 hl/ha higher than in Burgundy); some are plain thin; and even the best seem to lack structure and authority, though they can be smoothly and almost lip-smackingly affable.
You can probably guess what's coming next. Baden produces not 10% red wine but 44% red wine, and Pinot Noir is this region's main grape variety, occupying 36% of plantings. In my one-day sortie (with fellow Arblaster & Clarke travelers), we visited 'the godfather of Pinot' in Baden, the quiet but hugely painstaking Bernhard Huber, as well as hooking up with Joachim Heger's exuberant and good-humoured cellarmaster Markus Mleinek. No one could say that the Pinots produced at either address lack structure and authority. Dr Heger's 2010 Achkarrer Schlossberg, indeed, was so concentrated and powerful that it reminded me of a Burgundy with 15% Côte Rôtie blended into it: roasted black plums and a cascade of tannins. At Bernhard Huber's cellar, meanwhile, the 2010 Schlossberg from another village, Hecklingen, had wonderful fruit architecture and singing, curranty acidity bonded to sumptuous tannins, while the 2010 blended Alte Reben (old vines) Spätburgunder (Pinot Noir) was a fine buy, too, with its cherry and raspberry fruit and its quivering freshness. All three wines would, I suspect, acquit themselves more than honorably against the stiffest Pinot competition.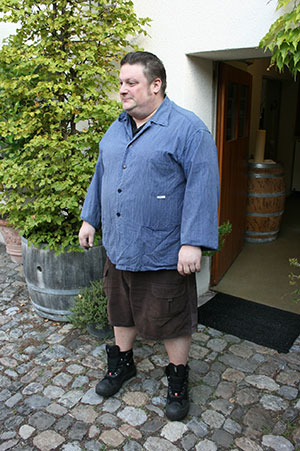 Why the contrast with Alsace? Classic terroir comparisons suggest that Pinot should thrive west of the Rhine: Alsace vineyards are almost certainly warmer and markedly dryer than Baden, and have magnificently propitious sloping sites which boast both limestone and marl soils and southerly and easterly exposition. If Baden can do it, Alsace can surely do it, too.
But look: Baden is one of the few parts of a major white-wine producing nation which can make truly satisfying red wine – so that's what the market wants it to do. Alsace, by contrast, is the only part of a preponderantly red-wine producing nation which can produce rich, scented whites from aromatic varieties – so that's what the market wants it to do. (And Burgundy's just down the road.) Pinot Noir isn't even eligible for Grand Cru status in Alsace, though rumour has it that this will soon change for the warm, limey site of Hengst.
There is no reason, in other words, why Alsace shouldn't produce Pinots to match those of Baden – if its lawmakers and winegrowers were prepared to make the same efforts for that variety as their German counterparts, and if customers were ready to reward those efforts. Mleinek, for example, air-blows his bunches at flowering to create a less tight, aerier fruit set in each bunch – and then cuts off the bottom of the bunch later as those grapes ripen less effectively than those higher up the bunch. Bernhard Huber spends two days training his pickers before they are let near a bunch. Yields at both are more Burgundian than Alsatian. 'To make Pinot Noir, you must think Pinot Noir from the beginning,' Huber says. 'And in Alsace they think Riesling, Pinot Gris and Gewurztraminer from the beginning.'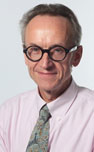 Columnist Introduction
Andrew Jefford is a columnist for both Decanter magazine and www.decanter.com, Jefford has been writing and broadcasting about wine (as well as food, whisky, travel and perfume) since the 1980s, winning many awards – the latest for his work as a columnist. After 15 months as a senior research fellow at Adelaide University between 2009 and 2010, Andrew is currently writing a book on Australia's wine landscape and terroirs. He lives in the Languedoc, on the frontier between the Grès de Montpellier and Pic St Loup zones.
Click here to read all articles by Andrew Jefford>>
- Follow us on Weibo @Decanter醇鉴

and Facebook

for the latest news and updates -
All rights reserved by Future plc. No part of this publication may be reproduced, distributed or transmitted in any form or by any means without the prior written permission of Decanter.
Only Official Media Partners (see About us) of DecanterChina.com may republish part of the content from the site without prior permission under strict Terms & Conditions. Contact china@decanter.com to learn about how to become an Official Media Partner of DecanterChina.com.