Jefford on Monday
The relationship between wine and the screen (whether full, wide or small) is an uneasy one. Watching people taste wine, then talk about it with the kind of animation required to keep tv viewers hooked, is agony. There's nothing visually interesting about any act of viticulture or winemaking. The 'promotional film' is as tedious as the promotional anything. Most wine video clips tell you little, and do so less incisively than a page of text.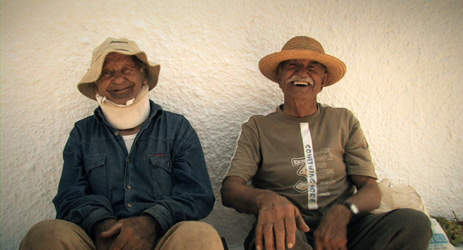 Wine works well in narrative films, but quality depends on the artistic skill of the team involved. The success of Alexander Payne's 2004 film Sideways was amply merited, even if the film is a much grosser rendition of Rex Pickett's subtly funny novel. Anyone who wants to gauge the true role of wine in contemporary British life should take a look at Mike Leigh's 2010 film Another Year. Not good news for wine writers, alas, as vintage and origin are a matter of supreme indifference to the drinkers, but I've never seen a French, Italian or Spanish film in which quite so much wine is consumed.
The most spiritually beautiful and resonant act of wine drinking I've ever seen on a cinema screen, by contrast, comes towards the tragic end of Xavier Beauvois's 2010 film Les Hommes et Les Dieux, about the murdered Trappist monks of the Algerian monastery of Tibhirine. And there's a magically ruminative cellar scene in the middle of Edgar Reitz's long Heimat.
Jonathan Nossiter's now-celebrated 2004 Mondovino struck me as rambling, self-indulgent, agenda-laden and mischievously edited, redeemed only by its occasional moments of humour, and of interest chiefly because of the name-check line-up of those who agreed to take part. I've recently seen a far better wine documentary: beautiful, moving, truthful. It's called Pelican's Watch, and is made by Greek-Danish film-maker Lea Binzer, and co-produced by wine writer Nico Manessis.
Binzer found herself living on the Greek island of Santorini. The film dips into the hard lives of its largely elderly winemakers, and eavesdrops on their engagingly incoherent conversations. It scrabbles about a bit in the inevitable political conflict between tourism and wine tradition, but without taking sides; indeed you feel these tired old boys deserve the right to sell their vineyards to developers, and move into a rest home on the proceeds. They prune their scruffy vines, and curl them against the wind; they smoke cigarettes; they rant; they discuss God and death. They show up for an honorably dull celebration of some sort. 'Pelican' is a wine-grower (Nikos Pelekanos); he quietly meditates on Santorini's problems; his crop, come harvest, is disappointingly small. Wine producer Paris Sigalas has a few stabs at trying to describe how special Santorini is, and pretty much fails.
Santorini, you will all know, is one of the most beautiful places in Europe. When I visited in 2007, the small hotel I was staying in had been commandeered by a Chinese bride and groom who had come all the way from Beijing for a couple of days so that she could pose in her bridal gown on the edge of the caldera at sunset: an expensive shot, both for the bride's father and the planet.
In this film, we never see the caldera. How about that for restraint? There's only one sunset, out of focus and beyond the glare of Pelekanos's headlights, as he makes his weary way home, after delivering his disappointing crop, past tatty Mitsubishi dealerships and Thrifty car-hire depots. The film opens with a shot of the Aegean – in winter. It's grey, and looks rather like the North Sea off Skegness.
The brilliance of Binzer's work is that you know that many winemaking lives around the world are exactly like this – there's a kind of universal synecdoche at work. She manages to film both compassionately and dispassionately. She edits with succinct panache. She reveals a buried poetry in the ancient monotony of these lives; it's more moving and dignified than another round of glossy lifestyle smiles and vacuous toasts. And the documentary's strange beauty is intensified and lent emotional force by a haunting musical soundtrack, composed by Laoura Gini. The film is now on sale, though you'll have to send to Santorini for it: www.santoriniwineshop.com. The elegant box includes a soundtrack CD.
What next for Binzer? I don't know, but I'd love to send her to Georgia. And then to Islay. And then, finally, to Burgundy and Bordeaux.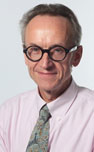 Columnist Introduction
Andrew Jefford is a columnist for both Decanter magazine and www.decanter.com, Jefford has been writing and broadcasting about wine (as well as food, whisky, travel and perfume) since the 1980s, winning many awards – the latest for his work as a columnist. After 15 months as a senior research fellow at Adelaide University between 2009 and 2010, Andrew is currently writing a book on Australia's wine landscape and terroirs. He lives in the Languedoc, on the frontier between the Grès de Montpellier and Pic St Loup zones.
Click here to read all articles by Andrew Jefford>>
- Follow us on Weibo @Decanter醇鉴

and Facebook

for the latest news and updates -
All rights reserved by Future plc. No part of this publication may be reproduced, distributed or transmitted in any form or by any means without the prior written permission of Decanter.
Only Official Media Partners (see About us) of DecanterChina.com may republish part of the content from the site without prior permission under strict Terms & Conditions. Contact china@decanter.com to learn about how to become an Official Media Partner of DecanterChina.com.