Jefford on Monday
It may be the event wine-growers fear more than any other: a wanton act of destruction by a crazed, machete-wielding giant. This 30-metre-high hooligan strides, eyes rolling, through your vineyard in a matter of minutes, lunging, slashing, slicing and flailing senselessly, trashing the vines and whatever they may be carrying. Then he's gone, rampaging over the hill, leaving you to gasp at the wreckage.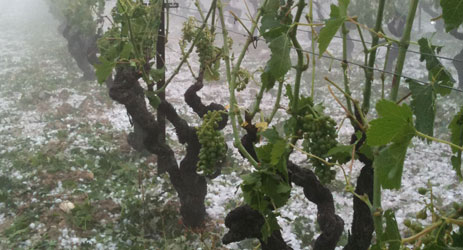 Ok, there's no giant. It's just ice, pelting out of a cumulonimbus cloud, but the effect is the same. It took seven minutes for Provençal grower Raimond de Villeneuve of Ch de Roquefort to lose his entire crop on July 1st last year. 'I can still see myself running around the vineyards up to my knees at times in streams of hailstones, petrified, blue with cold. All that ice on still-warm ground created great veils of white mist.' He made a doom-laden tour of his 24 ha (just under 60 acres) afterwards. 'I knew I wouldn't even get the hint of a harvest.'
The same thing happened this year, at around 5 in the morning on June 17th, to growers in Vouvray, Montlouis, Touraine and Chinon. François Chidaine, the president of the Montlouis growers, has lost all of his Vouvray and 40 per cent of his Montlouis – a hail hit for the second year running. Some of the stones were as big as hen's eggs. Without financial help, he says he may have to quit. It was the Mosel's turn on June 20th: 180 ha have been damaged there, with some complete crop losses in the village of Lieser.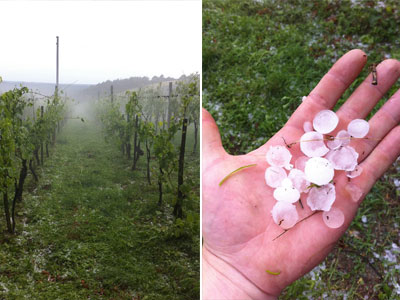 As it happens, I was in the vineyards of Eisenberg in Austria's southern Burgenland last week, shortly after the crazed giant had rampaged through there (on June 22nd). Slashed leaves, blistered stems, scarred bunches; the broken tissues were already browning and drying. What do you do?
'For the next couple of weeks, nothing,' said local grower Dr Stephan Oberpfalzer. 'The vines are in shock. Then we'll have to re-prune somehow. The big worry is that the vines might be affected for next year, too.' 'We're not a region for hail normally,' said fellow grower Thomas Straka, 'but in the last years it's been getting worse and worse. There hasn't been hail like this in Eisenberg for 70 years. It was the first time,' he reflected, wryly, 'I've ever heard our village's name on the radio.' Growers in Chablis told me last year that hail is now a worse problem for them than spring frost. If 'climate chaos' is what rising atmospheric carbon dioxide achieves, further visits from the giant seem likely.
They're used to all of this in Mendoza, where the spectacular afternoon thunderheads which pile over the Andes regularly let rip with la piedra, as hail is called there. Hail is so predictable in Argentina's sub-Andean vineyards that many net against it; others simply make sure they own vineyards in a number of different zones to minimise catastrophic loss. Insurers, of course, don't want to know.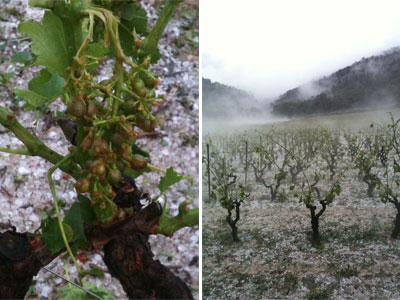 It's infrequent enough in most parts of Europe for insurers to continue to assume the risk. According to Stephan Oberpfalzer, the cost is 1,000€ per 15,000€ of crop, with insurers reimbursing the percentage damaged minus a 10% excess. Amazingly, the Austrian government pays half of the premium for growers. After an attack, though, no insurer will offer cover for the following year – and in any case, some growers still consider hail insurance a luxury.
What if you do lose big? There's one positive outcome of a visit from the crazed giant: human solidarity. No fewer than 35 different Southern Rhône and Provence domains got together to help Raimond de Villeneuve out last year, and together they created three 'Grêle' cuvees for him, which he is now selling to tide him over until his own 2013s are ready.
Remember, it's not over yet. Gevrey-Chambertin was hit by three separate hailstorms in August in 2004, pulping and rotting the almost-ripe grapes. The giant will always be back, sooner or later, crazier than ever.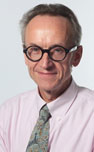 Columnist Introduction
Andrew Jefford is a columnist for both Decanter magazine and www.decanter.com, Jefford has been writing and broadcasting about wine (as well as food, whisky, travel and perfume) since the 1980s, winning many awards – the latest for his work as a columnist. After 15 months as a senior research fellow at Adelaide University between 2009 and 2010, Andrew is currently writing a book on Australia's wine landscape and terroirs. He lives in the Languedoc, on the frontier between the Grès de Montpellier and Pic St Loup zones.
Click here to read all articles by Andrew Jefford>>
- Follow us on Weibo @Decanter醇鉴

and Facebook

for the latest news and updates -
All rights reserved by Future plc. No part of this publication may be reproduced, distributed or transmitted in any form or by any means without the prior written permission of Decanter.
Only Official Media Partners (see About us) of DecanterChina.com may republish part of the content from the site without prior permission under strict Terms & Conditions. Contact china@decanter.com to learn about how to become an Official Media Partner of DecanterChina.com.