Jefford on Monday
Is mixed ripeness – some grapes barely ripe, some almost over-ripe – desirable at harvest time?
In principle, no. Wine growers with the economic liberty to court perfection have always sought healthy grapes picked on the perfect cusp of ripeness. "If we pick a day early, it's green. If we pick a day late, it's prune." That's Edouard Moueix, talking about how sensitive the harvest date is for the Merlots of Ch Hosanna in Pomerol (see the March edition of Decanter magazine). There is no more fretful decision in a winemaker's year that choosing exactly when to send in the picking troops.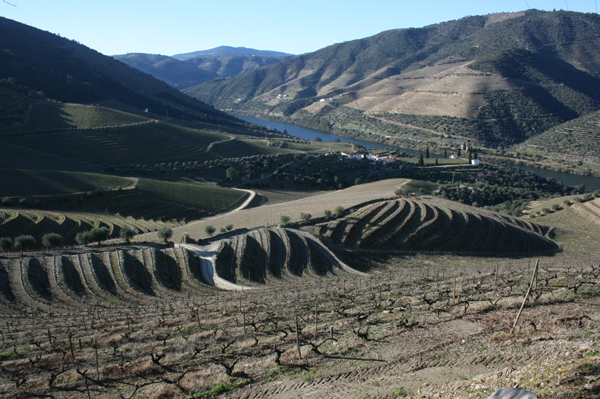 Yes, but ... the world is getting warmer. As a result, the wines made from existing vineyard plantings, conceived for a cooler world, are getting richer and headier, despite being picked two or three weeks earlier than they used to be. Long-cherished stylistic ideals are beginning to pant for breath in their wake. How do you keep freshness, lightness and balance in a crop of increasingly precocious Chardonnay or Sauvignon Blanc without resort to water and acid? Many producers find that picking on three or four different days helps, with the greener portions of the crop invigorating the riper, later passes.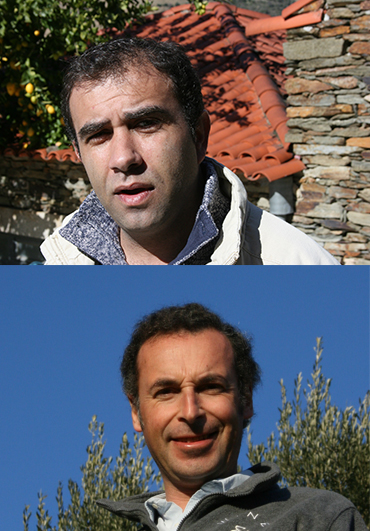 That, though, is not all. As I discovered recently in Portugal's Douro valley, there may be other compelling reasons for abandoning the ideal of the perfectly ripe berry.
First, though, let's go back to a cold London evening in early February. Bruno Prats, the former owner of Cos d'Estournel and latterly the proud joint-owner of Quinta de Roriz and Quinta de Perdiz in Douro, was presenting a vertical tasting of Chryseia, the Douro wine whose 2011 vintage had just been posted in third position in the Wine Spectator's 'Top 10 Wines of 2014'. "I was told when I first came here that the best wines in the Douro didn't come from the same vineyards as the best ports, and that the best table wine vintages were different to those for port. Today, I am definitely convinced that the best table wines come from the same vineyards, and the same vintages, as the best port. But you must pick at a different time; port needs to be picked later. And so I am very much against mixed plantings, because you never know when to pick. I strongly believe in single varietal blocks."
A little later, I was standing in Quinta de Roriz with resident viticulturalist and winemaker Luis Coelho and Prat's joint-venture partner in the creation of Chryseia, Paul Symington of the Symington family; the Symingtons (both individually and corporately) are now the Douro's major landowner. Few vineyards anywhere in the Douro are flat. Roriz, in fact, is less vertiginous than many, yet its vineyards still ramp up from 200 metres to 350 metres. Even in the same vineyard, Coelho says, ripening can vary for a single variety by up to two weeks. "We can't afford green flavours," says Paul Symington.
"We are close to 100 per cent perfection of berries here," he says. (The team adores its Vaslin Oscillys destemmer, which Luis claims can sort grapes even more effectively than a Mistral machine). "If we don't do that," continued Paul, "we can't compete with the best wines in the world."
That's not the way Jorge Serôdio Borges sees it. The 8 ha core of his Pintas vineyards in the Pinhão valley, originally purchased from 20 different owners, are steep (50 per cent inclination, between 250 metres and 380 metres), old (around 80 years), and contain around 30 different varieties. Of course, Jorge and his wife Sandra Tavares da Silva sort their fruit too, and I doubt anyone has ever written a tasting note for Pintas that includes the word 'green'. This has always struck me as one of the more luxurious of all Douro reds, irresistibly round-contoured despite its wealth of flavour.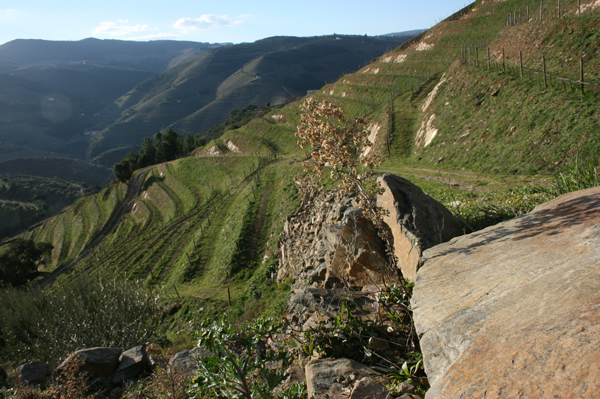 But consider the data above, and you will realize that it must mean mixed ripeness. "I don't agree with Bruno Prats," Jorge said, softly enough, when I told him what Bruno had said in London. "We don't think about the varieties; we think about the vineyard as a whole. The pattern of ripeness is part of the character of the vineyard. If I pick everything at perfect ripeness, I don't have the character of the vineyard anymore." The Touriga Nacional he has in Pintas, he says, is usually just a little overripe, and he likes that in a blend, whereas the later-ripening Touriga Franca "has more acidity, and it balances the overripeness of the Touriga Nacional. I think I can achieve more balance like that than by having everything at 'perfect' ripeness." Rufete is another significant variety in the complex Pintas vineyard mix which brings acidity and freshness.
Fascinating, then, to compare the 2012 vintage of both wines, Chryseia and Pintas. Both are ample, complex and full of Douro character, which I associate with dark black fruits like damson, sloe and elderberry overlain with an exoticism and exuberance unique to the Douro. Chryseia is a little sweeter and meatier, technically well-balanced with perfumed black fruits, and very delicate tannins; unquestionably the Douro in haute couture mode, and the perfect Douro consort for Riedel or Zalto glasses, for fine table linen, for two and three-star restaurants around the world. Pintas is less purely fruity; there's more flower, more leaf, more twig, more of the dark copse in it. It has a little more textural amplitude, and its sensual force is almost a distraction, making it easy to overlook the wine's complexity, density and spring-heeled freshness.
Both fine wines – yet made with a very different philosophy of harvest ripeness. More proof, if you need any, that there are never any right or wrong answers in wine.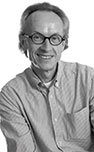 Columnist Introduction
Andrew Jefford is a columnist for both Decanter magazine and www.decanter.com, Jefford has been writing and broadcasting about wine (as well as food, whisky, travel and perfume) since the 1980s, winning many awards – the latest for his work as a columnist. After 15 months as a senior research fellow at Adelaide University between 2009 and 2010, Andrew is currently writing a book on Australia's wine landscape and terroirs. He lives in the Languedoc, on the frontier between the Grès de Montpellier and Pic St Loup zones.
Click here to read all articles by Andrew Jefford>>
- Follow us on Weibo@Decanter醇鉴

and Facebook

for the latest news and updates -
All rights reserved by Future plc. No part of this publication may be reproduced, distributed or transmitted in any form or by any means without the prior written permission of Decanter.
Only Official Media Partners (see About us) of DecanterChina.com may republish part of the content from the site without prior permission under strict Terms & Conditions. Contact china@decanter.com to learn about how to become an Official Media Partner of DecanterChina.com.