Buying your own vineyard has never been easier, yet global economic and climatic uncertainties mean wine growing has also never been more fraught with difficulty.
The would-be wine grower's destination of choice, France, is famed for both its vineyards and bureaucracy, a term the French invented. However, France now has specialist notaries fluent in English, Spanish and even Mandarin to make vineyard purchases as painless as possible.
Buying a vineyard simply for the view it affords is easy. But if you have the temerity and desire to farm the vines and thus make wine from them, then French rules allow would-be vineyard owners to be gazumped by direct neighbours if they are also wine growers. Locals that present a 'deserving case for the vineyard not to fall into a non-local hands (ie, yours) can also scupper deals.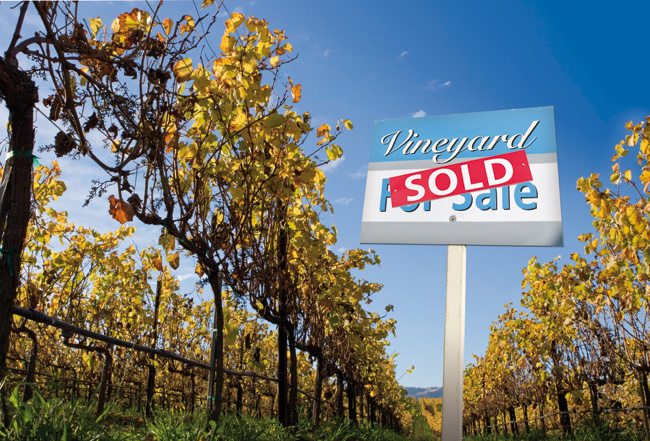 The price of land
In reality, however, most French vineyards (hotspots like Champagne and the best sites in Bordeaux, Burgundy and the northern Rhône excepted) still offer very good value for foreign investors. And currently down-in-the-dumps regions like Muscadet and Beaujolais offer simply unbeatable value – potentially.
Argentina offers value and beautiful scenery too – Patagonia or the Uco or Calchaquí Valleys, anyone? The workers are skilled and, hail apart, there's a fine climate. The downside comes if you want to import the most vine-friendly German ploughs or new-age bottling machines calibrated with NASA-like precision by Italian technicians. Although such tools can give your wine a competitive edge in a global marketplace, they will be heavily taxed with import duties. And you'll be taxed again when the filled bottles leave Argentina, even though they'll be earning the country valuable US dollars.
There's no point buying a vineyard in Sauternes if sweet wines give you a headache, or one in Chablis if you are one of the ABC (Anything But Chardonnay) crowd – unless, that is, you cast personal taste aside and look at the venture from a purely investment angle.
Land prices in regions like Chile's Maipo Valley and Montalcino in Italy have risen sharply over the past 20 years either because vineyard land is worth more as housing (Maipo) or because the region suddenly acquires near mythical status (Montalcino post-1996).
You will need deep pockets to invest in Sherry, Port and Champagne, where wines are generally made by laying down stocks of wine for several years from which to blend. Hence production in these regions is dominated either by multinational drinks companies or family conglomerates.
No matter how big or small your potential vineyard is, do your homework before you buy. A vineyard planted with the wrong grape variety, on the wrong soil, facing the wrong way or grafted on the wrong rootstock (such as the disastrous AXR1 in Napa Valley) is like a lame racehorse. Expensive to feed, and never more a winner.
And retro-fitting a good vineyard hampered by decaying support posts and rusting training wires can cost more than (re)planting it from scratch. But remember the vineyard is only one half of the winemaking equation. The next question is: does it come with a winery attached?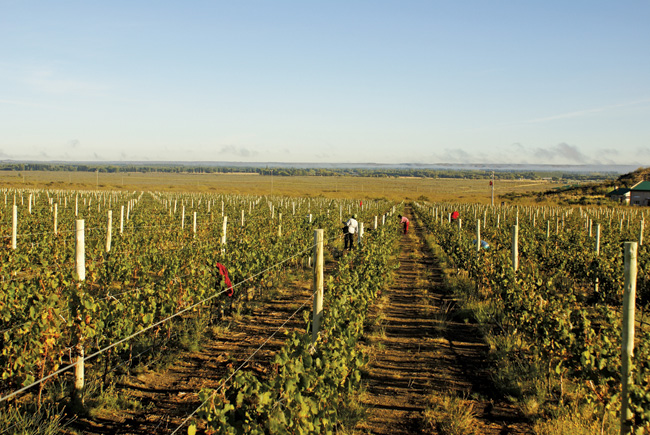 What about a winery?
The hundreds of expats who have snapped up cheap vineyards across the Mediterranean (France, Greece, Spain, Croatia, Italy) in the past 20 years have generally bout them at bargain-basement prices from retiring growers who usually sent their grapes to a local co-operative. Fitting out a winery from scratch is another never-ending expense. You'll have to budget for everything from food-grade hoses to pump wine, to eye-wateringly expensive grape presses and fermenting tanks.
But that assumes, of course, you even have a building in which to make your wine. By definition co-op growers never had their own winery. And while neighbours in the village will be delighted you have taken on some vines, they will be the first to try to convince the local mayor to refuse the planning application to convert your town house garage into a winery.
If you do build your own winery, expect not only your newly installed grape juice cooling system to break down on the hottest day of the harvest, but also that the bespoke spanner you need to fix it has somehow been mislaid. Finding and employing staff more experienced than you as you learn the ropes is money well spent.
While making wine is one thing, selling it is quite another. Do you make a tiny amount of highly priced, hand-picked, barrel-aged, super-premium wine, or do you pile it high and sell it cheap? Both the luxury and budget ends of the wine market are crowded, as is the increasingly over-populated middle ground. Even though world wine consumption is increasing, notably in the US and China, there is still a global wine surplus. However, while it is becoming easier to avoid the wine trade's middle men and women with social media offering a potentially four-billion-strong global audience, it is quite another convincing potential customers to buy.
The small print
Wine is heavy, fragile, heavily taxed and costly to transport. Restrictive and contradictory labelling regulations (Europe versus US, for example) mean that you will have to become an expert in small print. On the plus-side, financial incentives for would-be farmers do exist, especially if you intend to farm organically (Europe) or generate your own power (California, Germany).
And if you buy the right vineyard in the right place at the right time, the potential returns can be unbeatable. Micro-vineyards like Screaming Eagle and Le Pin combine rarity, critical acclaim and inflation-busting profits.
The elephant in the room for all farmers is climate change. Whereas a generation ago wine growers used to write off one year in 10 to bad weather (frost, hail, rain, drought), growers now budget for two or even three years a decade to be lean.
Northern hemisphere vineyards (where there is more land) are warming up quicker than those in the southern hemisphere (with more ocean).
And the southern hemisphere is more affected by the hole in the ozone layer. Humans can counter the potentially serious (cancer-inducing) effects of excess UV radiation with a wind-brimmed hat and sun cream. Vines cannot, and excess UV-light affects their growth. Boffins at the United Nations Intergovernmental Panel on Climate Change say that climate change is accelerating, with modern farming practices being among the main causes.
Wine is a luxury agricultural crop rather than a food staple. So perhaps the first thing for those planning on making a living from wine to grasp is why financial sustainability and environmental sustainability are now so inextricably linked.
(Originally published in November 2014 issue, Decanter Magazine)
All rights reserved by Future plc. No part of this publication may be reproduced, distributed or transmitted in any form or by any means without the prior written permission of Decanter.
Only Official Media Partners (see About us) of DecanterChina.com may republish part of the content from the site without prior permission under strict Terms & Conditions. Contact china@decanter.com to learn about how to become an Official Media Partner of DecanterChina.com.