Classification: 5th Cru Classé, 1855
Contact:
33250 Pauillac
www.pontet-canet.com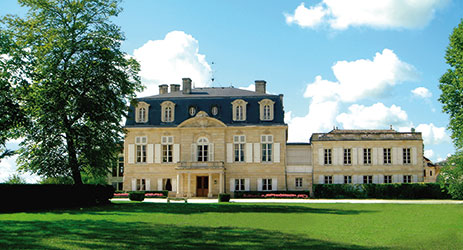 Location: AOC Pauillac, adjoining the vineyards of Mouton Rothschild and Armailhac on the north, and Lafite Rothschild on the west.
Production: 81 hectares of vines (in a property of 120 hectares in total).
Five things you didn't know about Château Pontet-Canet:
- Pontet-Canet uses five Breton horses to work 34 hectares; the widest area of vineyards in the world. Their names, in case you want to greet them next time you visit, are Turbo, Reine, Ulysse, Univers and Surprise. The aim is to use only horses, and no tractors, on the entire estate within the next few years (not possible until there is room to house more horses, so further stables are currently being planned).

- Pontet-Canet is the only classified growth in the Médoc to be 100% certified biodynamic. On the Right Bank, there is also Château Fonroque, Saint Emilion Grand Cru Classé, headed up by Alain Moueix, and in Sauternes, Château Guiraud is certified organic, but not biodynamic.
- A large majority of the estate's production is used for the Grand Vin, making it come close to Château Saint Pierre as being a 'no second wine' property (but Pontet is over three times the vineyard area). Co-owner Melanie Tesseron says this is testament to the success of their work in the vineyard, and that their long-term aim is to make 100% First Wine.
- Just before the 1855 classification, the château had suffered from the slow decline of the Pontet dynasty, with several decades of under-investment and lower price wines, resulting in their 5th Growth ranking. Today it is seen as one of the leading 'Super Seconds'.
- Melanie Tesseron worked as a motion graphic designer in animation in London before being asked to joining to the family estates in 2005 by her uncle. When studying wine, she took the prestigious DUAD tasting degree in Bordeaux, followed by a masters in Vineyard Management and worked on a harvest in Alsace with Marcel Deiss. She has recently spent a few years based out of Hong Kong as an ambassador for the château.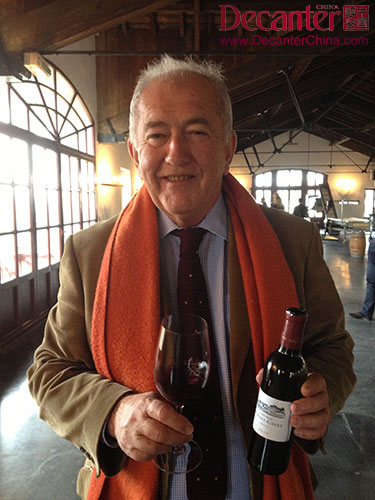 Current owner: Alfred Tesseron, working alongside his nieces Melanie and Philippine Tesseron.
Most notable previous owner: Jean-Francois de Pontet, who was Governor of the Medoc in the 18th century and a well-known local politician in Bordeaux, loyal to the king of France. He is rightly seen as father of the estate, planting widely from 1725, and also popularising the use of the Cabernet Ssauvignon grape. The name comes from this man, and the neighbouring Maison de Canet, which he bought in 1750 to enlarge his own property.
Other châteaux owned: No other châteaux in Bordeaux, but the family also owns Tesseron Cognac, dating back to the 19th century (but only bottled under their own name since 2003). Started originally by Abel Tesseron, grandfather of Alfred, the range of exclusively XO cognacs is spearheaded by Cognac Extreme, a blend of their oldest cognacs aged for over three generations, made in a limited run of small demi-jeanne each one holding 1.75 litres.
Commercial strategy: 100% négociants, sold 90% en primeur through the Place de Bordeaux.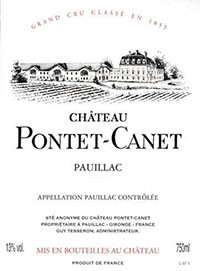 Second wine: Hauts de Pontet-Canet since 1982.
Through the centuries:
The name comes from Jean-Francois de Pontet, who gave his name to plots of land up in Pauillac in 1725. In 1750, he bought the neighbouring Maison de Canet, and the estate became Pontet-Canet. The family remained in charge until 1865 (ten years after being named a Fifth Growth in 1855), but over their last few decades had neglected the vineyard and overseen a general dip in what had been one of the biggest estates in Pauillac under Jean-Francois. Next up was Hermann Cruse, a successful Bordeaux merchant who ushered in 110 years of Cruse ownership. This family suffered particularly badly after the 1973 oil crisis, and a scandal that they were implicated in (along with several other negociants) involving adulterated wine. Once they put Pontet on the market, it passed over to only the third family to be associated with the estate in its 300 year history – the Tesserons, headed up first by Guy Tesseron, who signed on the sale document in 1975. Today it belongs to his son Alfred and granddaughters (daughters of Alfred's late brother Gérard) Melanie and Philippine.
Consultant: Michel Rolland. Architect Christophe Massie. Estate director Jean-Michel Comme.
Plantation and vineyard work: Cabernet Sauvignon (62%), Merlot (32%), Cabernet Franc (4%), Petit Verdot (2%), average age 40-45 years, planted to 9,500 vines per hectare. Biodynamic certified (Biodyvin) and organic certified (Ecocert) over the entire 81 hectares of vines. 2010 was the first vintage to have official certification over both, although the programme for certification started back in 2005. The bad weather of 2007, however, held things up as a limited amount of vineyard treatments had to be applied. Vines trained using traditional double guyot system, but with very limited green harvesting or leaf thinning, preferring instead to control yields by careful pruning and careful working of the soil. 'The vines know what they need,' Jean-Michel Comme likes to say, 'often we just get in the way'. Only organic fertiliser is used, and only when necessary, and the idea of plot-by-plot working is obsessive, with Comme spending hours each day walking through the vines, observing what they need, how the ecosystem around the vineyard is in balance, and what needs to be corrected on a holistic level. Pruning is carried out by the château's own team, paid a monthly wage and not by the amount of vines pruned, as in many estates. Harvests takes place using small baskets ensuring grapes are not bruised or broken.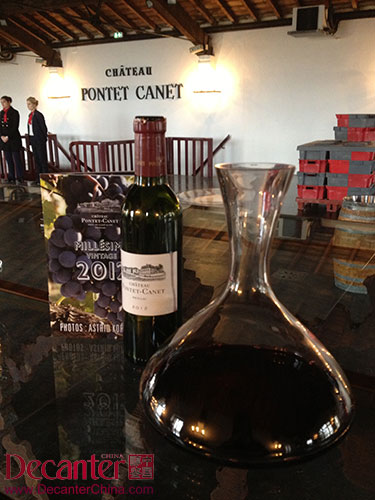 Vinification: No computers are used to make any harvesting or fermentation decisions here – all is done by observation, tasting, careful traditional measurements. So it's no surprise to learn that there is also no pumping, no pressure on the grapes when bringing them to the vats; just three receiving lines, each with two types of sorting tables (one for removing any grapes that are not up to standard, and the other to destem the grapes that remain) and gravity-led reception of the harvest, bringing it in directly above the vats. The château cellars were originally designed by Théophile Skavinski (who also worked on cellars at Château Laujac and Château Léoville-Las Cases). Wine is made today in a mix of large-sized wooden vats, 32 concrete trinconic vats of 80 hectolitres, and 900-litre egg-shaped amphoras made from gravel, clay and limestone. The amphoras are used to age 35% of the harvest, to ensure the influence of oak is never too much, with the rest in oak barrels.
Terroir: Deep gravel, with some sand, giving a poor soil that retains heat and offers good drainage.
Recent improvements or changes:
Comme is constantly carrying out small experimentations to see what can be tweaked and improved upon in both the vineyard and cellar – he has recently experimented with several different sizes and materials of vats for ageing the wine, before deciding on the amphoras. Recent updates to the cellar have been carried out after input from Tesseron and Comme.
Recent Decanter scores:
2012 en primeur – 18 points/20
2011 en primeur – 18 points
2010 en primeur – 18.5 points
2009 en primeur – 18.5 points
2008 en primeur – 16.5 points
Average bottle price in UK: £60-£170, depending on vintage.
All rights reserved by Future plc. No part of this publication may be reproduced, distributed or transmitted in any form or by any means without the prior written permission of Decanter.
Only Official Media Partners (see About us) of DecanterChina.com may republish part of the content from the site without prior permission under strict Terms & Conditions. Contact china@decanter.com to learn about how to become an Official Media Partner of DecanterChina.com.