An influx of French, Italian and Spanish winemakers and investors over the past 25 years has helped revive South America's wine industry. Sarah Jane Evans MW meets the key players, and finds out the pros and cons of having a foothold in both the Old and New Worlds.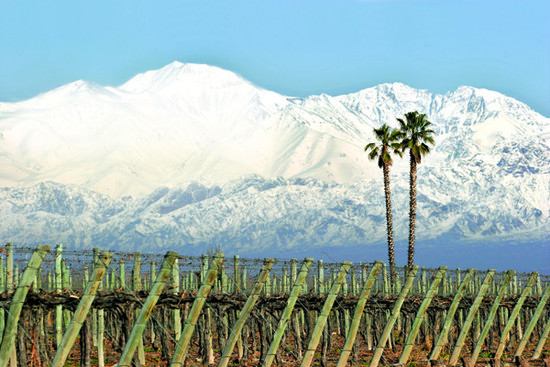 What sensible European producer would trek half-way across the world to Chile and Argentina to make wine and then ship it back again? You would think that it would make more sense to stay close to home, given Argentina's economic turbulence and Chile's risk of earthquakes. Europe surely offers an assurance of entry into the fine wine market, and viticultural practices and grape varieties proven over a century or more.
The reality, of course, is that there is a surprising number of intrepid pioneers with the desire to do just that. Europe's regulatory system for wine is too often too complicated, too demanding and too expensive. Land is scarce, labour costly. Having a base in Chile or Argentina also gives access to new markets. It's not just good business sense, either. Don't ignore the emotional factor. It's impossible not to fall in love with the Andes if you're in the Uco Valley. In Chile, outside of the (admittedly polluted) city of Santiago, the great valleys terminate with the Andes on one side and the mighty Pacific on the other.
No wonder the French winemaker I bumped into at the Park Hyatt in Mendoza had just spent a few days holidaying with another French winemaker in the region. Four visits a year may be essential for tasting and blending, but there's nowhere better to add in a few days for rest and recreation.
In recent history, the wine industries of both countries have suffered under domestic politics. Nevertheless from the 1990s their fortunes have revived, and the new wave of Europeans who arrived then has undoubtedly played its part.
Chile's industry has been concentrated in the hands of a few large businesses. With a population of about 18 million and declining consumption of wine (from 68 litres per capita in the 1960s to 12.75l in 2014), producers have had to focus on export, sometimes driven to selling bulk quantity rather than fine quality.
Argentina has been structurally more diverse and the Italian immigration over the years has given a solid wine culture. However, per capita wine consumption has also dropped sharply here (from 77l in the 1974 to 23.6l in 2014), though the domestic market remains important to local producers of every nationality.
François Lurton – who has properties also in Chile, Spain and France – ticks off the advantages of working in Argentina. The people who know how to plant and cultivate vines, and have a history of wine departments in universities, for instance. Doesn't he find the economic crises a trial? No, and he paints a vivid picture to illustrate his view: 'The advantage of being an viticulturist is that you are used to stormy weather. At the moment, we have our umbrellas up.'
New ways of thinking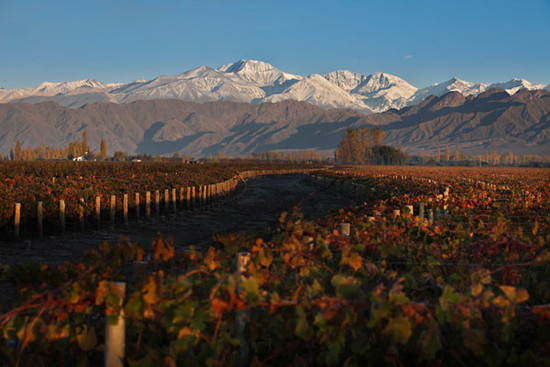 I was keen to find out whether the European arrivals had simply shipped over European practices. Certainly, for many, planting with rootstocks is a given – even in Chile where phylloxera is not a threat. At Almaviva, winemaker Michel Friou notes, 'Of course we started with French knowledge, but we have had to adapt to local conditions. For instance, we've found that though we use rootstocks for safety, the local vitis vinifera often copes better with some agronomic problems.'
There was plenty to learn in vineyard management. As Giorgio Flessati confesses, 'My first vintage [at Viña Falernia in Chile] was a disaster because I was being Italian. Now I know that you have to manage the canopy and keep the bunches covered to avoid sunburn.'
Water management was another issue. For Europeans, the best wines are made under water stress. Not in South America. Mendoza is technically a desert. What's more, planting on slopes – à la Bourgogne – is awkward when irrigation is required and completely out of the question with traditional flood irrigation.
What both Chile and Argentina offered the Europeans was space. This gives the potential for finding the sweet spot on the curve where quality and price meet, drawn out for me on a graph by one-time mathematician Baron Eric de Rothschild. Whether it's 640ha within the Los Vascos estate in Colchagua, Chile, or the more defined boundaries of Château Lafite in Pauillac, Bordeaux, the principles are the same.
For many of the new wave of Europeans, South America is a company outpost of a European office. Yet it's clear the continent opens up personal horizons as well as corporate ones. Further, it's encouraging to see that this is no empire building as it was in the 16th century. The exciting work in soil research and in fresher, lower-alcohol wines is being led by home-grown talent.
But the bureaucracy frustrates Flessati (strong criticism coming from an Italian). As an award-winning producer, he's also disappointed by Chile's poor reputation for fine wine. In particular, he is frustrated by the problem of selling fine Syrah – a view echoed by top producers across the country. Yet he remains excited overall by his home in the foothills of the Andes: 'Where else could you find a property where, in a distance of 60km, you have vineyards at three very different altitudes?' he enthuses. 'This gives us great results with six different varieties. Bordeaux just cannot match that.'
Who's who among the Europeans?
Spain
Miguel Torres Sr does not count as 'new wave' among the Europeans, having arrived in Chile in 1979, but he is the most significant in the launch of modern Chilean winemaking.
Torres is widely credited with bringing in the technology – the stainless steel tanks and temperature controls – that transformed the industry. More recently, his son Miguel Jr has been one of the leaders in reviving the traditional País grape grown by the Spanish missionaries. Perhaps it takes an outsider to celebrate the native varieties?
A more recent arrival is the former banker José-Manuel Ortega of O Fournier in Argentina, who also makes wine in Ribera del Duero and Chile. He has contributed business acumen aplenty, together with an eye for architecture. In the Uco Valley he is also selling vineyard plots to consumers who want to own their own wine.
Others in Argentina • Finca Ferrer, founded in 2003 by Freixenet Group • Bodega Septima, founded in 1999 by Codorniu
France
Long before cool-climate winemaking even had a name or a movement, sparkling wine producers were looking for chilly, chalky sites. Moët & Chandon (LVMH) was a pioneer and its winemaker Renaud Poirier travelled worldwide.
Mendoza became home to its first winery outside France. Poirier's vineyard selections at 1,200m in the Andes foothills remain top quality today, now run by Hervé Birnie-Scott.
Terrazas de los Andes, another LVMH property in Mendoza, also run by Birnie-Scott, retains the air of its French ownership. Cheval des Andes, founded in 1999, is a joint venture with Pierre Lurton of Cheval Blanc, based on a single vineyard from the Terrazas estate.
In any account of European pioneers it's important not to overlook the contribution of consultant Michel Rolland. First recruited by Etchart in Cafayate, his Clos de los Siete is a cleverly imagined concept. His Bordeaux friends could invest safely with the assurance of his expertise. And in return they gained a base by the Andes – a welcome break from the stresses of en primeur. One of los Siete, Marcelo Pelleriti, is the winemaker for Monteviejo in the Uco Valley, as well as for the Péré-Vergé family's properties in Bordeaux.
Others in Chile • Almaviva, joint venture in 1997 by Baroness Philippine de Rothschild and Eduardo Guilisasti of Concha y Toro • Viña Aquitania- Domaine Paul Bruno; owned by Bruno Prats, Paul Pontallier, Felipe de Solminihac, Ghislain de Montgolfier • Hacienda Araucano, launched in 1997 by Jacques and François Lurton • Lapostolle, founded in 1994 by Alexandra Marnier Lapostolle (Grand Marnier) – Michel Rolland consults • William Fèvre Chile, a joint venture in 1991 between the Burgundy family and Victor Pino • Los Vascos, acquired by Domaines Barons de Rothschild (Lafite) in 1988 • Viña Laroche, started in 2001 by Michel Laroche (Chablis)
Others in Argentina • Carinae, launched in 2003 by Brigitte and Philippe Subra • Domaine Bousquet, founded in 1998 by Jean Bousquet • Alta Vista, launched in 1998 by the D'Aullan family • Fabre Montmayou/Viñalba, founded in 1992/2008 by Hervé Joyaux Fabre • Caro, joint venture in 1999 with Catena and Domaines Barons de Rothschild (Lafite) • Bodega Poesia, started in 2002 by Hélène Garcin and Patrice Lévêque (Clos l'Eglise) • Piedra Negra, launched in 1996 by Jacques and François Lurton
Italy
No account of recent Italian activity in South America would be complete without discussing Alberto Antonini. He could have spent his life among the wooded slops of Tuscany, but from Frescobaldi and Col d'Orcia he turned his path to consulting for some of the world's great wineries, until he too was captivated by Malbec (though he still manages to keep up some key consultancies – his latest, Garzon in Uruguay, with a refreshing, zippy Albariño). Antonini launched Altos Las Hormigas in 1995, in Luján de Cuyo, with business partner Antonio Morescalchi. His understanding of Malbec was transformed by Chilean soil scientist Pedro Parra. They started to work together in 2007 and the results are impressive: light, crunchy and elegant. Also significant is Antonini's role as a consultant and cheerleader to some of the new generation of winemakers.
Others in Chile • Caliboro, first release in 2001 by Count Francesco Marone Cinzano (Col d'Orcia) • Falernia, founded in 1995 by Giorgo Flessati and his cousin Aldo Olivier • Haras de Pirque, founded by the Matte family, joined in 2002 by Piero Antinori
Others in Argentina • Bodega Noemia, founded in 2000 by Countess Noemi Marone Cinzano and Danish winemaker Hans Vinding-Diers • Bodega Chacra, founded in 2004 by Piero Incisa della Rochetta, nephew of Nicolò Incisa della Rochetta of Sassicaia and cousin to Noemi Marone Cinzano • Masi Tupungato, launched in 1995 by the Boscaini family (Masi)
Switzerland
• Von Siebenthal (Chile): Mauro Von Siebenthal fell in love with the amphitheatre in Panquehue, Aconcagua in 1997 • Hess Family Estates (Argentina) and Amalaya, Alto Cafayate, Bodega Colomé (Chile): In 2001 Donald Hess bought Colomé, where vines grow at 3,111m • Ojo de Vino (Argentina), owned by conceptual artist Dieter Meier • Finca Decero (Argentina), owned by the Schmidheiny family of Cuvaison in Napa and Chapel Hill in South Australia.
Norway
• VIK (Chile), founded in 2004 by entrepreneur Alexander Vik • Odfjell (Chile), bought by Dan Odfjell in the 1990s as a farm; his architect son Laurence designed the winery.
Other Europeans
• Château Los Boldos (Chile), founded in 1991 and acquired in 2008 by Portugal's Sogrape group, which already owned Finca Flichman in Argentina • Bodegas Salentein (Argentina), founded in 1992 by Dutchman Mijndert Pon.
Sarah Jane Evans MW is an award-winning wine journalist, regular Decanter contributor and chair of the Institute of Masters of Wine
Translated by Sylvia Wu / 吴嘉溦
All rights reserved by Future plc. No part of this publication may be reproduced, distributed or transmitted in any form or by any means without the prior written permission of Decanter.
Only Official Media Partners (see About us) of DecanterChina.com may republish part of the content from the site without prior permission under strict Terms & Conditions. Contact china@decanter.com to learn about how to become an Official Media Partner of DecanterChina.com.