Its origins are based solely around the city of Montalcino, but the re's more than one style of Brunello. And there's no better way to understand this intriguing wine than to seek out the single-vineyard expressions, says Monty Waldin.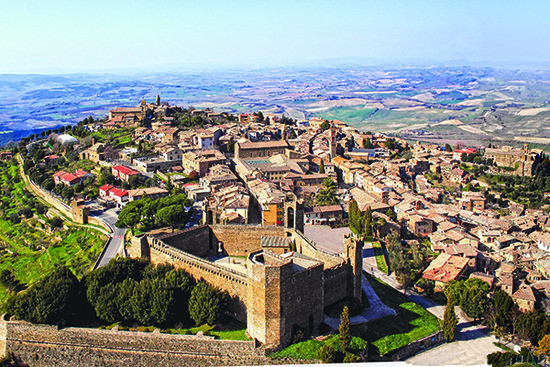 As iconic red wines go, Brunello di Montalcino seems easy to understand because it is made from just one grape variety, the Sangiovese or 'Brunello', grown around Montalcino, a hilltop town in south Tuscany.
But defining 'typical' Brunello is almost impossible, because around 30%-35% of Brunello comes from coolish ground north of the town, while 65%-70% comes from the sites to the south, which are often far warmer. The northern grapes generally give paler Brunellos, which are classically, mouthwateringly firm, while those from the south give darker-coloured, more overtly fruity yet still savoury wines.
Complicating matters further is the fact that Brunello producers can blend grapes from both sides of the town to even out these marked stylistic differences.
To zone or not to zone
The noisiest current debate in Montalcino concerns whether to divide the region into sub-zones to make understanding Brunello easier. Zoning would probably be based around the various hamlets that comprise the Montalcino region, like Torrenieri to the northeast, Castelnuovo dell'Abate to the southeast, and Sant'Angelo to the southwest, among several others.
Traditionalists fear that vineyards zoned in less highly regarded – code for lower lying, more clay-rich – spots, like Torrenieri, may be penalised by the media, and then by the marketplace. Others, like Col d'Orcia's Francesco Marone Cinzano argue that 'recognising the clear differences between sites in Montalcino might give potential buyers of Brunello more confidence. Look at Burgundy.'
Or simply look at Val di Suga, one of Montalcino's bigger producers. It bottles its 55 hectares of Brunello as three separate single vineyards: Vigna del Lago, by the winery northeast of the town on cool limey-clay, is angular; Vigna Spuntali from warmer stony sand 16km to the southwest is more open-knit; while Poggio al Granchio, a similar distance from the winery to the southeast, on clay-based shale, is the most obviously smooth of the three. Yet all three are identifiably Brunello while being completely different from each other, proof, if it were needed, that differences between Brunello terroirs are something that can unite rather than divide the region.
My view is that zoning will happen naturally anyway, as Brunello looks to 'add value' in marketing-speak to its status of blue-chip wine destination by positioning itself as a gastronomic hub too, for its white truffles, mushrooms, roebuck, wild boar, olive oil, sheep's cheese, honey and other regional specialities.
For now, the most logical way I have found of comprehending Montalcino's rich vinous diversity is to break the region down into its constituent parts by familiarising oneself with Brunellos from single vineyards or single terroirs.
Around 12%-15% (260ha-320ha) of Brunello is bottled with a site-specific name, meaning either from an officially listed single vineyard (vigna), or from a single site with an historically recognised place name (toponimo). There are no size restrictions for either, although wines labelled 'vigna' must come from vineyards registered with the Brunello producers' consortium.
Early single-vineyard days
The first such wines appeared in the mid-1970s with Caparzo's Montosoli and Altesino's Vigna La Casa, both of which are from one of Montalcino's indisputably best sub-zones, a hillock north of the town called Montosoli.
Caparzo and Altesino were too late to snap up the best part of Montosoli, however, because this belongs to the family of Nello Baricci. Now in his 90s, and a local sharecropper, Baricci bought his land in 1955. Baricci is the only Montalcino grower whose entire vineyard is 100% on Montosoli.
Baricci's vines have perfect southeast exposure and altitude (270m) – the 'sweet spot' for Brunellos which are ripe, floral, savoury and supremely drinkable. Baricci calls his Brunello 'Colombaio Montosoli', after the farmhouse the land came with. If you are looking for a benchmark single-terroir Brunello, this offers a useful starting point.
Other notable single-vineyard Brunellos launched during the 1980s when expansion of Montalcino was gathering pace include Fattoria dei Barbi's Vigna del Fiore in 1981, and Col d'Orcia's Poggio al Vento the following year. Both come from Montalcino's warmer southern side but benefit from lying in cooler areas (over 350m). They have always resisted the winemaking trap of sacrificing gentle ripeness for the blockbuster overripeness which became so predictable in Montalcino (and elsewhere) from the 1990s onwards. If you want to taste 'classic Brunello through the ages', these are both benchmark single-vineyard wines.
Continuing boom
The steady rise in new single-vineyard wines continued during the boom years of the 1990s, most notably with Mastrojanni's debut 1993 release of its Schiena d'Asino, or 'donkey's back' Brunello, from a windy plateau above the southern Montalcino hamlet of Castelnuovo dell'Abate.
Castelnuovo dell'Abate is Montalcino's hottest sub-zone. It is protected from cold easterly winds by the extinct Amiata volcano on one side to the east, and is open to briny hot Mediterranean winds on the other side to the west.
This means wines from Castelnuovo can be much darker, richer, more mouthfilling and exotically heady than those from north of Montalcino.
The Castelnuovo dell'Abate area inevitably accounted for much of the boom in new plantings between 1996 and 2007, when Brunello's vineyard area almost doubled. Brunello producers from northeast of the town were especially keen to acquire land here and to convert existing cereal fields and olive groves to vines. The idea was to soften their otherwise rigidly tannic wines into something more agreeable, forward – and sellable.
While some wineries fell into producing caricature-chasing, 100-point scoring fruit bombs, others looked to create balanced vineyards less at risk of over-heating mainly – in the words of Mastrojanni's manager Andrea Machetti – 'by planting the rows at right angles to avoid sunburn'. Mastrojanni's Schiena d'Asino and Vigna Loreto plots, Lisini's Ugolaia, Silvio Nardi's Manachiara, Le Ragnaie's Fornace, Fabio Tassi's Franci and Centolani's Pietranera are all examples of an approach which shows the value of producing wines which are, in Machetti's words 'grown, not made'.
Francesco Illy of Podere Le Ripi planted his 'Bonsai' vineyard with the aim of being the most densely planted in the world (62,500 vines/ha). 'This keeps yields per vine low and encourages deeper rooting,' he says. The vines are so close together you need to hold your stomach in to walk between them. 'It's madness,' Illy admits, 'but it prevents vine stressing in hot weather.' Illy aged his early vintages of Bonsai in new oak barrels, but mercifully has decided to tone down such excesses to allow the subtle flavours of his grapes freer expression.
Single vineyard Brunellos usually carry a 10%-20% price premium over regular bottlings, a premium only worth paying in my view if the grower is farming in such a way as to allow a fuller terroir expression by working with nature rather than against it. Salicutti, Pian dell'Orino and Le Ragnaie are just a few examples of this approach and produce some of my favourite Brunellos because their 'sense of place' is so definite, partly thanks to organic or biodynamic growing.
You could interpret this as my way of saying 'zoning' only makes sense if vineyards are organic or biodynamic, but bad organic farming and winemaking (something to which Montalcino is not immune, sadly) negates terroir just as easily as spraying the soil with heaps of chemicals.
As there is no official map of Brunello's single vineyards, the practical way of comparing other worthy single-vineyard wines – Tiezzi's Vigna Soccorso (southern town walls) and Il Marroneto's Madonna delle Grazie (northern town walls), Castiglion del Bosco's Campo del Drago (northwest) with La Gerla's Gli Angeli (north), Argiano's Suolo (southwest) with Montalcino's newest single vineyard wine (debut: 2007) Pian dell'Orino's Bassolino di Sopra (southeast) – to name but a few, is by opening bottles.
They should lead you to conclude that, despite being a single-grape, single-wine town, Montalcino is as beautifully and frustratingly complex and varied as any.
Monty Waldin is an award-winning wine writer and biodynamic consultant, who has made wine in Chile, California and Roussillon, as well as Tuscany
Translated by ICY
All rights reserved by Future plc. No part of this publication may be reproduced, distributed or transmitted in any form or by any means without the prior written permission of Decanter.
Only Official Media Partners (see About us) of DecanterChina.com may republish part of the content from the site without prior permission under strict Terms & Conditions. Contact china@decanter.com to learn about how to become an Official Media Partner of DecanterChina.com.