Get to grips with the some of the more obscure tasting notes used by wine experts, with graphics from the Decanter design team...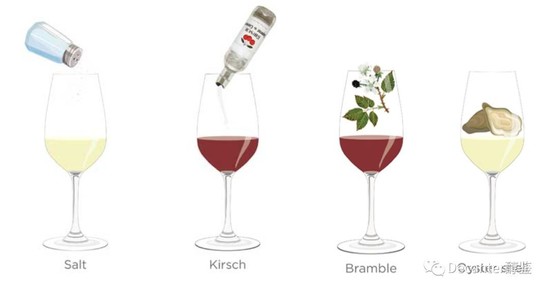 Salt
Salt forms one of the main perceptible flavour components in food and drink, along with bitter, sweet, sour and umami.
It's an important descriptor on the spectrum of wine tasting notes too, although it might seem odd to think of fermented grape juice as saline.
Saltiness, sometimes referred to as salinity, is related to minerality as it expresses a taste sensation that is outside the usual fruit, floral, vegetal or spice categories.
In his article Yes, you can taste salt in wine Stephen Brook wrote,
'There are white wines – from Sicily, for example – that have a salty tang which may (or may not) be related to proximity to the sea.'
As with the supposed link between certain soil compositions and minerality, the connection between a vine growing in salty sea air and saline flavours in the resultant wine is debatable.
Although sometimes noted in dry red wines, salty notes are most often observed in white wines with high acidity and citrus fruit characteristics, such as Albariño wines from Galicia's Rías Baixas region, Picpoul de Pinet from Languedoc-Roussillon and Greek Assyrtiko wines.
SEE: Mar de Frades, Albariño, Val do Salnés, Rías Baixas 2015 | Domaine de Morin Langaran, Picpoul de Pinet 2016 | Hatzidakis, Assyrtiko Santorini 2015
A salt flavor can also be detected in dry Sherry styles, such Manzanilla from Sanlúcar de Barrameda:
'The humid sea air encourages a denser layer of flor; the sea is said to provide a salty character,' said Sarah Jane Evans in her pick of Top rated Manzanilla Sherries.
Kirsch
Kirsch, pronounced 'kee-ersh', is a dry cherry brandy from Germany – where it's full name is 'kirschwasser', meaning 'cherry water'.
It's traditionally made using morello cherries, which are fermented whole including their stones, giving the resultant spirit a bitter almond edge.
In the wine lexicon, kirsch is placed in the dried or cooked fruit category, as it corresponds to the concentrated fruit characteristics found among descriptors like jammy, stewed fruit and raisin.
Kirsch's flavour profile of distilled cherry fruit flavours, plus a hint of bitter almond, makes it a useful descriptor for many dry red wines.
You can look for kirsch characteristics in rich full-bodied reds such as Syrah wines from France's Rhône Valley, where it can compliment savoury notes like herbs, smoke, earth and pepper.
New world Syrah, commonly called Shiraz, can express kirsch-like flavours too, such as examples from South Africa and Australia – although here it tends to meld with stronger hints of sweet spices.
Other reds with a kirsch character could include fruit-forward Malbec wines from Argentina, which often mix kirsch with dark fruit and floral notes.
SEE: Fable Mountain Vineyards, Syrah, Tulbagh 2011 | De Bortoli, Yarra Valley, Estate Grown Shiraz, 2013 | 55 Malbec, La Consulta, Tomal Vineyard, Teho, 2011
Dry red wines from northern Italy, made from Nebbiolo, Sangiovese or Barbera grapes, can also all display a bold cherry character that can sometimes express itself as a kirsch note.
Similarly, the powerful dark fruit profile of some Bordeaux blends can manifest itself in cassis and kirsch-like flavours.
SEE: Cascina Val del Prete, Roero Riserva, Piedmont 2013 | Château de Fieuzal, Graves, Pessac-Léognan 2015
Bramble
The official definition of bramble is a wild bush with thorns, usually genetically related to the rose family. As a wine tasting note, bramble generally refers to the most commonplace example: blackberry bushes, which can be cultivated for their fruit or found growing wild in hedgerows.
Consequently, bramble is found in the black fruit category of the wine lexicon, alongside blackcurrant, blackberry itself, black cherry and black plum.
Much like the term hedgerow, bramble encompasses an overall sense of different natural flavour components. For this reason bramble makes for a very useful wine descriptor, because it can express conjoined black fruit, as well as herbaceous or even blossom notes.
The choice to describe a wine as having 'bramble' notes, rather than simply 'blackberry' ones, could mean that the wine has a black fruit character plus an overtone of leafiness.
In this way it can indicate desirable or undesirable characteristics, depending on the wine style. For example, in the case of a youthful cool climate Pinot Noir, such as Wakefield Estate, Fourth Dimension Pinot Noir, Adelaide Hills 2016, a 'spicy, almost tangy, red fruit and bramble character' is appropriate to the style that the winemaker is seeks to achieve.
Or, Hahn, Lodi, Boneshaker Zinfandel 2014, where the herbaceous-fruity bramble note marries rosemary and menthol with the rich kirsch and chocolate.
Other tasting notes might specify that it's the fruity element of bramble that's most prominent in the wine, such as Bodega Norton, Lote Negro, Mendoza 2015 – displaying 'inky bramble fruit' with plums and oak spice.
Or in the powerful black fruit flavour profile of Nebbiolo wines such as Fontanafredda, Langhe Nebbiolo, Ebbio, Piedmont 2015, where a 'nose of hedgerow fruit leaps out of the glass, with berry and bramble flavours'.
However, 'green' or 'leafy' aromas in some wines can also indicate underripe grapes.
Oyster Shell
Few of us will have taken a bite out of an oyster shell instead of its edible innards, but if you have ever shucked one of these shellfish you will likely have come into contact with the smell, taste and texture of its calcified casing.
Oyster shells are predominantly made of gritty or powdery calcium carbonate that has been secreted by the oyster over time. In this sense oyster shell depicts a mineral character, perhaps with some savoury qualities, salinity or a chalky mouthfeel and flavour.
You can look for oyster shell notes in wines that have a strong sense of minerality. This term is the source of some debate among wine critics but it broadly applies to dry, non-fruit forward wines that hail from cooler climes and have high levels of acidity.
In her article Minerality in wine: What does it mean to you? Sarah Jane Evans MW describes wines with minerality as having 'a taste of licking wet stones and often a chalky texture to match'.
Cool-climate unoaked Chardonnay styles commonly express mineral notes, alongside hard-edged acidity and citrus notes. This could include Chablis, or examples from 'new world' appellations like Sonoma Coast in California.
Flowers Camp Meeting Ridge Vineyard, Sonoma Coast 2012 combines lemon notes with 'oyster shell and pleasant salinity' to 'express the terroir in a mouthwatering way'.
Or you could find sparkling examples from Champagne, such as Pierre Moncuit, Delos Blanc de Blancs Grand Cru NV, noted for its subtle hints of oyster shell and green apple acidity.
Chenin Blanc is another grape capable of producing wines with good minerality and acidity, particularly those from South Africa's cooler regions made with little or no oak influence.
For example, The Liberator, Francophile Chenin Blanc, Stellenbosch 2015, produced 'from the cool south-east slopes of the Bottelary Hills' was praised for its 'oyster shell minerality, zippy citrus acidity and a creamy palate'.
All rights reserved by Future plc. No part of this publication may be reproduced, distributed or transmitted in any form or by any means without the prior written permission of Decanter.
Only Official Media Partners (see About us) of DecanterChina.com may republish part of the content from the site without prior permission under strict Terms & Conditions. Contact china@decanter.com to learn about how to become an Official Media Partner of DecanterChina.com.