Get to grips with the some of the more obscure tasting notes used by wine experts, with graphics from the Decanter design team...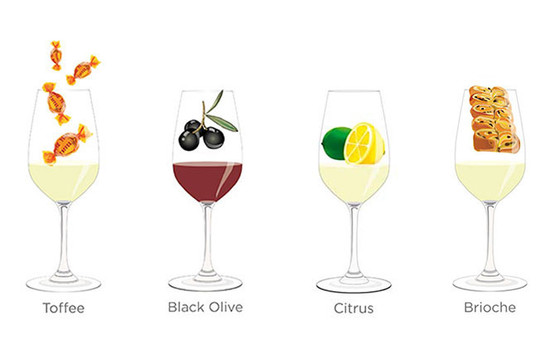 Toffee
Toffee can be by turns a delicious and sickly piece of confectionery, made from a simple mixture of butter and sugar. Toffee in wine tasting notes generally refers to a wisp of burnt sugar flavour.
Toffee is part of the wine lexicon, alongside other burnt or cooked sugary flavours like caramel and butterscotch. Within this group, caramel usually involves added cream, which gives it a richer and smoother tasting profile. Whereas butterscotch and toffee are simply heated sugar and butter, although toffee tastes the most intensely of burnt sweetness because it's heated for longer, raising the sugar concentration.
You can find hints of this toasted sugar flavour in aged fortified and oxidised wine styles, such as tawny Port. When port is aged in this way, fruity flavours can develop into a nutty and resinous sweetness that can seem toffee-like to the senses.
SEE: Fonseca, 10 year old tawny, Port, Douro, Portugal | Niepoort, Colheita Port, Douro Valley, Portugal 1995
Botrytis cinerea (noble rot) creates sweet oxidised wines by via an enzyme called laccase, as well as by heightening the sugar concentration in the berries. In dessert wines such as those of Sauternes, this can create a range of flavours, from apricot and almond to burnt sugar flavours like caramel and toffee.
SEE: Château Climens, Sauternes, 1er Cru Classé 2016 | Château Rabaud-Promis, Sauternes, Bordeaux 2015
Elsewhere, you might look for hints of toasty toffee flavours in vintage Champagnes, where nutty, honey and lees flavours can become more pronounced in a way that recalls burnt sugar. For example, the rich taste of Krug, Clos du Mesnil, Champagne 1982 encompasses toffee, butterscotch, cream and coffee.
Black olive
The colour of olives is generally related to how ripe they are: green olives are harvested before the olive has ripened, and black olives have been left to undergo ripening.
During the course of ripening, polyphenol (aka tannin) levels drop. As a result, the astringency of the green olive relaxes into a more gentle and earthy tasting black olive.
In wine tasting notes, black olive might be used to describe the earthy and subtly bitter edge found in some red wines. Syrah is a classic example, where black olive may be found alongside black fruit and black pepper notes.
SEE: Wind Gap, Sonoma Coast, Syrah, California 2012 | Domaine Les Bruyères, David Reynaud, Crozes-Hermitage 2015
Californian Cabernet Sauvignon from cooler vintages might display black olive, as they are generally more savoury and less fruit-forward. For example, the Cabernet dominant blend of Opus One, Oakville, Napa Valley 2009.
The primary flavours and aromas of Pinot Noir can also develop via ageing into earthy and vegetal flavours that might come under the black olive profile. For example Kutch Wines, McDougall Ranch, Sonoma Coast, California 2009 — where black olive blends with spice and forest floor flavours.
Citrus
As a tasting note, citrus is defined by high acidity and fresh fruit flavour; characteristics that can be found in many white wines.
Although wine may not reach the acidity level of, say, lemonade, it can have a strong acidic structure that recalls sharpness of fresh lemon, lime or grapefruit on the nose and palate.
It may also be found alongside notes like 'mineral' or 'steely', because certain high acidity wines can feel almost hard-edged in the mouth, lacking in sweet fruit flavours. Accompanying notes of more sour fruits, like green apples or pears, are relatively common.
In wine, citrus is categorised as a primary aroma, because it relates to the flavour of the grapes themselves as opposed to winemaking or ageing processes.
Examples of citrussy wines can include young dry whites like Vermentino, Verdejo, Albariño and Sauvignon Blanc.
SEE: Uvaggio, Vermentino, Lodi, California 2013 | Beronia, Verdejo, Rueda, Spain 2016 | Eidosela, Albariño, Rias Baixas, Galicia, 2011 | Cloudy Bay, Sauvignon Blanc, Marlborough, New Zealand 2016 | Domaine Guyot, Les Loges, Pouilly-Fumé, Loire 2015
Note: citrus can sometimes be detected as citrus peel or zest, which might suggest a more pithy and intensely aromatic character than citrus juices. This is because the pungent odour of citrus fruits comes from the chemical compound limonene, which is located in the peel.
Brioche
The butter-rich brioche bun is the staple of many a French breakfast table, perfect with apricot jam and a grand café noir. For anyone who hasn't experienced its simple delights, the brioche is essentially a yeast bread enriched with butter and eggs, sometimes with more sweetness if made with cream and sugar.
As a tasting note, brioche has three main components: rounded butter and yeast flavours, piqued by pastry sweetness. It's categorised alongside other non-fruity sweet notes like honey or vanilla, and it's commonly accompanied by adjectives like buttery, creamy, toasty and yeasty.
'Warm brioche' is also a term used, though it has relation a wine's temperature. It refers to the heightened aromas of a heated pastry.
A yeasty brioche effect can be brought about by sur lie; 'resting' the wine on its dead yeast cells known as lees, or bâtonnage (stirring the lees). During prolonged contact with the lees, autolysis occurs — when the yeast cells are broken down by enzymes, releasing macromolecules that impart biscuit, toast or brioche flavours. These processes are mostly associated with sparkling wines, including those of Champagne, Cava and the United Kingdom.
You can also find this in some aged Chardonnay or Sémillon wines.
SEE: Recaredo, Turó d'en Mota, Cava, Mainland Spain, Spain, 2002 | Krug, Grande Cuvée, Champagne, France NV | Wiston Estate, Blanc de Blancs, East Sussex, Brut 2010
SEE: Vasse Felix, Heytesbury, Margaret River, 2011 |Tempus Two, Copper Zenith Semillon, Hunter Valley 2007
Translated by ICY
All rights reserved by Future plc. No part of this publication may be reproduced, distributed or transmitted in any form or by any means without the prior written permission of Decanter.
Only Official Media Partners (see About us) of DecanterChina.com may republish part of the content from the site without prior permission under strict Terms & Conditions. Contact china@decanter.com to learn about how to become an Official Media Partner of DecanterChina.com.