Get to grips with the some of the more obscure tasting notes used by wine experts, with graphics from the Decanter design team...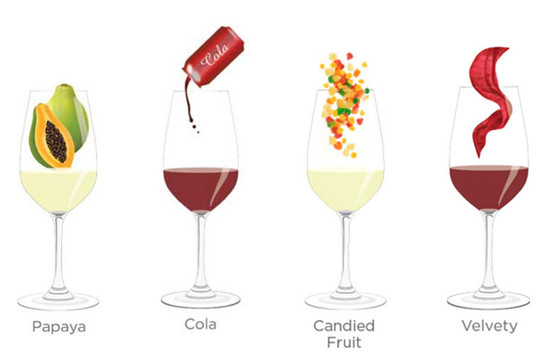 Papaya
Papaya, or pawpaws, are seeded fruits that come in sizes ranging from pear shaped to almost spherical. They have green flesh that turns a rich ochre yellow or orange when ripe.
In the lexicon of wine tasting descriptors papaya belongs in the tropical fruit category, alongside notes like passion fruit, mango and pineapple.
These descriptors capture the pungent and sweet fruity character found in some wines, often whites made from aromatic varieties with a ripe, fruit-forward flavour profile.
For example a South Australian Riesling like Two Hands, The Boy, Eden Valley 2014, expresses 'ripe and soft papaya flavours' that are pleasantly counterbalanced by its vibrant acidity.
Similarly, a Viognier wine like Elephant Hill, Te Awanga, Hawke's Bay 2010 might layer 'luscious stone fruit, papaya and apricot aromas' upon a strong backbone of acidity.
Other examples could include Sauvignon Blanc from Bordeaux, such as Château Bauduc 2016, or South African Chenin Blancs like Spice Route, Swartland 2015 and David & Nadia Sadie, Hoë-Steen 2015.
Tropical fruit flavours like papaya can also develop in wines made from late-harvest grapes that have been affected by noble rot, such as sweet wines from Sauternes or Tokaji.
SEE: Château de Myrat, Barsac 2ème Cru Classé 2014 | Château Lafaurie-Peyraguey, Sauternes 1er Cru Classé 2017
Oaky or leesy flavours can sometimes give the impression of a tropical fruit tang. These flavours can arise from wines that have been either fermented or aged in oak, rested 'sur lie' (on their lees) or from bâtonnage (stirring the lees).
This could apply to some Chardonnays from Burgundy, like Olivier Merlin, Sur la Roche, Pouilly-Fuissé 2016 and Domaine Sangouard-Guyot, Au Brûlé, St-Véran 2016.
It can also apply to some of the more complex premium Champagnes, including Krug, Grande Cuvée 160ème Édition NV and Louis Roederer, Cristal 2000.
Cola
Cola, the carbonated drink known under many brand names, has a distinct flavour that originally came from the caffeine-rich kola nut mixed with other ingredients like coca leaves, sweet spices, caramel, citric acid and sugar.
Today, the flavour that we recognise as cola is commonly artificial, but nonetheless distinctive; a combination of strong sweeteners with a hint of spice and sour acidity.
As a wine descriptor, cola can be used to describe a certain bittersweet, spicy element present in some red wines, particularly those that have been matured in oak.
Bold and spicy Australian Shiraz wines are a good place to look for cola notes, such as Earthworks Shiraz, Barossa Valley 2015, blending 'cola, mulberry and clove spice'.
As well as certain Syrah, Mouvèdre, Grenache blends from southern Rhône, such as Boutinot, Les Six, Côtes du Rhône Villages Cairanne 2014, noted for its 'touch of kirsch and cola' along with cherry fruit and spices.
Or you might find it more subtly expressed in lightly oaked Italian reds with strong acidity, like Bravo Cordara, Barbera d'Asti Superiore 2013, in which 'a light cola note hangs around the nose'.
As well as Lambrusco lightly sparkling red wines like Cleto Chiarli, del Fontadore, Lambrusco di Sorbara, Emilia-Romagna 2015, showing 'bitter cola and red fruits'.
The complex aromatics of premium Pinot Noir wines can also include cola notes, alongside those of game, allspice, truffles and leather.
SEE: Williams Selyem, Ferrington Vineyard, Mendocino County 2009 | Sequana, Sarmento Vineyard, Santa Lucia Highlands 2009
Candied fruit
Candying is a preservation technique that involves coating any given piece of fruit, nut or ginger in a sugary glaze, sealing the fresh flavours inside for longer.
In this way candied fruit retains more of its original fresh fruit flavours than dried fruit or jams, although they also become saturated with sweetness.
The effect of intense fruitiness encased in sweetness makes candied fruit a useful tasting descriptor for a range of wines that present this flavour combination.
Candied fruit flavours are perhaps found most prominently in fortified wines like tawny Port, where it often manifests as candied citrus, as in Messias, 20 Year Old Tawny and Marks & Spencer, 10 Year Old Tawny Port.
You might find candied stone and tropical fruit flavours and aromas in sweet white wines like those of Sauternes, such as Château Lafaurie-Peyraguey 2013 and Château Rabaud-Promis' Promesse de Rabaud-Promis 2015.
Subtle notes of candied citrus peel can also be found in the complex flavour profile of certain red Burgundy wines, such as Louis Latour, Romanée-St-Vivant Grand Cru 2016 and Domaine de la Romanée-Conti, Romanée-Conti Grand Cru 2014.
Some Brut Champagnes – although dry by definition – can still have hints of candied fruits. In the best examples these flavours are balanced by fresh acidity, to prevent any cloying sweetness.
For example Krug 2004 is able to encompass 'candied fruits, gingerbread, white chocolate, caramel and marzipan' while remaining light, fresh and dry — resulting in a Decanter score of 97/100.
ALSO: Bollinger, RD 2004 | Moutard Père & Fils, Brut 1992
Velvety
Velvet is a fabric that's closely woven to form a smooth and luxuriant texture, not as sleek as silk but softer and more substantial.
As a tasting note, velvety describes the texture of the wine in the mouth – aka mouthfeel.
Few of us will have licked a piece of velvet but it's possible to translate the tactile sensation of plush, smooth softness to how a wine feels as you roll it around on your palate. You might also hear people speak of 'silky' wines in a similar context.
A major contributing factor to a velvety red wine's texture is tannin, a polyphenol found in plant tissue including grape skins, seeds and oak barrels.
Tannins can give reds a smooth or coarse texture depending on how integrated they are in the wine through ageing or winemaking practices.
Given that velvet is a fairly dense and weighty material, velvety red wines tend to have a full-bodied and tannic character that's tempered by oak ageing – think 'iron fist, velvet glove'.
Australian Shiraz wines are a good example, such as the 98-point Vinteloper, SH/14 2014 from Adelaide Hills, praised for its layers of 'smoky, gamey, autumnal fruit on a velvety palate'.
You might also find a velvety texture to full-bodied Bordeaux blends with carefully managed tannins, like Château Figeac 2015 and Château Mouton Rothschild 2009.
Wines with lower tannin content can also develop velvety traits with the right winemaking and ageing treatment.
Rioja gran reserva wines, made predominantly from Tempranillo, receive a significant period of oak ageing that can create a velvety mouthfeel.
SEE: La Rioja Alta, 890 Gran Reserva, Rioja 2005 | Bodegas Perica, Oro Reserva, Rioja 2010
Some vintage Burgundy wines achieve a voluptuous texture, such as the 100-point scorer Domaine Armand Rousseau, Chambertin Grand Cru 1995, 'beginning to get really velvety' as it continues to mature in the bottle.
A velvety texture can be created in white still or sparking wines via the use of malolactic fermentation, where harsh malic acid is converted into softer lactic acid, or lees ageing techniques such as resting on the lees (sur lie) and stirring the lees (bâtonnage).
Go in search of a velvety mouthfeel among vintage Champagnes, such as Charles Heidsieck, Champagne Charlie 1982 and Tarlant, La Vigne d'Or Blanc de Meuniers Extra Brut 2002.
Translated by ICY
All rights reserved by Future plc. No part of this publication may be reproduced, distributed or transmitted in any form or by any means without the prior written permission of Decanter.
Only Official Media Partners (see About us) of DecanterChina.com may republish part of the content from the site without prior permission under strict Terms & Conditions. Contact china@decanter.com to learn about how to become an Official Media Partner of DecanterChina.com.