Get to grips with the some of the more obscure tasting notes used by wine experts, with graphics from the Decanter design team...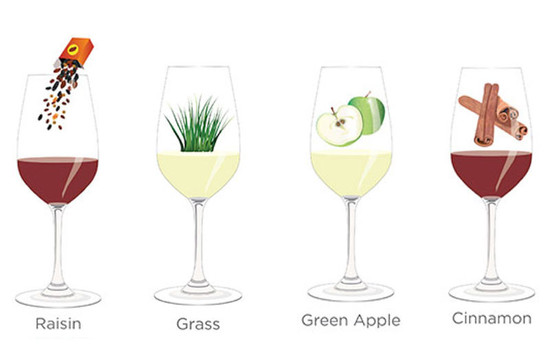 Raisin
It might seem natural enough to find flavours of raisin in your wine, given that they're really just dried out grapes. Indeed some wines are made from desiccated grapes, like Amarone wines from Valpolicella (where grapes are dried for 100 days or more), or sweet wines such as passito or vin santo styles. In these examples grapes are simply air dried by being laid out on racks in well-ventilated spaces, or hung from the rafters.
The taste of raisins is defined by the concentration of fruit flavours and sugars left over after most of the water is removed. This explains why styles made by lowering the water content of grapes prior to pressing can later express raisiny notes in the glass. Sweet wines made using the onset of botrytis cinerea (aka noble rot) are part of this category too, as the fungus pierces the skins of the berries, lowering water content whilst retaining sugar levels. This includes wines like Sauternes from Bordeaux and Tokaji from Hungary.
Some sweet sherries are made from dried grapes too, namely those that use Pedro Ximénez or Moscatel grapes that have been left in the sun for several days. These berries make naturally sweet sherries that don't require artificial sweetening after maturation, and they often have raisin in their tasting notes.
In the wine lexicon, raisin belongs in the dried fruit category alongside tasting notes like dates, sultanas, dried figs and prunes. It's not unusual to find dried fruit flavours alongside cooked or stewed ones, because the process of cooking can also concentrate sugars and flavours in a similar way to drying.
Bear in mind that wines can display dried fruit flavours even if they aren't made from dried out grapes, because some intense, earthy or complex fruit flavours can seem raisin-like. For example, you may find raisin notes in Syrah wines from the Crozes-Hermitage or Saint-Joseph appellations in northern Rhône.
Sources: sherrynotes.com
Grass
You may have seen this tasting term on the back of your bottle of Sauvignon Blanc, and wondered how on earth your wine could taste like turf. When it comes to dry white wines, grassy is often used in a positive sense. It describes the pleasant herbal freshness they can exhibit on the nose and palate, reminiscent of fresh mown grass.
Grassy white wines typically come from maritime or cooler climes, such as Albariño wines from Rías Baixas in northwestern Spain and Sauvignon Blanc from Marlborough in New Zealand. It can also turn up in some Sémillon-Sauvignon Blanc blends from the Graves appellation in Bordeaux.
It's not unusual for single varietal Sauvignon Blancs from the Loire Valley to have hints of freshly cut grass too, although these wines generally have layers of citrus and floral notes tied in.
Whilst their Kiwi counterparts often integrate grassy notes with tropical fruit flavours and aromas.
Grassy notes in red wines can be part of a herbaceous bouquet that may indicate under-ripeness. This can be particularly noticeable for Merlot and Cabernet Sauvignon wines, especially from cooler climate regions, and also with the Carmenère variety.
Cono Sur, 20 Barrels, Cabernet Sauvignon, Pirque, Alto Maipo 2009
The science: grassiness in wines is thought to come from volatile chemical compounds called aldehydes, which are released from the surface of the wine and picked up as aromas by your nose, or the retronasal passage at the back of your mouth. They are formed as a byproduct of fermentation or alcohol oxidation.
Sources: Wine: Flavour Chemistry by Ronald J. Clarke, Jokie Bakker | Decanter.com
Green apple
Green apples are generally thought to be more tart and less sweet than their red or yellow counterparts. To test this, try biting into a granny smith followed by a gala or golden delicious apple. You should notice your mouth water more with the green apple, as you produce more saliva in response to the higher acid content. Specifically, malic acid which is derived from the latin word for apple, 'malum'.
Wine also contains malic acid, which can give the impression of green apple flavours and aromas in your glass. Wines that are high in malic acid have more pronounced green apple notes, these include cool climate dry whites such as Chablis wines, as well as Riesling and Grüner Veltliner from Germany or Austria. In these wines, green apple might be found alongside other green fruits with a similar flavour profile, such as gooseberry or pear, as well as mineral or metallic notes.
The effect of malic acid is not always desirable, particularly in some red wines and Chardonnays. It can be processed using malolactic fermentation, when bacteria break down the tart malic acid into lactic acid — the same substance that's found in dairy products. This might be used in Chardonnay wines to bring out more buttery flavours and give a more rounded creamy mouthfeel.
Sources: The Persistent Observer's Guide to Wine: How to Enjoy the Best and Skip the Rest by J. P. Bary | Decanter.com
Cinnamon
You might be familiar with the sight of a festive cinnamon stick bobbing in your mulled wine, but for other wines it does not feature directly. However, some wines can give the impression of cinnamon in their flavours and aromas. This is because cinnamon contains aromatic compounds called esters, one of which — ethyl cinnamate — can also be found in wine.
Quantities of ethyl cinnamate can find their way into wines during fermentation or ageing processes. The 'ethyl' part refers to the ethanol found in the wine which becomes an ester, compounded with cinnamic acid — the same that's in the essential oil of cinnamon. Bottle ageing white wines is an example of how ethyl cinnamate might be produced, along with other sweet spicy notes like ginger and nutmeg.
Wines that conjure the effect of cinnamon include naturally spicy whites like Gewürztraminer, as well as in some oaky Chardonnays with toasty or nutty features.
For red wines with cinnamon notes, look to rich Italian reds such as those made from Nebbiolo or Barbera varietals as well as Amarone, a wine made using partially dried grapes to give it more concentrated flavours.
Other reds could include certain smoky Riojas or earthy Oregon Pinot Noirs, aged in American oak. The spicy characteristics of some tawny Port wines can lend themselves to cinnamon notes too, such as Graham's, 20 Year Old Tawny NV.
Sources: Understanding Wine Chemistry by Andrew L. Waterhouse, Gavin L. Sacks, David W. Jeffery, Decanter.com
Translated by ICY
All rights reserved by Future plc. No part of this publication may be reproduced, distributed or transmitted in any form or by any means without the prior written permission of Decanter.
Only Official Media Partners (see About us) of DecanterChina.com may republish part of the content from the site without prior permission under strict Terms & Conditions. Contact china@decanter.com to learn about how to become an Official Media Partner of DecanterChina.com.