Get to grips with the some of the more obscure tasting notes used by wine experts, with graphics from the Decanter design team...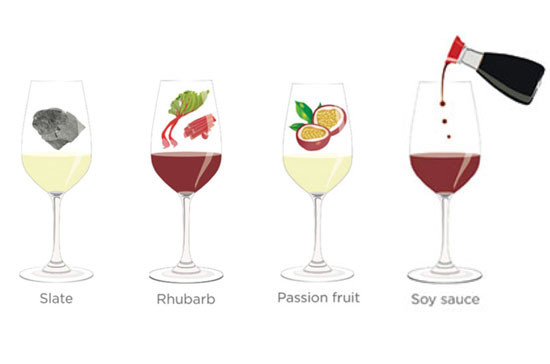 Slate
You might struggle to imagine the smell or taste of slate, despite the fact it's widely used as a building material for roof tiles, flooring and even tombstones. It's even used in lieu of plates in some contemporary restaurants.
In wine, it's important to understand slate as an indicator of a wine's minerality. Mineral or minerality are terms that are commonly used in the tasting notes of both red and white wines.
It's a term that can be hard to describe, but is often intended to convey a kind of clean, almost hard-edged, acidity that's associated with the scent of rocky substances like slate, flint, graphite or chalk.
Our ability to perceive these mineral notes in wine has caused some disagreement between scientists and wine experts, but tasters who have a strong sensitivity to mineral substances will argue that they can clearly detect its presence in a wine's flavour profile.
Sommeliers in the cult film 'Somm' discuss licking rocks in order understand the essence of minerality.
Slate notes are typically associated with dry white wines from cooler climes, such as Waterkloof's 'Seriously Cool' Chenin Blanc 2015 from South Africa's mountainous Helderberg region, which was noted for its mineral aromas of 'rain on wet slate', as well as 'wet chalk' — wet stones are often more fragrant than dry ones.
Another example might be a dry and citrussy Chardonnay, such as Domaine Tissot's 'Les Graviers' 2015, grown in the limestone soils of Arbois AOC in Jura. Decanter's Jane Anson rewarded it was 97 points, praising its notes of 'candied lemon cut through with a twist of concentrated lime and cut slate'.
Some white Burgundies can also display a slatey minerality, such as Domaine Alain Chavy, Les Pucelles 1er Cru 2011 from the famous appellation of Puligny-Montrachet, praised for its stone fruit character balanced by 'stoney/slate flavours'.
In the red corner, you might find mineral expressions counterbalancing juicy black fruit in full-bodied Bordeaux blends. Anson highlighted Château Léoville Las Cases, St-Julien, 2ème Cru Classé 2007 for its notes of 'wet stones sliding up against slate and liquorice, dark bristling cassis'.
Rhubarb
Although technically a vegetable, the fleshy pink stalks of rhubarb are often treated as fruit, featuring in baked desserts like pies and crumbles. It's believed to originate from Siberia, but rhubarb has strong ties with a nine-square-mile area of West Yorkshire, northern England, known as the 'rhubarb triangle' for its historically prolific production.
Rhubarb is rarely eaten fresh due to its extremely tart character, which must be softened and sweetened to make it palatable.
Most references to rhubarb in wine tasting notes refer to this cooked and sweetened version, although it remains defined by some degree of a tart, almost vegetal, character — and this duality makes it a useful tasting note.
For example, it can be applied to red wines with high acidity overlaid with red fruit or jammy flavours. Many cool climate Pinot Noirs fit this description, such as Spy Valley 2014 from Marlborough, New Zealand; displaying 'red cherry fruit, rhubarb and crushed raspberries' alongside 'wonderful acidity'.
Or Anthill Farms' Pinot Noir 2013 from California's Sonoma Coast AVA, expressing 'tart wild plum, rhubarb and cranberry fruit tones' paired with 'crisply refreshing acidity'.
Pinot Noir can also express rhubarb notes when it's used to make sparkling wines, although usually the effect is more subtle.
For example Coates & Seely, Rosé, Hampshire NV (65% Pinot Noir, 35% Pinot Meunier), is praised for its 'hints of sweet rhubarb' and Loxarel, MM Blanc de N Brut, Cava 2009 (100% Pinot Noir) gains a 'penetrating freshness' from a touch of rhubarb.
Young Tempranillo wines from Rioja can also display red fruit notes hemmed with acidity, giving a rhubarb-like effect.
However, this natural acidity can be curbed and developed during oak ageing. In the case of Beronia's Coleccion Tempranillo Elaboración Especial 2014, our tasters found that after being aged in American oak for nine months, this Rioja is defined by a 'baked strawberry and rhubarb nose' which blends into oak influences like 'vanilla and wood tones' on the palate.
Passion fruit
Passion fruits are recognisable by their purple or yellow hard casing, which can be cut open to reveal the vivid yellow pulp and green seeds within. They are related to the berry family, which also includes grapes.
They thrive in tropical climates and grow on vines; passion fruit plantations don't look too dissimilar to wine vineyards, with the plants commonly trellised in lines.
Passion fruits are favoured in desserts and confectionery for their powerful fruity flavour, which is predominantly sweet with a slight sour tang. This flavour profile can emanate from wines too, and passion fruit is included in the wine lexicon in the 'tropical fruit' category, alongside notes like lychee, melon and pineapple.
You can look for passion fruit notes in aromatic dry white wines, with high acidity. For example New Zealand Sauvignon Blanc is known for its ability to produce an array of pungent fruit flavours, including guava, passion fruit and mango — as well as equally strong flavours in the vegetal department, like cut grass and asparagus.
SEE: Opawa, Sauvignon Blanc, Marlborough 2016 | Harrods, Sauvignon Blanc, Marlborough 2015 | Tinpot Hut, Sauvignon Blanc, Marlborough 2016
You can find similar examples of this herbaceous and tropical fruit hybridity in Sauvignon Blancs from South America too: Cono Sur's Reserva Especial 2014 from Chile boasts 'intense mango, passion fruit and fresh herbs'.
Or Trapiche's Costa & Pampa Sauvignon Blanc 2016 from Argentina, noted for its heady mix of 'cut grass and passion fruit' aromas.
Aromatic Pinot Grigio and Gewürztraminer wines from Italy's Alto Adige region are capable of displaying ripe tropical fruit notes, such as passion fruit, alongside floral and citrus characteristics.
Certain South African Chenin Blancs, also have passion fruit flavours to match tangy acidity.
SEE: Cantina Tramin, Unterebner Pinot Grigio, Alto Adige 2014 | Baron Widmann, Gewürztraminer, Alto Adige 2013 | Swartland Winery, Bush Vine Chenin Blanc, Swartland, 2015
Soy sauce
This dark and pungent condiment originated in China over 2,000 years ago, and today it's widely used in different forms of Asian cooking. It's generally made from steamed soya beans that have been mixed with crushed grains, brine and a yeast culture.
This mixture is then left to ferment for up to two years, which gives soy sauce its signature umami flavour, comparable to that of miso.
Umami describes an intensely savoury, salty and meaty flavour, and is referred to as the 'fifth taste' in Japanese cuisine. Umami flavours, such as soy sauce, can be brought about via the breakdown of natural proteins during fermentation — the same process used in winemaking, when grape proteins are broken down by yeast action.
Wines which display the meaty savouriness of soy sauce are generally dry, full-bodied and red wines, with high acidity and some oak ageing. This could include Tempranillo wines from Rioja, such as La Rioja Alta, Vina Arana, Reserva 2005, noted by Annette Scarfe MW for its 'traditional, savoury style with soy sauce and rusticity'.
Alternatively, you could look for soy sauce hints in high-acidity northern Italian reds, such as Barbera wines from Piedmont, where it can compliment typical aromatic herb and balsamic notes.
SEE: Tenuta Rocca, Roca Neira, Superiore, Barbera d'Alba, Piedmont, 2010
Or you might find it in wines hailing from Chianti made using the Sangiovese grape, such as Fattoria Tregole, Chianti Classico Riserva 2009, in which soy sauce contends with oak influences like vanilla and sandalwood.
Translated by ICY
All rights reserved by Future plc. No part of this publication may be reproduced, distributed or transmitted in any form or by any means without the prior written permission of Decanter.
Only Official Media Partners (see About us) of DecanterChina.com may republish part of the content from the site without prior permission under strict Terms & Conditions. Contact china@decanter.com to learn about how to become an Official Media Partner of DecanterChina.com.