Get to grips with the some of the more obscure tasting notes used by wine experts, with graphics from the Decanter design team...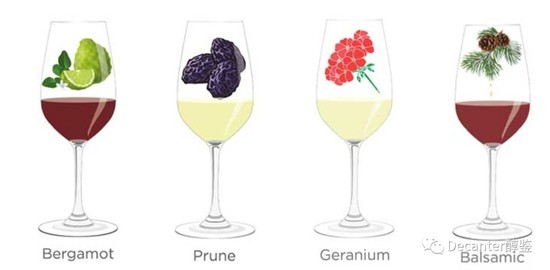 Bergamot
Bergamots are citrus fruits that are commonly shaped like yellow or green dwarf pears with dimpled skins, but they are in fact a variety of bitter orange.
Although edible, bergamots are rarely eaten fresh due to their intensely acidic and tart-tasting flesh, which is more palatable in marmalade or juice form.
The incredibly aromatic essential oils in bergamot skins makes it very popular in perfumes and it's also an important ingredient in Earl Grey tea.
When it comes to wine tasting notes, bergamot is a useful citrus fruit descriptor for certain dry white wines, as it expresses a flavour or aroma that is more bitter than oranges but sweeter than lemons.
Examples could include aromatic German Riesling wines, such as Dreissigacker, Bechtheimer Geyersberg, Rheinhessen 2014, noted for its 'powerful nose of bergamot and leaf tea' followed by floral flavours of rose and geranium.
Or French Muscadet wines from the Loire Valley like the 96-point Pierre-Luc Bouchaud, Pont Caffino, Loire 2014, exuding complex aromas of 'golden pair skin and subtle struck match' alongside orange blossom and bergamot.
Red wines with vibrant acidity could also express bergamot notes, such as Pinot Noirs like Bisquertt, La Joya Gran Reserva 2014 from Chile's Leyda Valley and Portuguese red blends from Douro Valley like Symington, Altano Organic 2015.
Prune
Prunes are dried plums of any variety, typically blackish purple in appearance. Despite their shrivelled and wrinkly appearance, prunes are favoured in for their rich, sweet and juicy fruit flavours – making them a popular ingredient in jams, juices and Middle Eastern tagines.
In the wine lexicon prunes are found in the dried and cooked fruit category, as they share common flavour characteristics with raisins, dates and fruit preserves.
These descriptors have more concentrated sweet fruity flavours compared to fresh fruits, as sugars become concentrated through the processes of drying or cooking.
You can look for prune flavours and aromas in many medium to full bodied red wines with concentrated fruit flavours, typically those that have spent some time in oak.
For example fruit-forward, verging on jammy, Italian wines made from Sangiovese and Barbera grapes: Vignamaggio, Chianti, Classico Gran Selezione 2011, Poggio Ridente, San Sebastiano, Barbera d'Asti Superiore 2014.
Or rich Syrah and Grenache wines from warmer French regions like Languedoc-Rousillon or southern Rhône. Tasting notes for these wines often contain clusters of multiple red, black, fresh, baked and dried fruit descriptors.
Laurent Miquel, Larmes des Fées, St-Chinian 2014 was praised for its 'sweet plum and prune scents and exciting, generously fruity plum, blackcurrant and damson flavours'.
Other examples could include Argentinean Malbec wines, such as Gauchezco, Oro, Paraje Altamira 2013, which combines liquorice and prune notes.
In her guide on how to taste en primeur wines Jane Anson said 'fig and prune flavours can mean the fruit is slightly overripe' in new vintages of Bordeaux wines.
Geranium
Geraniums are much loved for their vivid flowers, but it's the leaves that are responsible for their distinctive musky-floral aroma; something that is widely used in perfumes and aromatherapy.
In the wine lexicon geranium is in the floral category of primary aromas, meaning it's usually created by the grape and alcoholic fermentation, rather than winemaking techniques or ageing.
Within the floral category it can perhaps be thought of as more herbaceous than rose, though more floral than elderflower.
Geranium aromas are most commonly found in aromatic whites, such as premium aged examples Verdicchio dei Castelli di Jesi, from the eastern Italian Marche region.
Colonnara, Verdicchio, dei Castelli di Jesi Classico 1991 melds geranium with floral-sweet honey aromas and banana.
Alternatively, you might find geranium notes in the floral aroma profile of German Rieslings, such as Dreissigacker, Bechtheimer Geyersberg 2014, exuding flavours of 'roses and geranium jelly'.
Balsamic
Many wine lovers make the mistake of assuming that the tasting note balsamic relates to the dark vinegar from Modena.
But it's more likely that the taster is referring to spiced wood aromas associated with balsam — an aromatic resin exuded by certain trees, such as the balsam fir.
Balsam comes from the same word root as 'balm' and it's comparable to products like frankincense and myrrh, which are similarly used in perfume, incense and medicine.
Its concentrated spicy, woody, resinous flavour profile makes it a useful tasting note for red wines aged in oak, which can impart balsam-like aromas.
You can look for balsamic notes amongst the complex aromas of premium Bordeaux reds like Château Lafleur 2000, awarded 99 points by John Stimpfig, who praised its 'savoury liquorice, pencil lead' notes with an undertone of balsam.
Australian Shiraz wines can have a strong savoury and spicy oak character that's reminiscent of balsam, particularly examples hailing from southern regions like Barossa Valley and Coonawarra.
There are also bold and oaky Gran Reserva Riojas like Bodegas de la Marquesa, Valserrano Gran Reserva, Rioja 2010, where 'truffle and balsamic aromas dance'.
Many earthy and concentrated Italian reds are capable of balsamic characteristics, ranging from Barolo, Chianti and Brunello di Montalcino wines in Piedmont and Tuscany, to Aglianico wines in the south.
SEE: Brezza, Sarmassa, Barolo 2009 | Fontodi, Vigna del Sorbo, Chianti Classico Gran Selezione 2014 | La Magia, Brunello di Montalcino Riserva 2012
Translated by ICY
All rights reserved by Future plc. No part of this publication may be reproduced, distributed or transmitted in any form or by any means without the prior written permission of Decanter.
Only Official Media Partners (see About us) of DecanterChina.com may republish part of the content from the site without prior permission under strict Terms & Conditions. Contact china@decanter.com to learn about how to become an Official Media Partner of DecanterChina.com.