Get to grips with the some of the more obscure tasting notes used by wine experts, with graphics from the Decanter design team...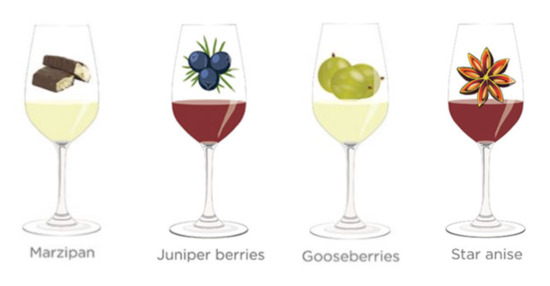 Marzipan
Marzipan is paste or icing made from ground almonds, sugar and eggs. It's found in a wide array of confectionary, from cake coverings to chocolates. But as a wine tasting note, marzipan is used to describe a rich, sweet scent or flavour, with a slight almond bitterness at its centre.
In the wine lexicon, marzipan is in the classified as a tertiary aroma, indicative of deliberate oxidation, as is used to make tawny Port or Palo Cortado Sherry. As a descriptor in this category, marzipan is sweeter than other nutty aromas like hazelnuts and walnuts, but it stops short of toffee and caramel.
Marzipan is also a typical tasting note for wines made from Marsanne, found in the Rhône valley, which is usually blended with Roussanne and Viognier.
Marsanne's nutty character can lend a marzipan edge to the wine, which melds with the stone fruit and white flower notes commonly expressed by Roussanne and Viognier. These blends are typical of Rhône appellations like Hermitage or Côtes-du-Rhône, as well as some parts of California and Australia's Barossa Valley.
SEE: Alain Jaume, Côtes du Rhône, Blanc de Viognier, 2016 | Marks & Spencer, Marananga Dam Roussanne, Barossa Valley 2015 | Broc Cellars, Love White, California 2015
As with notes of almond, marzipan can also be used to describe lees flavours imparted by wines that have been rested sur lie (on the lees) or undergone bâtonnage (lees stirring). You can often find lees-influenced aromas like marzipan in Chardonnay-based wines, like Champagne or white Burgundy.
SEE: Tarlant, Réserve Brut, Champagne, France NV | Tesco, Finest 1er Cru, Champagne NV
Juniper berries
Gin lovers will know the importance of juniper berries in relation to spirits, but they can also be a useful wine tasting note. Despite their name and appearance, juniper berries are actually the fleshy seed cones of a conifer shrub.
They are far more bitter and peppery than actual berries and are rarely consumed fresh. Instead juniper berries are usually dried and used as a savoury spice, or a gin botanical.
In the wine lexicon, the juniper flavour is found in the 'botanicals and herbs' category alongside lemongrass, as well as savoury herbs like sage and basil.
You can look for juniper notes with a similar flavour profile to this category; that is, with a bitter herb and peppery spice character. This might include full-bodied red Syrah wines, like Peay Vineyards, Les Titans Syrah 2011 and Arnot-Roberts, Clary Ranch Syrah 2012, both from California's Sonoma Coast AVA.
Juniper might feature in the complex aromas of Nebbiolo wines from Piedmont, including Gaja, Sorì Tildin, Barbaresco 2013, where it mingles with typical notes of black cherry and mint.
As well as some of the bold and aromatic red wines from Portugal's Douro Valley, such as Quinta do Vale Meao, Meandro 2011, where it melds with garrigue and black fruit.
A more unusual example might be Ao Yun's full-bodied Bordeaux blend from southern China's Yunnan province. Decanter's John Stimpfig noted the 'juniper, pepper and cumin' elements to the 2013 vintage.
Aside from red wines, you might find juniper notes in some cool-climate dry whites, like Torrontés from the high-altitude terroirs of Salta in Argentina.
SEE: Bodega El Porvenir, Torrontés, Salta 2015
And even sparkling wine – Furleigh, Estate's Blanc de Blancs 2009, made in Dorset, noted for its rich stone fruit character with 'a flash of juniper bitterness'.
Gooseberries
A traditional fruit of the English garden or hedgerow, hairy-skinned gooseberries are prized in baked desserts for their fresh and tart flavours. Genetically they're related to currants, although they are at the most sour-tasting end of the spectrum. They are most commonly green-coloured, although strains of red, yellow and pink gooseberries do exist.
In the wine lexicon they belong in the 'green fruit' category, alongside green apple, pear and grape. These are generally less sweet than red, black or stone fruits, displaying a primarily tart character instead.
Gooseberries are typically found in aromatic white wines, as their tart taste and slightly floral or tangy scent makes them a useful descriptor. Sauvignon Blancs may have gooseberry notes, particularly those made in cool climate regions like Marlborough in New Zealand or France's Loire Valley.
SEE: Auntsfield, Single Vineyard Sauvignon Blanc, Southern Valleys, Marlborough 2016 | Asda, Sancerre, Loire 2016
See Oz Clarke's description of Marlborough Sauvignon Blanc, when it first found its way onto the market in the 1980s:
'No previous wine had shocked, thrilled and entranced the world before with such brash, unexpected flavours of gooseberries, passion fruit and lime or crunchy green asparagus spears … an entirely new, brilliantly successful wine style that the rest of the world has been trying to copy since.'
Another common, if strange-sounding, description of the smell of Sauvignon Blanc is 'cat's pee on a gooseberry bush' — denoting the austere urine or petrol-like aromas intermingling with the green fruit tartness of gooseberries.
Gooseberry notes do not generally emanate from the grapes themselves, instead they are the result of yeast action during fermentation.
Benjamin Lewin MW explains the science:
'The gooseberry and passion fruit aromas of Sauvignon Blanc come from sulphur-containing compounds that are released during fermentation from non-odiferous precursors in the grape.'
Alternatively, you can look for gooseberry notes in wines made from the Bacchus grape, a Riesling-Silvaner and Müller-Thurgau hybrid. Bacchus wines are sometimes likened to Sauvignon Blanc for their fresh, green character and high acidity.
SEE: Sixteen Ridges, Bacchus, England 2015 | Chapel Down, Bacchus, Kent 2015
Star anise
Star anise, so named because of its resemblance to an eight-pointed star, is an aromatic spice commonly used to flavour Chinese cooking — and mulled wine. Star anise is actually a seed pod from an evergreen tree, which differs from the anise plant (aniseed).
Star anise's distinctive aroma is derived from an essential oil called anethole, which is also found in fennel and aniseed. Therefore wines with a flavour profile containing notes like liquorice, aniseed or fennel may also have notes of star anise.
Star anise aromas are typically found in spicy oaked reds, such as Primitivo wines from southern Italy, Zinfandel from California or Shiraz from Australia's Barossa Valley.
SEE: Orbitali, Primitivo, Puglia, Italy, 2015 | Meadowhawk, Old Vines Zinfandel, Contra Costa, California 2015 | McGuigan, Shortlist Barossa Shiraz, Barossa Valley 2014
These wines may contain other 'sweet spice' descriptors, such as clove or nutmeg, as well as 'pungent spice' descriptors like juniper or liquorice.
These characteristics are usually gained through oak-ageing in casks or barrels, when spicy and toasted woody flavours can be infused into the wine.
This means that star anise is generally categorised as a secondary aroma, as it is associated with the influence of oak (see vanilla, cedar, cinnamon and coconut).
Translated by ICY
All rights reserved by Future plc. No part of this publication may be reproduced, distributed or transmitted in any form or by any means without the prior written permission of Decanter.
Only Official Media Partners (see About us) of DecanterChina.com may republish part of the content from the site without prior permission under strict Terms & Conditions. Contact china@decanter.com to learn about how to become an Official Media Partner of DecanterChina.com.