Get to grips with the some of the more obscure tasting notes used by wine experts, with graphics from the Decanter design team...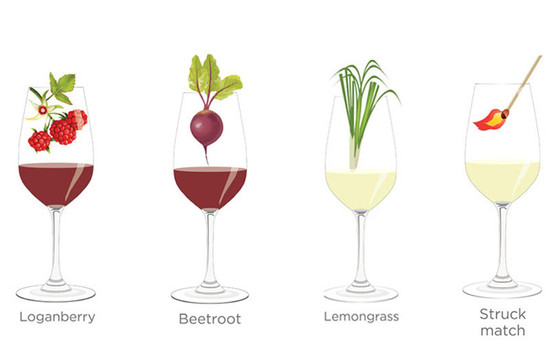 Loganberry
Loganberries are a hybrid formed of blackberries and raspberries, and they have shades of both in their look and taste.
Originating in California in the 1880s, loganberries have become a popular addition to berry desserts and preserves across the US, UK and Australia.
The fruit is a deep claret colour when ripe, meaning that it technically belongs to the red fruit category of the wine lexicon, alongside its parent fruit, raspberry.
In wine tasting notes, loganberry is used to describe red fruit flavours that aren't as tart as raspberry and cranberry, whilst not reaching the sweetness levels of, say, strawberry.
Possessing elements of both sweet and sour red fruit flavours, loganberry can be a useful tasting note for wines that have similar characteristics.
These are generally dry red wines with a strong red fruit flavour profile combined with medium to high acidity, creating both sweet and tart elements.
Many dry reds fit this description, including French greats from Bordeaux, Burgundy and the Rhône Valley.
For example, our tasters have found loganberry notes in Château La Mission Haut-Brion 2015, Domaine de la Romanée-Conti's La Tâche 2015 and Clos St-Jean, La Combe des Fous 2016.
Syrah/Shiraz wines can also display loganberry flavours, such as Rolf Binder's Heysen Shiraz 2013 from Barossa Valley, in which the tart element of loganberry balances denser notes of blackberry jam.
Further south, Obsidian Reserve Syrah 2013 from New Zealand's Waiheke Island was praised by our expert panel for its aromatic blend of loganberry, cinnamon, mint and bay leaf.
Source: Encyclopaedia Britannica
Beetroot
Beetroot is a round root vegetable, and the most common variety has a wine-dark purple skin with slightly lighter, ringed flesh – although there are some golden and whitish varieties, too.
Steamed, pickled or roasted, it's a popular addition to salads and savoury dishes, but you'll also find it in juice form.
Due to its relatively high sugar content, beetroot walks a fine line between sweet and savoury, making it a useful tasting note for red wines that display a similar balanced duality.
Pinot Noir wines can have flavours and aromas reminiscent of beetroot when their strong sweet, red fruit character intermingles with earthy undertones, often gained from maturation and cooler growing conditions.
For example Franz Haas, Pònkler Pinot Noir 2012, from the Alpine climes of Northern Italy's Alto Adige region, expresses 'complex red fruit' with savoury tones of 'beetroot and white pepper'.
Or the 98-point Bass Phillip, Reserve Pinot Noir 2012, hailing from the cool, maritime climate of the Australian Gippsland region in Victoria, and praised for its layers of 'spice and earth sluiced plum, cassis and beetroot'.
SEE ALSO: Williams Selyem, Estate Vineyard Pinot Noir 2009 | Bergström, Le Pré du Col, Ribbon Ridge 2014 | Clos de Tart Grand Cru Monopole, Morey-St-Denis, 2013
Similarly, certain Syrah wines are capable of being both powerfully fruity and savoury at the same time.
A famous example is Henschke, Hill of Grace, Eden Valley 2012, made in Australia's Eden Valley from 100-year-old Shiraz vines.
It was scored 99 points by Decanter's expert Sarah Ahmed for its complex notes, including intense blackberry, earthy beetroot, piquant pimento, and mulchy tobacco.
Lemongrass
Looks like grass but smells of citrus – lemongrass is a highly aromatic tropical plant that is widely used in Asian cooking as well as herbal remedies.
Lemongrass contains a chemical compound called citral, also found in lemons and artificial lemon flavouring, which is responsible for its citrussy character.
The sharp herbaceous and citrus characteristics found in lemongrass make it a useful tasting note for describing wines with a similar flavour profile.
Wines with notes of lemongrass are typically still or sparkling whites that have a strong backbone of acidity and complex aromatics.
For example, certain bone-dry Champagnes can fall into this category, such as Moët & Chandon's Grand Vintage Extra Brut 2009, which combines lemongrass notes with fresh apple and cardamom spice.
Still white wines with lemongrass hints include dry Riesling wines from Australia's Eden Valley.
Pewsey Vale, Museum Reserve The Contours Riesling 2012 was found to be brimming with citrus notes, including kaffir lime, lemon verbena and lemongrass, when tasted for Decanter by Sarah Ahmed.
SEE ALSO: Chaffey Bros. Wine Co., Not Your Grandma's Riesling, Eden Valley 2014
Like Riesling, Sémillon is a grape variety noted for its rich and diverse aromatic profile, often featuring citrus influences.
In Bordeaux, Sémillon is often blended with the zesty, grassy characteristics of Sauvignon Blanc to create full-bodied aromatic white wines that can sometimes carry lemongrass hints.
A prime example would be Château La Mission Haut-Brion, Pessac-Léognan, Cru Classé de Graves 2017, given 99 points by Decanter's Jane Anson, who praised its notes of 'passion fruit, nectarine, white pair and touches of lemongrass'.
Some sweet Sauternes wines made from this blend can also retain fresh lemongrass aromas in their youth, such as the 'zippy and zesty' Château Filhot, Sauternes, 2ème Cru Classé 2017.
SEE ALSO: Château Doisy-Védrines, Sauternes, 2ème Cru Classé 2017
Source: Royal Society of Chemistry
Struck match
The aroma of a freshly lit match is often only in the air for a few seconds, but the blend of burning wood tinged with sulphur has its own distinctive character.
Matches and wine may seem to have little in common, but certain wines have perceptible sulphur-based compounds similar to those given off by a struck match.
Most wines* have at least some sulphur dioxide, or sulphites, added in the winery to protect against oxidation and microbial spoilage.
*Note: some low-intervention or 'natural' winemakers avoid the addition of sulphites along with other non-naturally-occurring chemical preservatives.
These sulphur compounds are not usually perceptible in the final wine, although their use must be flagged on wine labels.
However some wines can become reductive if oxygen is restricted very tightly, leading to prominent sulphuric aromas.
'The struck match character associated with some barrel-fermented Chardonnays or Semillon-Sauvignon blends is a reductive one, as are the smoky/gunflint aromas of many Sauvignon Blancs, ' explained Natasha Hughes MW in her guide to common wine flaws and faults.
As with many unusual tasting notes, it comes down to personal taste and balance. Some people might enjoy the aroma of stuck matches while others find it an unpleasant, nose-wrinkling smell.
Equally, while a subtle hint of struck matches can add to a wine's complexity, it can become a fault if its pungency masks other aromas.
In his Ask Decanter: White Burgundy and burning match smell, Jasper Morris MW phrased it eloquently:
'An intelligently managed use of sulphur woven into the fabric of the wine often delivers this intriguing burnt match or gunflint aroma, which I and others very much appreciate – so long as it does not interfere with the underlying fruit.'
To experience struck match notes done well, try top white Burgundies such as Pierre-Yves Colin-Morey, Chevalier-Montrachet Grand Cru 2015 and New World Chardonnays like Dog Point, Section 94, Marlborough 2013.
Translated by ICY
All rights reserved by Future plc. No part of this publication may be reproduced, distributed or transmitted in any form or by any means without the prior written permission of Decanter.
Only Official Media Partners (see About us) of DecanterChina.com may republish part of the content from the site without prior permission under strict Terms & Conditions. Contact china@decanter.com to learn about how to become an Official Media Partner of DecanterChina.com.