Get to grips with the some of the more obscure tasting notes used by wine experts, with graphics from the Decanter design team...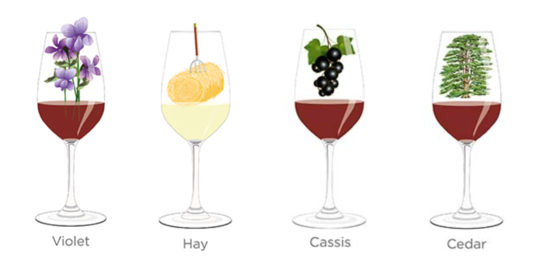 Violet
Violet as a tasting note, violet is generally picked up as an aroma in wine, but it can be a flavour too — as anyone with a penchant for Parma Violet sweets will know. Violet commonly displays a musky sweetness on the nose, but tastes a touch more bitter and austere on the palate. In this way, it can be aligned with other bittersweet and perfumed floral notes such as bergamot, rose, geranium and lavender. Just like perfume, it's a matter of preference whether you find violet flavours and aromas off-putting or appealing in wines.
The distinctive scent and flavour comes from two chemical compounds: α-ionone and β-ionone, which are also used in the confectionary and perfumery products derived from violets.
It's crops up in a broad range of full-bodied tannic red wine styles with high acidity, usually made from thick-skinned grapes. Such as Italian wines like Barolo and Barbaresco made from the Nebbiolo varietal, where violet can be found alongside notes of fennel, liquorice and tar.
It's also abundant in Bordeaux blends, and it's commonly referred to in the latest Decanter's en primeur tastings. Most notably, in Pomerol's high scorers Château La Conseillante 2016 and Château La Fleur-Pétrus 2016, where violet is coupled with dark fruit notes like black cherry, blackberry and bilberry.
Hay
Hay can be experienced as a dried herbaceous or vegetative aroma in wine, in the same category as notes like straw, tobacco and tea. It's usually expressed by non-fruit forward white wines, where it's found alongside herbs and sweet floral aromas like honey or blossom.
Hay can be a secondary aroma associated with yeast influences from wines rested sur lie, 'on the lees', or those that have undergone bâtonnage, 'lees-stirring'. This is commonly associated with Champagnes, like Alfred Gratien, Cuvée Paradis Brut 2006.
Notes of hay can also be an indication of maturity, thus qualifying as a tertiary aroma too. Look for it in oak-aged Chardonnays, such as Bouchard Père & Fils, Corton, Corton-Charlemagne Grand Cru, Burgundy 1955, where notes of hay are integrated with other tertiary aromas like lanolin, oatmeal and mushroom.
But be warned, when the processes of fermentation go awry the smell of mouldy hay can be a sign of microbial spoilage or brettanomyces contamination, leading to a wine that smells more like dank silage or a manure-laden farmyard.
With dank or mouldy notes it becomes a question of balance; aromas like damp hay, wet wool or 'sweaty saddle' may seem unpleasant to the imagination — but in wine sometimes even the most unlikely aromas can be powerfully alluring if counterbalanced correctly. Take a look at David & Nadia, Chenin blanc, Swartland, 2015, which displays 'sweaty notes to the nose of hay and damp wool', but this is tempered by the fruit concentration to create a 'classy wine'.
Cassis
As a tasting note, cassis refers to ripe and concentrated blackcurrant flavours or aromas. It's often used to describe rich and full-bodied red wines, such as mature Bordeaux wines, or those made from earthy southern Italian varieties such as Nero d'Avola, Aglianico and Primitivo.
The blackcurrant flavour profile belongs to a broader 'black fruit' category. Within that category, it's more aligned with the tartness of blueberries, and not with the sweetness of dark plum and blackberry flavours.
The term can cover different forms of intense blackcurrant fruit flavours, from a large helping of blackcurrant jam, to a handful of the fresh berries.
The tasting term is not to be confused with the wine region of Cassis in Provence, which is renowned for rosé wines that generally express red fruit rather than black fruit notes, and white wines of a mineral and citrus character.
To fully comprehend the flavour, why not try the blackcurrant liqueur crème de cassis. This also goes well in a 'Kir Royale' cocktail — made by pouring a small measure into a flute and topping up with Champagne.
Cedar
From aromatherapy oils to car air fresheners, cedar wood is prized for its rich and woody aromatic qualities. In wines, it's a desirable scent that often indicates the use of oak in the production of red wines.
Most commonly, in full-bodied Cabernet Sauvignon single varietal and blended wines, such as those of Napa Valley or Bordeaux — particularly the Left Bank appellations. For example Château Léoville-Barton, St-Julien, 2ème Cru Classé 1990, as cited in Decanter.com's How to read wine tasting notes, or Château Haut-Bailly, Pessec-Léognan 1998, as mentioned in The seven key aromas of aged Bordeaux.
As it's related to the use of oak in post-fermentation winemaking, cedar is classified as a secondary aroma. Within this category, it signifies a fresher and more savoury aroma than notes like vanilla or butterscotch, and expresses a resinous and slightly spicy character aligned with sandalwood and cloves.
Its falls among the subtler secondary aromas, therefore it might be harder to detect in the strongly aromatic oaks; such as American oak, where coconut and vanilla fragrances can dominate.
Cedar is also incorporated in the 'cigar box' tasting note, which describes the combination of the aromas of rolled tobacco leaves with boxes made of cedar wood, traditionally used for storing cigars.
Translated by ICY
All rights reserved by Future plc. No part of this publication may be reproduced, distributed or transmitted in any form or by any means without the prior written permission of Decanter.
Only Official Media Partners (see About us) of DecanterChina.com may republish part of the content from the site without prior permission under strict Terms & Conditions. Contact china@decanter.com to learn about how to become an Official Media Partner of DecanterChina.com.