Get to grips with the some of the more obscure tasting notes used by wine experts, with graphics from the Decanter design team...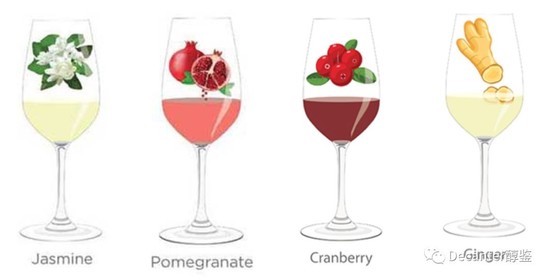 Jasmin
The fragrant white jasmine flower has been prized by perfumers for centuries, due to its delicate yet sweetly pungent aroma. It's also used to make scented jasmine tea, commonly served in China to welcome guests into the home.
As a wine tasting note, it belongs to the 'white flower' cluster of descriptors, alongside honeysuckle, elderflower, orange blossom and chamomile. White flower notes are generally sweetly aromatic, with a faint edge of floral acridity.
With this in mind, aromatic white wines are the best place to look for hints of jasmine. For example Albariño wines, made in Galicia's Rías Baixas region, typically express white flower notes, alongside green and citrus fruit characteristics.
SEE: Valmiñor, O Rosal, Rías Baixas 2015 | Viña Almirante, Pionero Mundi, Val do Salnés 2015 | Gran Vinum, Sainsbury's Taste The Difference 2015
Wines made from Pinot Gris and Riesling also commonly display delicate jasmine notes, particularly those made in cool-climate regions such as Ontario in Canada, Mosel in Germany and, more recently, Sussex in England.
SEE: Pearl Morissette, Cuvée Black Ball, Twenty Mile Bench, Ontario 2012 | Immich-Batterieberg, Enkircher Ellergrub, Mosel 2014 | The Bolney Estate, Pinot Gris, Sussex 2015
Fuller-bodied whites, such as Viognier, Chenin Blanc and Assyrtiko, might display a stronger jasmine scent. These wines are known for their aromatic richness, often expressing white flowers like jasmine, intermingled ripe stone fruits and underpinned by green and citrus fruit acidity.
SEE: Domaine de l'Amauve, La Daurèle, Côtes du Rhône Villages Séguret 2016 | Momento, Chenin Blanc Verdelho, Western Cape 2015 | Hatzidakis, Assyrtiko, Santorini 2012
Pomegranate
Pomegranates can be recognised by their hard shiny exteriors, coloured red or yellow, which can be split open to reveal bright ruby-like seeds. They're said to originate from the Middle East, but today their juicy seeds are found in drinks and sweet or savoury dishes around the world.
The tart taste of pomegranate seeds might be compared to that of sour cherries or cranberries, and it's a useful descriptor for wines with similar flavour profile. Pomegranate flavours can sometimes be expressed by fuller-bodied rosé wines, when their red fruit character is combined with high acidity.
For example, Domaine des Tourelles, Rosé 2015 from Lebanon is made from a punchy blend of Syrah, Cabernet Sauvignon, Cinsault and Tempranillo, resulting in 'heaps of wild strawberries and red berries' plus 'an extra dimension of pomegranate-like acidity'.
Spanish rosés, or rosados, often display these characteristics too, such as Pyrene, Rosado 2016 from Somontano – a blend of Tempranillo, Merlot and Cabernet Sauvignon that has 'pleasingly tart pomegranate and strawberry fruit', as well as 'zippy grapefruit acidity'.
The robust acidic backbone and prominent fruit flavours of this style of rosé can make for great summer barbecue pairings. In her selection of great rosé wines with food, Fiona Beckett highlights Charles Melton, Rose of Virginia 2015, a Grenache rosé from Barossa Valley, for its 'perfumed cherry and pomegranate fruit' — a good match for lamb.
Rosés aside, you can also look for pomegranate notes in red wines with vibrant acidity and a ripe red fruit flavour profile.
This could include Cinsault reds, like Tenute Rubino, Lamo Ottavianello 2015, made in Puglia, noted for its strong aromas of 'red cherry and pomegranate fruit'.
Or fruit-forward Carignan wines from California, such as Lioco, Sativa Carignan 2013, expressing 'mouth-watering tastes of rosehip and pomegranate'.
Cranberry
Cranberries are small and round red berries, which grow in clusters on low-lying evergreen shrubs. When fresh, the sweetness of cranberries is largely overwhelmed by their acidity, so they're usually cooked and sweetened into sauce, jam or juice form.
Their sweet and tart flavour profile makes them a useful wine descriptor, and cranberries are found in the wine lexicon as part of the red fruit category. On the sweet to tart red fruit spectrum, cranberries probably sit between raspberries and redcurrants.
You can look for cranberry notes in red wines with high acidity, like some young Pinot Noir wines from cool climates. For example, Fortnum & Mason, Axel Neiss, Spätburgunder 2014, from Germany's Pfalz region, has a nose filled with 'bitter cherry and cranberry' followed by tart fruit on the palate.
Elsewhere, Soter Vineyards, Planet Oregon Pinot Noir 2015, from the US appellation of Oregon, has a 'vibrant acidity' and 'coats the mouth in flavours of red strawberry, cherry and cranberry'.
As well as unoaked Pinot Noir styles such as Zinck, Portrait Pinot Noir 2015 from Alsace, expressing 'fresh cranberry and cherry fruit with velvety tannins'.
In her article Sancerre: The French Pinot Noir you should be drinking, Decanter's Tina Gellie outlines how the 'bigger day-night temperature differences' in the Loire give rise to more 'crunchy raspberry- and cranberry-style' Pinot Noirs, compared to those from Burgundy.
SEE: Domaine Vacheron, Belle Dame, Loire 2010
Younger Grenache wines can also have relatively high acidity and tart red fruit flavours, such as cranberry. For example, Momento, Grenache 2015, from Swartland is noted for its 'fresh acidity with tart cherry and cranberry fruit'.
Willunga 100, Grenache 2014, from South Australia's McLaren Vale, displays 'juicy cranberry, cherry and raspberry on the palate'.
A slightly more unusual style — also from South Australia — Alpha Box & Dice, Enigma, Adelaide Hills 2015 is a wine made from the high-acid Italian Barbera grape — resulting in tarry characters with a 'cranberry-laced acidity which runs through the centre'.
Ginger
Ginger is the pungent root of a flowering plant native to Asia. It's consumed in many forms, including as a ground spice, caramelised, pickled, infused into tea or baked into cakes and biscuits.
Ginger has a warming effect on the palate, though it's not as strong as the burning sensation caused by chilli. In the wine lexicon, it's classified as a sweet spice, along with notes like nutmeg, cinnamon and cloves.
You can look for ginger notes in some fuller-bodied aromatic white wines that have an edge of spice, such as Viognier and Assyrtiko wines. Also in Gewürztraminer, as described in Decanter's grape glossary:
'It smells of ginger and cinnamon, fragrant rose petals and pot pourri with a dusting of Turkish Delight and tastes of deliciously exotic lychees and mango.'
SEE: Yalumba, The Virgilius Viognier, Eden Valley 2012 | Wine Art Estate, Techni Assyrtiko, Drama, Macedonia 2015 | Yealands Estate, Gewürztraminer, Awatere Valley, Marlborough 2010
Mature sweet white wines such as Sauternes and Tokaji, which have been made from grapes affected by botrytis cinerea (noble rot), might display warm hints of fresh or crystallised ginger as part of their complex sweet spice, caramelised and nutty flavour profile.
SEE: Château Cantegril, Sauternes, Bordeaux 2015 | Château Dereszla, Furmint Késői Szüret, Tokaji 2015
The process of prolonged skin-contact, aka maceration, involved in the production of orange wines can also create gingery flavours. For example La Stoppa, Ageno, Emilia, Emilia-Romagna 2011 was macerated for 30 days, resulting in 'a full bodied, spicy and honeyed wine' with notes of cinnamon and ginger on the finish.
ALSO SEE: Unico Zelo, Esoterico, South Australia 2016
In sparkling wines, vintage Cava wines that have been aged on the lees can display warm yeasty notes that can be reminiscent of ginger. For example Gramona, Argent Reserva Brut 2009 demonstrates flavours of 'roasted nuts, sweet nutmeg and ginger', while Juvé y Camps, Reserva de La Familia, Brut Nature 2010 reveals more intensified notes of 'honey, toasted brioche, dried fig and crystallised ginger'.
Among red wines, you might find gingery notes in some medium or full bodied styles that have spent some time in oak, which can impart sweet spicy characteristics like ginger, nutmeg, cinnamon and vanilla.
SEE: Vasse Felix, Cabernet Sauvignon, Margaret River 2010 | Mazzei, Ser Lapo, Chianti Classico Riserva Tuscany, 2011
Translated by ICY
All rights reserved by Future plc. No part of this publication may be reproduced, distributed or transmitted in any form or by any means without the prior written permission of Decanter.
Only Official Media Partners (see About us) of DecanterChina.com may republish part of the content from the site without prior permission under strict Terms & Conditions. Contact china@decanter.com to learn about how to become an Official Media Partner of DecanterChina.com.