Chinese consumers will continue to be big buyers of Bordeaux's grand cru classe wines, despite still nursing a hangover from 'irrational exuberance' surrounding the 2009 and 2010 vintages, says the chief executive of ASC Fine Wines - which is investing heavily in traceability systems and ecommerce in the market.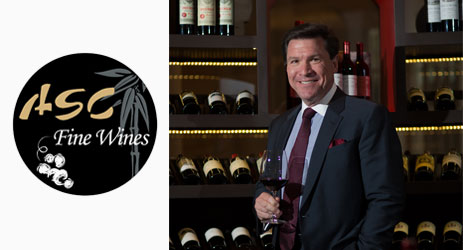 Imports of bottled wine to China have fallen back to September 2012 levels and French wines have been among the hardest hit, with imports down by 28% in volume in the first quarter of 2014 versus the same period a year earlier.
'We can see that the froth has come off the glass,' ASC's chief executive, John Watkins, told DecanterChina.com in an interview at last month's Vinexpo Asia-Pacific trade fair in Hong Kong. 'In the last four five months we've actually gone into negative growth, so the market is contracting even on a moving-annual-total (MAT) basis.'
Government austerity measures have curbed officials' entertainment budgets, resulting in a bottleneck of stock in China's wine warehouses and sparking some soul-searching among Bordeaux chateau owners who a few years ago surged into China on a wave of critical acclaim for the 2009 and 2010 vintages.
'These austerity programmes really eliminated much of these purchases,' said Watkins, who, as head of Suntory-controlled ASC, is one of the biggest importers of premium wine in China and counts the likes of Lafite, Mouton, Latour and Pichon Lalande within its portfolio.
But, Watkins said private collectors and connoisseurs are still buying and this bodes well for the future. China is about the big numbers, after all, and a Knights Frank wealth report out this week predicts that China's number of US dollar billionaires will rise by 80% over the next decade.
'If you factor out the euphoria and the irrational exuberance of 2009 and 2010, I think China could continue to be the largest buyer of grand cru classe, especially in good vintage years. People here like that style of wine, they have money, it gives them face to present that wine and it gives face to the person they're serving the wine to.'
Several Bordeaux merchants commented on the low-key Chinese presence during the Bordeaux 2013 en primeur tasting week earlier this year. 'We were in Burgundy for the actual week,' said Watkins.
'But, we're a buyer this year. We bought. I think over time the [2013] wines will sell.'
At the same time, Watkins said ASC is preparing for the rise of a middle market that promises to invert the 'hourglass' shape that developed courtesy of a schism between high-end and lower grade wines.
'We need to be flexible in how we prepare for this change in the market, in terms of how we work with on and off-trade, how we do our education and how we activate accounts,' Watkins said. 'Then also with ecommerce, we're making big investments here as well.'
Online sales still only account for 1% of all alcoholic drinks sales in China, but wine has a 34% share of online alcohol sales versus just a 5% share of offline sales. Several retailers and merchants have upped their online offering in recent months.
The number of online wine buyers is growing very fast, said Watkins. 'These people tend to be younger, are 60-40 male to female, and it's bringing new drinkers into the market.'
Separately, Watkins said ASC has 'invested heavily in our IT infrastructure'. In January, it launched an app for sales staff to show them at-a-glance how much stock is in a nearby warehouse.
Last month, it launched an app for consumers that allows them to search for wines by country and allows members of its Wine Residence club in Shanghai to see into their private storage cellar.
As part of ongoing efforts to stop counterfeiting, ASC has also placed QR codes on every bottle of wine it imports so that consumers can track the particular wine's journey from the winery to the restaurant or shop.
'We import 10m bottles per year and each of the QR codes is unique,' said Watkins. 'Each one is tied to a specific bottle. No one else [in China] is really doing that,' he said, adding that a hologram seal has also been launched to make ASC-imported wines tamper-proof.
Counterfeit wine remains a significant issue in China, but Watkins said it is almost impossible to put a figure on it.
It is often up to the industry to play a leading role. 'I think most product categories in China, whether it's pharmaceuticals or milk powder, are facing this problem. The Chinese government is very concerned about food safety and they've prioritised what they're going to go after. I don't think wine is in their top 10.'
All rights reserved by Future plc. No part of this publication may be reproduced, distributed or transmitted in any form or by any means without the prior written permission of Decanter.
Only Official Media Partners (see About us) of DecanterChina.com may republish part of the content from the site without prior permission under strict Terms & Conditions. Contact china@decanter.com to learn about how to become an Official Media Partner of DecanterChina.com.