It can be hard to imagine in China, where the concept of annual leave was only passed into law on January 1, 2008, and is set at just five days for the first decade of employment, but September in France is the season of La Rentrée, when the whole country returns to work after an indecently-long summer break.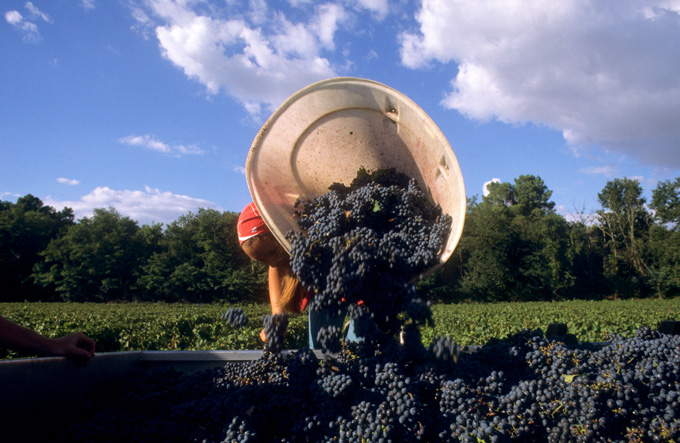 Annual leave in France is set at 25 days for most workers (let's leave aside bank holidays, to spare the blushes of the French), but almost all choose to take it in one fell swoop, heading off to family houses in the countryside or the beach. The country is split into 'July-istes' and 'August-istes', in terms of when they are actually absent from their desks, but it hardly matters as work slows to a crawl for both months anyway.
It means that September becomes a little like New Year in many countries – a time to set goals, reassess the future, start new projects, get serious work underway. And for agricultural workers across the northern hemisphere, there is an immovable deadline that forces the issue of a return to work – that of the upcoming harvest.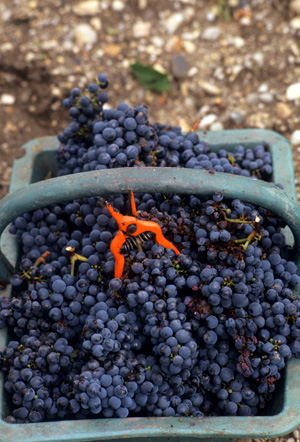 This year, however, most vineyard workers are finding they are faced with a highly unusual early September, with a little more time on their hands than they would like. France is looking at one of the latest harvests on record, with even white grapes in Bordeaux not expected to begin picking until the third week of September, and reds most likely to make their way into the cellars from mid to late October.
'And the later the harvest, the higher the chance of something going wrong,' says Hervé Grandeau of Chateau Lauduc ruefully.
Grandeau must be feeling the strain more than ever this year. He was elected in August as president of the AOC Bordeaux and Bordeaux Superieur syndicate, the sprawling appellations that represent around 4,000 winemakers, or half of all producers in the Bordeaux region. And in challenging vintages, it is often these guys who take the brunt of the problems, because the single most successful way to combat difficult weather is to throw money at the problem with extra workers, extra treatments, extra care and attention in the vines. Most bottles of AOC Bordeaux are sold for way under €5, leaving little spare cash for taking on extra expenses.
It is, of course, much too soon to make an assessment of what the quality of the 2013 harvest is going to be like. So far, there's still plenty of reason to hope that it will be small, but high quality. Summer has been hot and sunny across almost every corner of France, ensuring perfect holiday weather that can lull us all into a false sense of security.
But the vines have longer memories than we do, and many are still playing catch up from a lack of sunshine in May, and a June that saw twice as much rain as normal, coupled with more dismally low sunshine hours. Put all that together and you have grapes that were barely out of the starting block but already crippled with uneven flowering, stuttering budbreak and stymied growth; at a disadvantage before they had even reached puberty.
July swept into summer mode with a vengeance, with 330 hours of fine hot sunshine, beating the 1991 record, followed by an equally magnificent August, with sunshine hours again well above average. But even this beautiful weather was accompanied by hailstorms that kept the whole country on high alert and swept systematically through almost every vineyard region in France. In Bordeaux and Bordeaux Superieur alone 1,400 chateaux were affected by hail, and 350 estates lost more than 80% of their crop, with an estimated value of €70 million. To really twist the knife, nearly three-quarters of them were uninsured.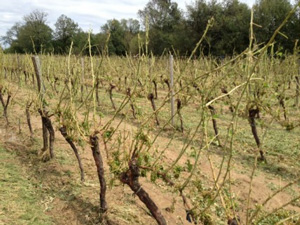 'Stocks are at their lowest for over ten years,' said Grandeau when I met up with him during a tasting of the 2011 and 2012 vintages this week. 'The last time cellars were this empty was in 1998, with the 1997 vintage, and then bulk wine prices spiralled up to €1500 per tonneau' (the usual unit of 900 litres that bulk wine is sold at in Bordeaux, most typically to then be rebottled by local wine merchants under a variety of brand names from Mouton Cadet to Premius).
That price would take bulk wine around 50% higher than it is today, where the usual sale price stands at a little over €1000. The spike might offer temporary benefits to producers, but would in a very short space of time mean that Bordeaux would lose shelf space in the key markets, with consumers unwilling to part with significantly more money for the same product.
'What we want is for bulk prices to head up slowly but surely to €1200,' says Grandeau. 'At that price, 80% of winemakers could make a living from their wine, which many find tough today, but we would still remain competitive against wines from Argentina, Chile or Australia.'
Fast rising prices for 'accessible Bordeaux' would certainly be, to put it mildly, a case of seriously bad timing. With the dip in demand for classified Bordeaux in China, and pressure from the government to stay away from expensive corporate gift-giving, right now should be the perfect time for those less expensive appellations to shine. They are poised to step in and offer the same grapes – and even the same names on the label, as many prestigious families such as the Rothschilds and the Lurtons make wines in Bordeaux and Bordeaux Superieur – at significantly less government-displeasing prices. If instead the Chinese market is faced with another round of Bordeaux price inflation, it might just be the final nail in the coffin.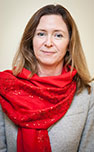 Columnist Introduction
Jane Anson is Bordeaux correspondent for Decanter, and has lived in the region since 2003. She is author of Bordeaux Legends, a history of the First Growth wines (October 2012 Editions de la Martiniere), the Bordeaux and Southwest France author of The Wine Opus and 1000 Great Wines That Won't Cost A Fortune (both Dorling Kindersley, 2010 and 2011). Anson is contributing writer of the Michelin Green Guide to the Wine Regions of France (March 2010, Michelin Publications), and writes a monthly wine column for the South China Morning Post in Hong Kong, where she lived from 1994 to 1997. Accredited wine teacher at the Bordeaux Ecole du Vin, with a Masters in publishing from University College London.
Click here to read all articles by Jane Anson>>
- Follow us on Weibo @Decanter醇鉴

and Facebook

for most recent news and updates -
All rights reserved by Future plc. No part of this publication may be reproduced, distributed or transmitted in any form or by any means without the prior written permission of Decanter.
Only Official Media Partners (see About us) of DecanterChina.com may republish part of the content from the site without prior permission under strict Terms & Conditions. Contact china@decanter.com to learn about how to become an Official Media Partner of DecanterChina.com.