Head up to Pauillac and you will see the five Rothschild properties, Lafite, Duhart Milon, Mouton, Armailhac and Clerc Milon, are within a neighbourly stroll from each other. You can see the spires of Lafite from the tasting room of Clerc Milon, and the vines run into each other in a criss-cross of gravelly slopes and hollows. The teams, however, are completely separate, the management philosophy and style opposite, and the near 400 hectares of Rothschild vines split resolutely between Domaines Barons de Rothschild, first assembled with the purchase of Lafite in 1868 by Baron James, and those of Baron Philippe de Rothschild S.A., the beginnings of which date right back to 1853 and the arrival of Baron Nathaniel, nephew and son-in-law to Baron James, and the first Rothschild to stake his claim in the rich seams of Bordeaux terroir. Today, each side has around 200 hectares of Pauillac vines apiece.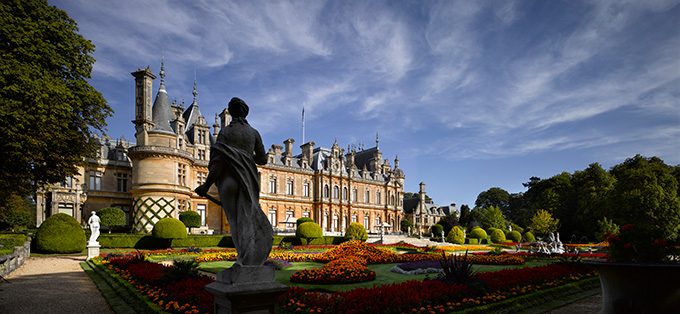 There's a corner of England, however, where the two sides of the family share the same wine cellar, along with 90% of Rothschild wines made worldwide. This is Rothschildshire; the Vale of Aylesbury in Buckinghamshire, where over the past few centuries eight Rothschild estates have been built, bought and sold. The main seat today is Waddesdon Manor, bequeathed to the National Trust in 1957 but still run by Lord Jacob de Rothschild. He has been a major benefactor of the restoration of Waddesdon Manor and runs the house as a semi-independent operation on behalf of the Trust. Clearly he understands its importance - of more than 40 Rothschild mansions built around the world in the 19th century, only Waddesdon still has its collection intact and is open to the public.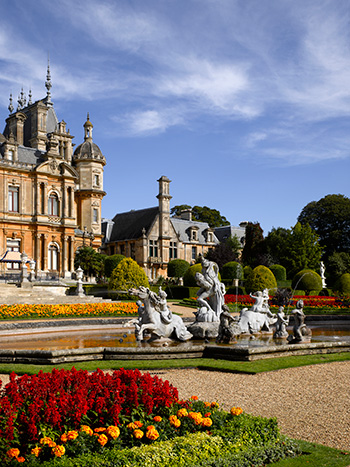 You can feel the Rothschild wealth and influence from the minute you pass through the gatehouse, and drive past acres of parkland, and terraced gardens designed by landscape architect Elie Lain. Even the stable block is a cobbled courtyard lined with smart red brick buildings that now house art exhibitions and cafés. The five arrow symbol, the family crest, is everywhere, from flags on the rooftop spires of the Loire-style chateau to carpets in the Manor restaurant to more subtle emblems carved into ornate chairs in the main house. The last five Christmas celebrations have been themed around each of the five arrows, representing the cities that Mayer Amschel Rothschild sent his five sons in the mid-1700s. This year it's Vienna, after four years of, in turn, Frankfurt, Paris, Naples and London.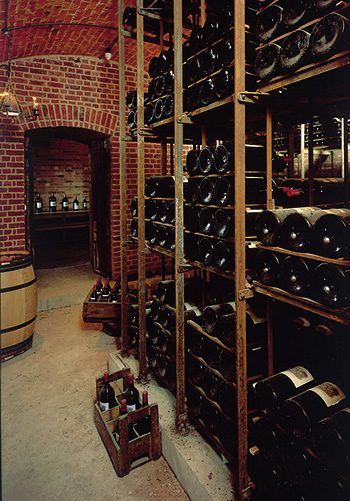 The 19th century Rothschilds had a mania for building private palaces, described by Hannah Rothschild in a family history as 'three-dimensional calling cards announcing their arrival'. While Barons James and Nathaniel were busy with Lafite and Mouton, Baron Ferdinand was concentrating on his own country seat in England, a welcome consolation after the early death of his wife. Built between 1874 and 1884 by French architect Destailleur, Waddesdon lands comprised ten farms occupied by tenant farmers, plus the Home Farm Baron Ferdinand built up for the most profitable livestock and dairy farming (guests were apparently offered a choice of milk from longhorn, shorthorn or dairy cows to take with their morning pot of tea). The panelled interiors were bought from French hotels particuliers such as Richelieu and Beaumarchais. A teetotaller unlike his cousins, no wine was stored at Waddesdon at the time - not until 1984, and the arrival of his great great grandson Jacob.
Today Waddesdon has one of the pre-eminent Rothschild cellars in the world, privately owned by Baron Jacob. The Lafite and Mouton stable are joined by Compagnie Vinicole Baron Edmond de Rothschild. Their expansions overseas are also listed and sold in both the restaurants and wine shop, including Opus One in Napa, Almaviva in Chile, Los Vascos in Chile, and Rupert & Rothschild in South Africa. No mention yet of the Lafite China project, but it seems highly likely that that, too, will make its way to Buckinghamshire in due course.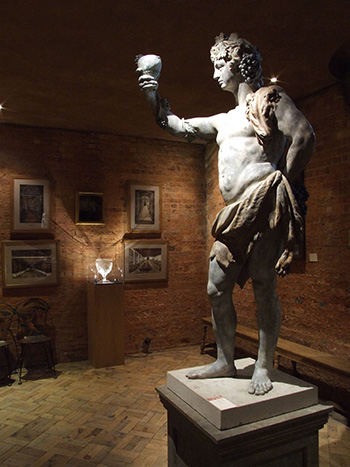 'With the family history, this must be one of best locations in England to hold wine tastings,' says wine advisor Pete Tompkins as we walk round the cellars, with a glass of the 2008 Rothschild Collection, bottled for Waddesdon from the young vines of Mouton, Clerc Milon and Armailhac.
The cellars were part of the original house, but not in this form, and the restored version was opened in 1994 by the Queen, as part of the centenary restoration project. Lafite bottles stand at the stone steps that mark the entrance, a sign of the 8% holding Lord Rothschild has in the Bordeaux estate, while a life-size lead figure of Bacchus by 18th century English sculptor John Cheere presides over the underground rooms. In total there are 16,280 bottles in this cellar, 12,500 of them Lafite Rothschild.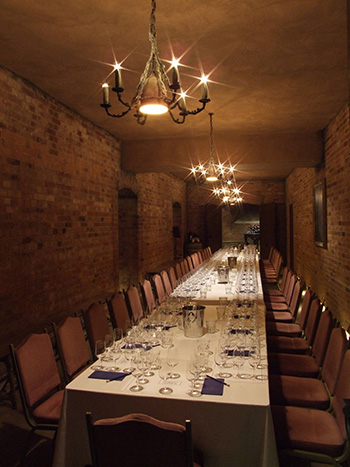 Behind locked gates are three vaulted rooms, modeled on the private cellars of Chateau Lafite Rothschild, containing Lafite vintages from 1870 and Mouton vintages from 1868. To one side, a 1968 goblet to celebrate 100 years of ownership of Lafite, crafted by Honoria Diana Marsh and the result of over 400 hours of hand engraving, on loan from the estate of Baron and Baroness Elie de Rothschild (the man responsible for running Lafite until 1974 when Baron Eric took over).Two jeroboams signed by Princess Diana are displayed, from dinners at Spencer House, one of which also signed by five British prime ministers. But for me the most interesting exhibit is the Rodenstock 1787 Lafite bottle engraved by Thomas Jefferson, given in 1994 at the opening of the cellars to Lord Rothschild by Michael Broadbent on behalf of Hardy Rodenstock - and now a historical curiosity of the world's most famous wine forgery.
A visit here is like a cram course in the Rothschilds and wine, but I doubt that many of the 384,000 visitors that came in 2012 were here for the cellars. That might change. To date, just under 2% of Waddesdon visitors are from mainland China. But just down the road, 15 minutes' drive at most, is one of the top attractions for Chinese tourists in the country; Bicester Village. Eight out of ten Chinese visitors to London visit this upscale outlet mall, making it the most popular UK tourist attraction for Chinese visitors outside of the capital. Last year, visitors to Bicester from China were up by 70 per cent on 2011, when they made 825,000 transactions. With the value of the Rothschild name in Asia, Waddesdon is surely missing a marketing opportunity.
Translated by Nina Fan Feng / 冯帆
All rights reserved by Future plc. No part of this publication may be reproduced, distributed or transmitted in any form or by any means without the prior written permission of Decanter.
Only Official Media Partners (see About us) of DecanterChina.com may republish part of the content from the site without prior permission under strict Terms & Conditions. Contact china@decanter.com to learn about how to become an Official Media Partner of DecanterChina.com.