Romanticism or pragmatism? It's a question that is at the heart of many choices about wine, from corks or screwcaps to oak barrels or oak chips. It's the one facing the sweet wine regions of Bordeaux, and most specifically Sauternes; the most famous sweet wine in the world... that is rarely drunk.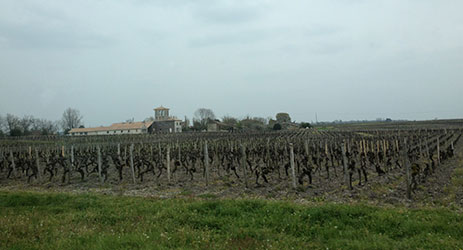 If you take the rose-tinted view, Sauternes is the wine of kings, of tsars, the ultimate luxury where each sip is a drop of liquid gold. Certainly it's a rare and special product that makes a virtue out of botrytis cinerea - the mould that grows in humid conditions that sends fear into the hearts of most winemakers. In Sauternes, when the humidity is balanced by alternating spells of dry heat, this rot is referred to as noble, as it concentrates sugars and creates grapes perfect for luscious sweet wines.
But the pragmatists in Sauternes - and there are increasing numbers of them - look at the sales figures, and shiver. It's been a long time since these sweet wines were the toast of Europe. There is real potential for them in the Chinese market, but just 0.2% of Bordeaux wine imports into China in 2013 were sweet wines (the category as a whole represents around 2-3% of Bordeaux's overall output). These are expensive wines to make with yields drastically lower than dry styles. An average vintage might see 10-15 hectolitres per hectare, compared to 40-45 hl/h in Pauillac or Saint Emilion - the popular comparison is that where you get a bottle of wine from a vine in most of Bordeaux, just one glass is produced in Sauternes. Add to that unstable harvests; just look at 2012, when even the successful Sauternes and Barsac producers made incredibly low yields (the average in Sauternes was just 2.5hl/h), and big names such as Yquem, Suduiraut and Rieussec made no wine at all. Even in the best years, because market demand is low, prices - Yquem aside - can barely rise above those for a decent €20 claret. 'The perennial under-performer' as fine wine exchange Liv-ex referred to the region last year.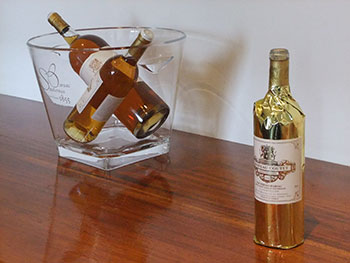 To combat the cashflow crisis, more and more producers are turning their grapes into dry whites. The trend has been growing for a number of years, and today almost every major estate produces one – from Y d'Yquem to S de Suduiraut, R de Rieussec and G de Guiraud. At Domaine de Chevalier, Olivier Bernard recently unveiled a new range of wines from a Sauternes estate he bought in 2011 and renamed Clos des Lunes, choosing to turn the entire production towards dry white. And Silvio Denz, newly installed at Lafaurie-Peyraguey has announced his intention to begin a dry white as of 2014.
Dry white Bordeaux is enjoying something of a renaissance, with 47% exported in 2013 compared to just under 40% for the region's reds – and those figures have risen 31% in the last five years alone. The same grapes in Bordeaux are used to produce both dry and sweet styles, so no replanting is necessary; winemakers just need to pick earlier before noble rot sets in. Currently, bottling dry whites in Sauternes is allowed only under AOC Bordeaux Blanc but there are moves to extend AOC Graves appellation to include Sauternes (geographically they touch, and whites Graves have in theory more renown and so offer higher potential price points).
So the choice sounds simple, but opinions are fiercely divided, with many chateaux owners fearing for the future of the region's signature sweet wines if too many producers make the switch. Bernard points out, 'we have to be honest and recognise that many small Sauternes properties find it tough to sell their wines... This could increase the value of the sweet wines that remain'. 'This is a cultural and historical wine style,' Aline Bayly of Chateau Coutet counters, 'and we should be hugely proud of our ability to create it.'
So - romanticism or pragmatism? My opinion? There are some fantastic terroirs for dry whites in this part of Bordeaux, particularly on the limestone plateau of Barsac. But most Bordeaux dry white is an inexpensive wine, so they should tread carefully before believing it is the answer to their problems - just ask Entre-Deux-Mers. If they are to create a virtuous circle for the sweet wines that remain, my feeling is Sauternes needs to create a style of dry whites that points to the virtues of the sweet stuff. That means ensuring an exoticism; less cut-grass and grapefruit, more apricots and mangoes. If it is to work for and not against the region, the dry whites should signal the glamour and luxury of the sweets, and the minerality of their excellent terroir.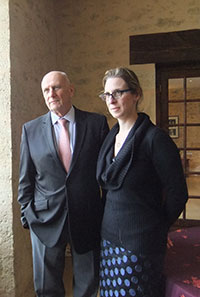 For this, they need to be clearer about their styles. Yquem in the Lur Saluces years used to make dry white at the end of harvest with grapes that had not turned to noble rot, so often had bloom of botrytis on them. Since the arrival of the brilliant Sandrine Garbay as winemaker, they no longer do that. Instead they use ripe grapes picked early from across the vineyard, but leave a small trace of residual sugar (usually around 5 grams per litre) to ensure it offers a hint of its big brother.
Over at Coutet, where the dry Opalie was introduced for the 2011 vintage, there is no residual sugar, and grapes are taken from specific rows with the oldest vines and the highest limestone content in the soil. Bayly says, 'For us it is about communication of the minerality of Coutet. But we will never replace the sweet – we want it to provide a route in for consumers'.
To get a feel for where these wines are right now, I tasted across three vintages. My takings from it were that the best of these wines have real individual personality, and great persistency and structure; something that certainly offers an echo of the region's sweet styles. The 11s and the 13s seemed better than the 12s, but overall the whites are much closer in style to Pessac-Leognan than Entre deux Mers, giving weight to the idea of allowing them to bottle under AOC Graves Blanc.
The worry is that if more people start bottling dry wines, there is a danger that they will lose this cohesive style approach, and it is imperative that they hold on to it. If Sauternes can hone in on a style that makes consumers crave their signature exoticism, it could provide a useful boost to the sweet wines. If not, they end up as just another dry white in a region that is better known for its reds. Whether they achieve this through a trace of residual sugar or just carefully ripened grapes is up to individual estates, but smart winemaking is called for, not sticking their heads in the sand...
Wines to Try
Clos des Lunes, Lune Blanche AOC Bordeaux Blanc 2013
Refreshing acidity, with lovely citrus zest, pretty high in lemon expression rather than in hay, or freshly cut grass that comes from the high 70% Semillon, 30% Sauvignon Blanc and gives a good reflection of the appellation. Unoaked, with lees stirring.
Sauternes Signature Rating: 3
Clos des Lunes, Lune d'Argent AOC Bordeaux Blanc 2013
This one has more staying power, more powerful and expansive in the mouth, lower acidity. Still strong citrus expression, but this also has stone fruits, apricot pits, white flowers and acacia. 70/30 Semillon, Sauvignon Blanc.
Sauternes Signature Rating: 4

G de Guiraud AOC Bordeaux Blanc 2013
Real punch of Sauvignon Blanc on the nose here, although there is still Semillon in the blend which ensures good structure. Love this, real zing, zest, lots of personality, mango coulis, can almost squeeze out the exotic fruit pulp here. A good example of a wine that has Sauternes exoticism without sacrificing freshness.
Sauternes Signature Rating: 4
Y d'Yquem AOC Bordeaux Blanc 2012
Rich and round from the first nose. This is a lovely mix of rich and savory, I get some lovely restrained quince and bitter orange aromas. This is the vintage where they made no sweet wine at all, so this is the only Yquem produced in 2012. What is striking is how much length they manage to achieve. Quite an unusual white wine, has impact and length, less fruity than the others, feels more intellectual, more serious, but undoubtedly it gives you a whisper of the appellation.
Sauternes Signature Rating: 5
S de Suduiraut AOC Bordeaux Blanc 2012
Rich and round. Some clear honeycomb on the nose, lacks a touch of freshness for a young dry white wine. Recently drank the 2011 of this wine, which had cleaner and clearer exotic fruit flavours – this may be suffering from the vintage.
Sauternes Signature Rating: 3
Opalie de Chateau Coutet AOC Bordeaux Blanc 2011
The first vintage of this wine, here with a few years bottle ageing and showing beautifully. Elegant, beautiful minerality, tiny electric pulses on the tongue. Really shows what a great terroir Barsac is for dry whites, with that limestone and red clay, great definition and length. The lemon notes here are caramelized, subtle, but totally gorgeous.
Sauternes (okay Barsac) Signature Rating: 4
Blanc Sec de Rayne Vigneau AOC Bordeaux Blanc 2012
Good, clean fruit, some stone fruits of white peaches and apricots, enjoyable and fairly well structured. Again seems to me the whites in 2012 not as expressive as either 11 or 13.
Sauternes Signature Rating: 3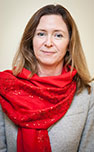 Columnist Introduction
Jane Anson is Bordeaux correspondent for Decanter, and has lived in the region since 2003. She is author of Bordeaux Legends, a history of the First Growth wines (October 2012 Editions de la Martiniere), the Bordeaux and Southwest France author of The Wine Opus and 1000 Great Wines That Won't Cost A Fortune (both Dorling Kindersley, 2010 and 2011). Anson is contributing writer of the Michelin Green Guide to the Wine Regions of France (March 2010, Michelin Publications), and writes a monthly wine column for the South China Morning Post in Hong Kong, where she lived from 1994 to 1997. Accredited wine teacher at the Bordeaux Ecole du Vin, with a Masters in publishing from University College London.
Click here to read all articles by Jane Anson>>
- Follow us on Weibo @Decanter醇鉴

and Facebook

for most recent news and updates -
All rights reserved by Future plc. No part of this publication may be reproduced, distributed or transmitted in any form or by any means without the prior written permission of Decanter.
Only Official Media Partners (see About us) of DecanterChina.com may republish part of the content from the site without prior permission under strict Terms & Conditions. Contact china@decanter.com to learn about how to become an Official Media Partner of DecanterChina.com.