It's all too easy to imagine the horrified reaction of parents of the five and six year olds at a Bordeaux junior school who received a phone call at some point on a slightly dismal Thursday morning in May saying their child had been taken to hospital after exposure to pesticide fumes sprayed on nearby vines. But two months on, with all children safely recovered, they just might find their panic and outrage has provided the touchpaper for a long-overdue nationwide change.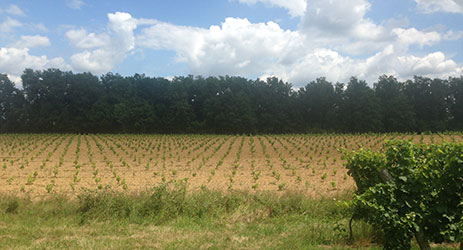 Spurred on by the incident, the French government is now suggesting quadrupling the allowable distance from public buildings that conventional vineyard treatments are allowed. Although the new distance of 200 metres is considered unworkable by many, as it could cover up to 20% of the vineyard area in Bordeaux alone, the amendment is due before the French Senate in September. Already some wine bodies have changed their guidelines suggesting no spraying of crops to be allowed during opening hours of schools and other sensitive buildings, from old people's homes to hospitals.
For Jeremy Ducourt, winemaker at his family property in Bordeaux, and Vincent Pugibet at Domaine La Colombette in the Languedoc, the debate is more than a headline to tut at over breakfast. It is at the heart of a question they've been working on for years. Namely, is it possible to grow vines naturally resistant to the Big Three diseases of mildew, oidium and botrytis (rot), and therefore avoid spraying altogether?
Francois and Vincent Pugibet at Domaine La Colombette have been developing this 'utopian ideal' as they describe it for much of the past decade. They now have 30 hectares of resistant varieties that have used no pesticides for six years (not even organic treatments such as sulphur or copper). Experiments are ongoing, but the most successful of the resulting grapes are made into a white wine called Au Creux du Nid. Eventually, Vincent Pugibet tells me, they would like the entire 140 hectare estate planted to these varieties.
'Viticulture in a perilous state right now, like a house with termites in the beams,' says Pugibet. 'There isn't a chemical solution to it, and organic farming isn't the answer, because metals like copper will build up in the soil over time, and have a damaging effect on the aromatics of white wine particularly. I worry that if things carry on as they are, in 15 years winemakers will be faced with a situation where certain molecules will be banned outright and they will be left with no treatments against vine disease.'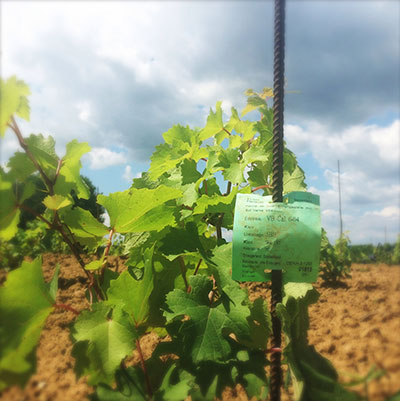 'Wine is not an industry that is indispensable for human life,' agrees Ducourt, who was inspired by a visit to Domaine La Colombette to begin a similar programme in Bordeaux, 'so even with our worth to the French economy, there will be limited things the French government can do if international limits are imposed. It means that reducing pesticide use is a moral, social and economic necessity'.
The key to all this, the two men believe, lies in the use of vines that for centuries have grown wild on forgotten corners of Europe, America and Asia, producing bitter, highly acidic grapes that no serious winemaker has taken notice of. It turns out that many of these wild varieties - usually not even the vitis vinifera species of vine, as the so-called noble varieties are - have a natural resistance to pests and diseases.
'This is not scary, big-business genetic modification,' says Ducourt, 'it's just doing a simple, traditional cross fertilisation, where you take two varieties and cross-pollinate by taking seeds, germinating them in a greenhouse, and planting the resulting seedlings into the vineyard nursery. It's how centuries ago Cabernet Sauvignon and Syrah were created. But in this case the result is new, disease-resistant cultivars'.
So, one traditional vitis vinifera variety crossed with one rustic, robust variety that is resistant to disease. Some of the Domaine La Colombette plants have parents such as Cabernet Sauvignon or Chardonnay, others more unusual ones such as Marechal Foch, some of the results are tried and tested such as Cabernet Blanc, some new and needing names such as 6-04. They have nearly 100 crosses from 100,000 pips, and have done it all themselves. They started with mainly Swiss and German varieties but have recently crossed local southern French varieties, and will be seeing the results in a few years.
Similar work was done at Cornell university in the US back in 1991, when they planted a no-spray vineyard with disease resistant grapes that would use no fungicides or insecticides. The EU has been looking at No Spray programmes since the mid-1990s, but France is a little further behind, despite initial research projects started way back in the 1960s. Because of this, when starting his research in January 2013, Ducourt went straight to the EU, and found a text in European wine law allowing experimental plantings of at least 50 vines (with no upper limit) as long as the resulting wine is clearly labelled as coming from experimental vines, is bottled under Vin de France and not as appellation controllée AOC wine. 'And as long as you finance the experimentation and take the risk,' he adds, pointing out that the three hectares he has planted is without any grants or subventions.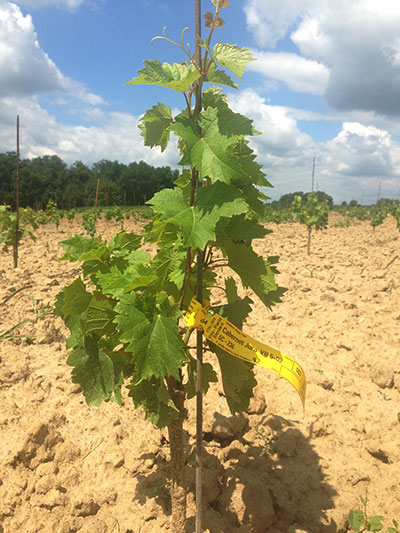 The No Spray plantings at Vignobles Ducourt went in one month ago, and it will be three years before the first wines are bottled from 1.3ha of Cal 604, a white variety from Germany that is a cross of Sauvignon Blanc, Riesling and a resistant variety, and 1.7ha of Cabernet Jura, a red variety from Switzerland that is a cross of Cabernet Sauvignon and a resistant variety.
'These offer a reduction of 80-100% of fungicides and pesticides, and will stop the exposure of winegrowers when applying harmful chemicals,' says Ducourt with the fervour of a new convert. 'That's not even taking into account the lessening of risks to local schools and consumers from residues left over in wine. Local winemakers need to see how the grapes adapt to different climates and terroirs, of course, but I hope to get the AOC organisations in Bordeaux involved also'.
The big question clearly is why, if this research has been available for so long, has the No Spray Vineyard not been more widely adopted? Is it the lobbying power of the pesticide companies? Is it simply that the resulting wines don't taste good enough? Ducourt says he has tasted and enjoyed the results of Domaine La Colombette, 'but not the same grapes grown in specific Bordeaux conditions. Cabernet Jura, at least in Beziers, has a similar taste to Cabernet Sauvignon, less tannic structure perhaps, but deeply coloured, deeply aromatic, with good dark fruits. The Cal 604 Riesling-Sauvignon has the grapefruit aromas of Sauvignon, with a richer edge, and is currently being considered for inclusion on the official list of French allowable grapes'.
For Vignobles Ducourt, they are at the beginning of a project that they believe in but have no proof yet of where it will take them (although Jeremy's brother Jonathan sent me an email this week with photographs of two Cabernet Sauvignon vines planted next to the resistant varieties in the same plot. They were showing signs of mildew, while the vines next to them were completely untouched). As for Domaine La Colombette, they have ever more frequent requests to visit - 'at least one a week' - from winemakers from Bordeaux, the Rhone, the Loire, Germany... all wondering if this can truly hold the silver bullet against vine disease.
'We see less interest from the authorities,' says Pugibet, 'as they are conducting their own studies, no doubt influenced by the target 50% reduction in fungicide and pesticide use that is required by the European Plan Eco-phyto in 2018'. But with no signs of concrete plans to achieve that aim besides knee-jerk reactions to a local disaster, it's somewhat reassuring to witness a few winemakers taking things into their own hands.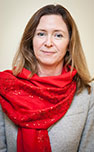 Columnist Introduction
Jane Anson is Bordeaux correspondent for Decanter, and has lived in the region since 2003. She is author of Bordeaux Legends, a history of the First Growth wines (October 2012 Editions de la Martiniere), the Bordeaux and Southwest France author of The Wine Opus and 1000 Great Wines That Won't Cost A Fortune (both Dorling Kindersley, 2010 and 2011). Anson is contributing writer of the Michelin Green Guide to the Wine Regions of France (March 2010, Michelin Publications), and writes a monthly wine column for the South China Morning Post in Hong Kong, where she lived from 1994 to 1997. Accredited wine teacher at the Bordeaux Ecole du Vin, with a Masters in publishing from University College London.
Click here to read all articles by Jane Anson>>
- Follow us on Weibo @Decanter醇鉴

and Facebook

for most recent news and updates -
All rights reserved by Future plc. No part of this publication may be reproduced, distributed or transmitted in any form or by any means without the prior written permission of Decanter.
Only Official Media Partners (see About us) of DecanterChina.com may republish part of the content from the site without prior permission under strict Terms & Conditions. Contact china@decanter.com to learn about how to become an Official Media Partner of DecanterChina.com.